As a digital web store owner using Easy Digital Downloads, you can generate different types of sales data such as order data, vendor data, customer data, product data, revenue data, profit data, vendor data, geographic data, and any other important data you can get and make use of for your Easy Digital Downloads WordPress web stores.
Now, you may have several eCommerce data in you, taken and generated from your EDD stores, but what significance can it bring to you? What can you get out of it? How those numbers can actually help your business grow? Do you know how to efficiently use those data for effective decision making?
Importance of Sales Data Analysis
Sales Data Analysis in eCommerce provides businesses with a deeper understanding of customer habits and preferences. If you analyze sales data, it can give you a conclusion as to how are your products are doing? Why is your sales trend going up or down for a specific time period? What does your customer in a specific location want? Why some of your vendors are not doing well? And many other questions that can give light to your business decision-making.
eCommerce Sales Analytics will allow digital web stores to boost sales and conversions by running targeted campaigns to promote products among the different audience or customer segments that in turn, will eventually maximize their profits. Also, we can discover additional untapped sales potential that they can also work on and try. But most importantly, these sales analytics will help them to do better in everything – products, vendors, marketing campaigns and many other sales and business aspects.
Analyze Sales Data using EDD Enhanced Sales Reports Plugin
Tracking sales and understanding where the sales come from is essential when you look to optimize your Easy Digital Downloads store. The EDD Enhanced Sales Reports Plugin offers additional analytics and reporting features to better understand where sales and profit data come from.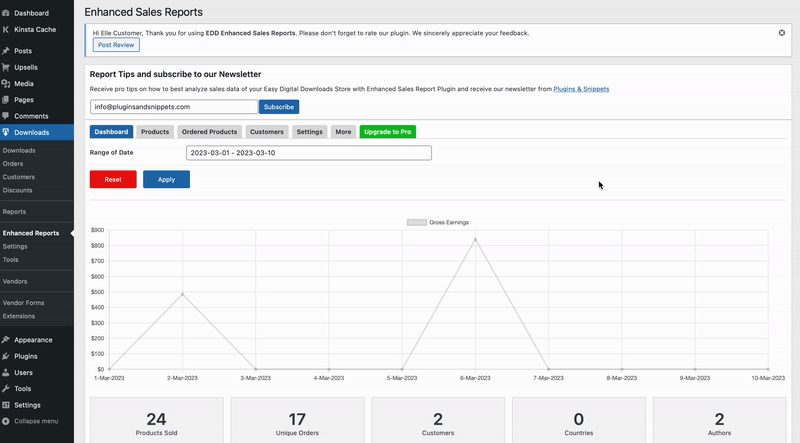 The goal of this plugin is to help EDD webstore owners extract all critical sales data from their website, and guide on how to use the best out of those metrics on optimizing the sales performance of the webstore.
Tips on utilizing the EDD Enhanced Sales Reports Plugin
In order for users to get the most of out those sales data, we have prepared several tips and guides how to use best the EDD Enhanced Sales Reports Plugin for data analysis.
(1) Which Products were included in which Order in EDD?
(2) Which are the Top KPIs to understand Sales in EDD?
(3) Tracking Conversion from Free to Paid Products
(4) Setting up the Enhanced Sales Reporting Widget for EDD in WP Admin
(5) Filtering your Enhanced Sales Data in Easy Digital Downloads
(6) Know your Best-Selling Products in Easy Digital Downloads
Being able to correctly and effectively analyze sales data on your EDD stores can have a major impact on your sales performance in the long run. Make sure you checked everything on the list above in order to properly improve your web store's performance.
But, if you want to get an even extensive sales reporting with a lot more reporting features and customization, do not hesitate to try our EDD Enhanced Sales Report Pro Plugin. Kindly check the product page for the full plugin details.