Did you ever required to show certain pages to logged-in users only? You might have found a variety of WordPress Plugins to do this but most of them are too complicated and too complex to use. What you might have preferred is a simple and easy to use plugin, that allows you to restrict access to select WordPress pages to logged-in users only. Look no more, Simple Page Access Restriction Plugin is what you need!
Restricting Access to Select WordPress Pages
The Simple Page Access Restriction Plugin offers a simple way to restrict visits to select pages only to logged-in users and allows for page redirection to a defined (login) page of your choice. Therefore, Guest users, which are not logged-in will be redirected to another plage
Defining a Page for Redirection
Simply define a (login) page in the plugin's settings where guest users should be redirected to in case they are not logged in upon visiting select pages. You can easily do this by choosing any of your pages via a dropdown list.

Access Restrictions for logged-in Users Only
To restrict access to your pages to logged-in users only, simply open the page in edit modus in WordPress. You will find a new metabox inserted by our plugin where you can select to limit access to logged-in users only. This way you have immediate clarity which pages should only be visible to logged-in users.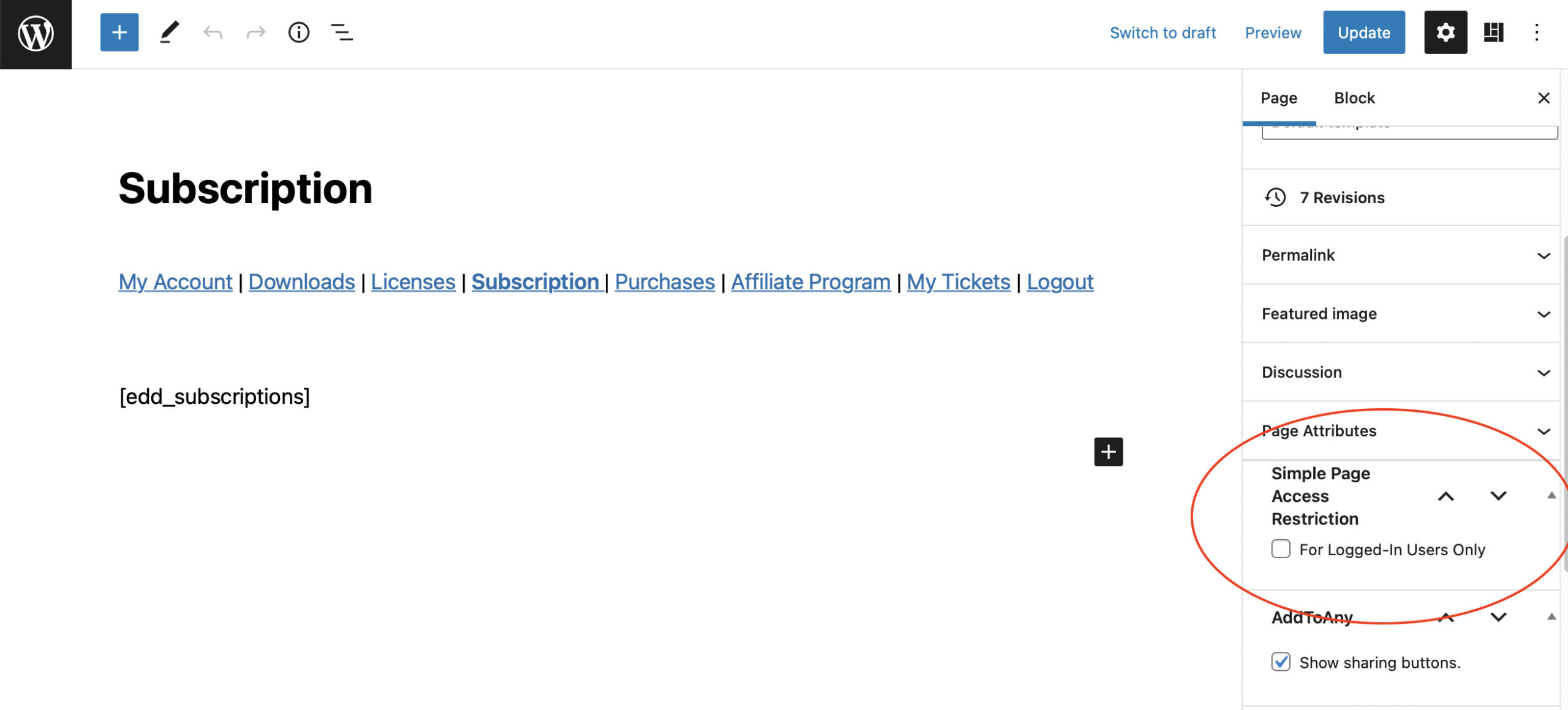 Guest users visiting those pages now, will be redirected to the defined Login Redirect Page – as per the plugin's setting
This Plugin is much simpler than anything else and avoids a lot of time wasted when setting up a My Account Area for my Webshop. – Customer Feedback Received
So try it yourself. This plugin is FREE to download and solves a frequent problem of Webshops in a simple way.
How to use this plugin?
Simply install and activate this plugin.
Go to the plugin settings page and choose a Login Redirect Page.
Then, select which page you want to restrict for logged-in users only.
In the Edit Page modus, locate the Simple Page Access Restriction Box and enable restriction only for logged-in users.
If you face any problem installing and bringing this plugin to work, please contact us via support and we will get back to you within 24 hours.
Plugin Meta Data
Current Version 1.0.15
WordPress: Tested up to Version 6.0.1
Easy Digital Downloads: Tested up to Version 3.0.2.1
Changelog
1.0.15 (December 29, 2022)
Enhancement: Disabled Login Protection Checkbox on the chosen Login Redirect Page to avoid confusion.
1.0.8 (September 26, 2022)
Enhancement: Further improvements for variable sanitization
1.0.5 (August 09, 2022)