Easy Digital Downloads (EDD) web stores come with custom category and custom tag pages, which make navigation much easier in your webstore. The normal (standard) EDD download categories and download tag pages only offer very limited editing possibilities which forgive a lot of SEO potential. E.g. there is no meaningful text editor available to add more content to pages which need to become further optimized for SEO purposes and also limiting you to only add text above the downloads listed on those pages.
For SEO purposes to work best, there needs to be an extensive text field (content) added below the downloads listed on the custom download category and tag pages. So, by acquiring this plugin, this will allow you to create text and information-rich content pages which will definitively give your web store a better chance to rank high in the leading search engines such as Google or Bing.
See the explainer video below:
EDD Landing pages for Categories and Tags: How it Works
Once you acquire the EDD Landing pages for Categories and Tags Plugin, the details below will help explain the features and the setup & installation steps to help you apply the plugin effectively, showing you on how it works for your webstore.
Download Category and Download Tag pages need to be turned into text rich landing pages for Search Engine Optimization (SEO) purposes to promote your Easy Digital Downloads (EDD) online store in the best possible way in the leading search engines. This plugin solves this problem. The EDD Landing pages for Categories and Tags Plugin allows you to edit Download Category and Tag Description using the WordPress built-in rich-text editor and also adds a new text field below the Downloads listed on the download category & tag pages.
List of Plugin Features
Better editing of Download category & tag descriptions with WordPress's built-in WYSIWYG editor
Additional Bottom Description field for Download category & tag pages
Settings to Enable/Disable Rich text editor for Default Description and Bottom Description of Category & Tag.
Please note:
With our EDD Landing pages for Download Categories and Tags Plugin, you can now turn your download category and tag pages into powerful landing pages which can improve your keyword capture for SEO purposes significantly.
Setup & Installation
For this plugin to work correctly, you have to use an improved EDD Theme, otherwise, the new text field below the downloads page will not appear. E.g. Vendd version 1.2.3 does not contain this file, you need therefore to use an alternative version of Vendd where you will have to replace two pages in Vendd with our own new pages. We have therefore added two pages which need to be updated in Vendd (either you overwrite them or create a clone of Vendd and replace those two files).
After updating the improved EDD Theme, follow the steps below:
a) Ensure your EDD store theme contains the following two pages which we will provide in the Zip file you download. Or alternatively, use our Vendd-PS theme version (Vendd Theme which includes the two updated pages):
taxonomy-download_category.php
taxonomy-download_tag.php
What will happen, is that we add a webhook do_action( 'edd_after_downloads_loop' ); on the download category and tag pages which will make our new text field appear.
b) Install the EDD Landing pages for Categories and Tags Plugin in your Easy Digital Downloads website. You can simply upload the plugin via File upload or via FTP into the plugin folder.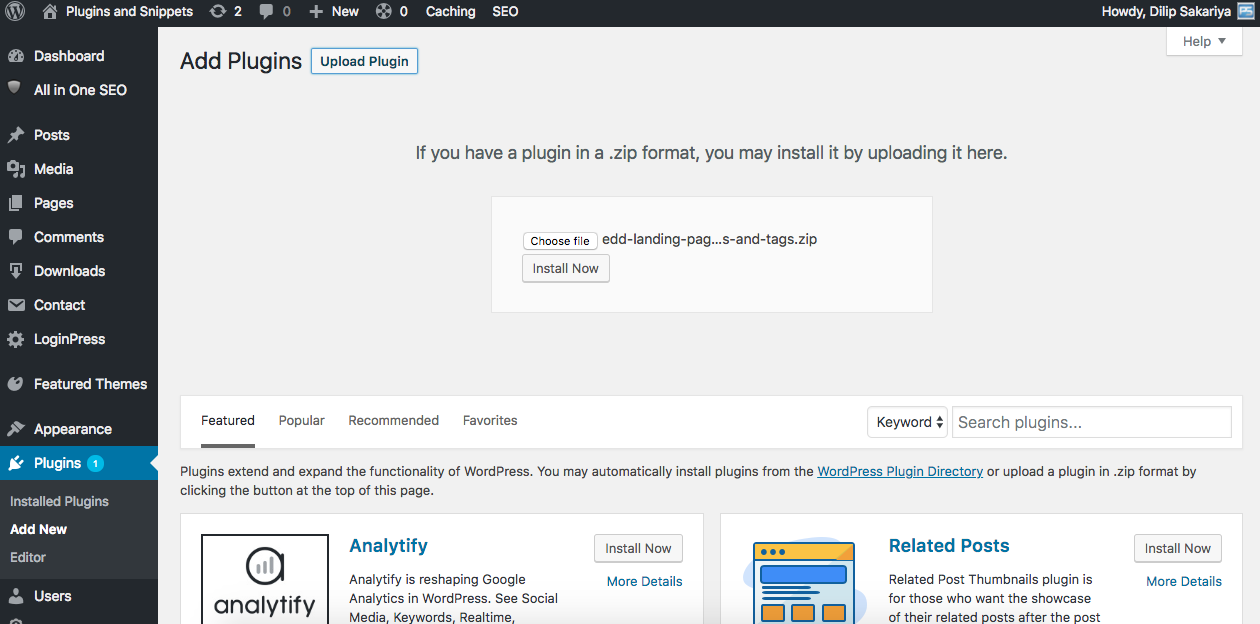 c) Check the plugin's settings and ensure all the hooks are set. Therefore, the new text field will show up on both download category, download tag pages and the new text editor will appear.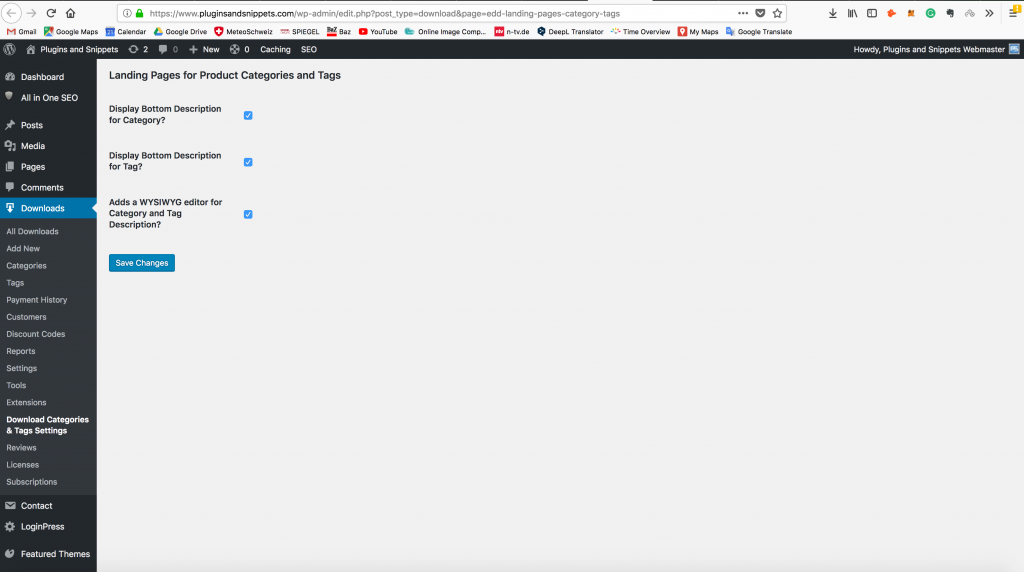 d) Now the plugin is ready for use. Go to Download Categories or Download Tags and select which one you like to edit. You will now see that a text editor has been added as well as a bottom description text field. This will add a text editor below your downloads listed on these pages.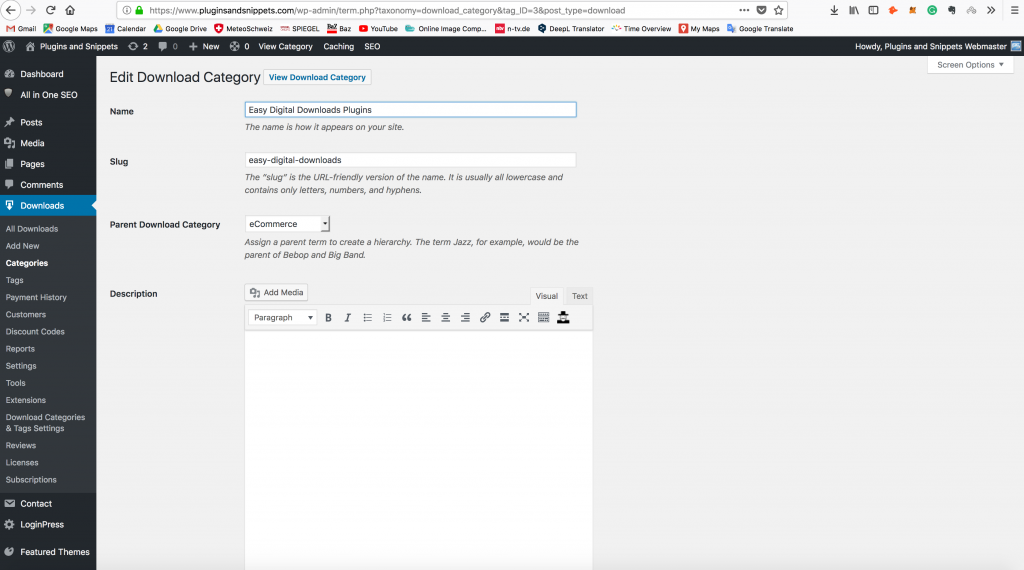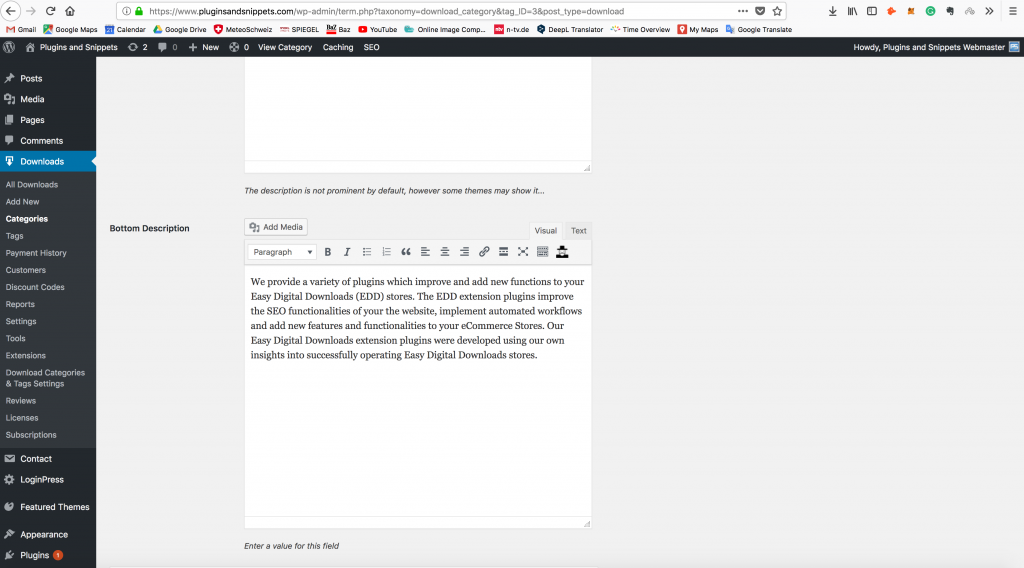 The plugin allows you to significantly add more content and a better text editor to your download category and download tag pages. Therefore, allowing you now to make the best use of the full SEO potential of your website.
Plugin Meta Data:
Current Version 1.0.9
WordPress: Tested up to Version 5.0.3
Easy Digital Downloads: Tested up to Version 3.0 Beta
Download Files:
Plugin
Vendd-PS Theme (based on Vendd V. 1.2.3)
Two pages which include additional functions
The plugin price includes updates and support for one year for the specified number of websites included in the license. After the year expired, the plugin will still continue to work. But of course, you will only receive updates and support once you renew your subscription.
* If you face any problem installing and bringing this plugin to work, please contact us via support and we will get back to you within 24 hours.