Easy Digital Downloads (EDD) plugins provide a lot of basic downloads shortcodes which we can be used to create pages and posts. But, today in modern Digital stores, we see some extraordinary landing pages of products such as Editor's Choice, Most Downloaded, Daily Pick, etc. which cannot achieve using only the basic EDD plugin's shortcodes.
A must-have EDD Advanced Shortcodes Plugin for your eCommerce Store!
This EDD Advanced Shortcodes plugin will provide all these handy shortcodes to differentiate your web store from other basic stores. In addition, it really helps with the SEO optimization of your store's landing pages. Therefore, just continue reading below to know the features, examples, and how to set up and install guide of this plugin.
List of Plugin Features
By acquiring this EDD Advanced Shortcodes Plugin, you will be able to take advantage of the features listed below.
The Shortcode to display your products sorted by the Top Sellers
Shortcode to list all Authors (similar to the downloads) when using Easy Digital Downloads – Frontend Submissions.
A Shortcode to create a random list of daily Picks of your downloads (order will change each day or daily pick)
All shortcodes support pagination and filtering options
Plugin Meta Data:
Current Version 1.0.5
WordPress: Tested up to Version 5.0.3
Easy Digital Downloads: Tested up to Version 3.0 Beta
The EDD Advanced Shortcodes plugin price includes updates and support for one year for the specified number of websites included in the license. After the year expired, the plugin will still continue to work. But, you will receive updates and support only when your subscription is active.
Setup & Installation
Once you acquire a copy of this plugin, just follow the steps below on how to set up and install properly for it to work on your webstore. Moreover, it is very simple and fast, so no worries!
a) Firstly, install the EDD Advanced Shortcodes in your Easy Digital Downloads website. You can either upload the plugin via File upload or via FTP into the plugin folder.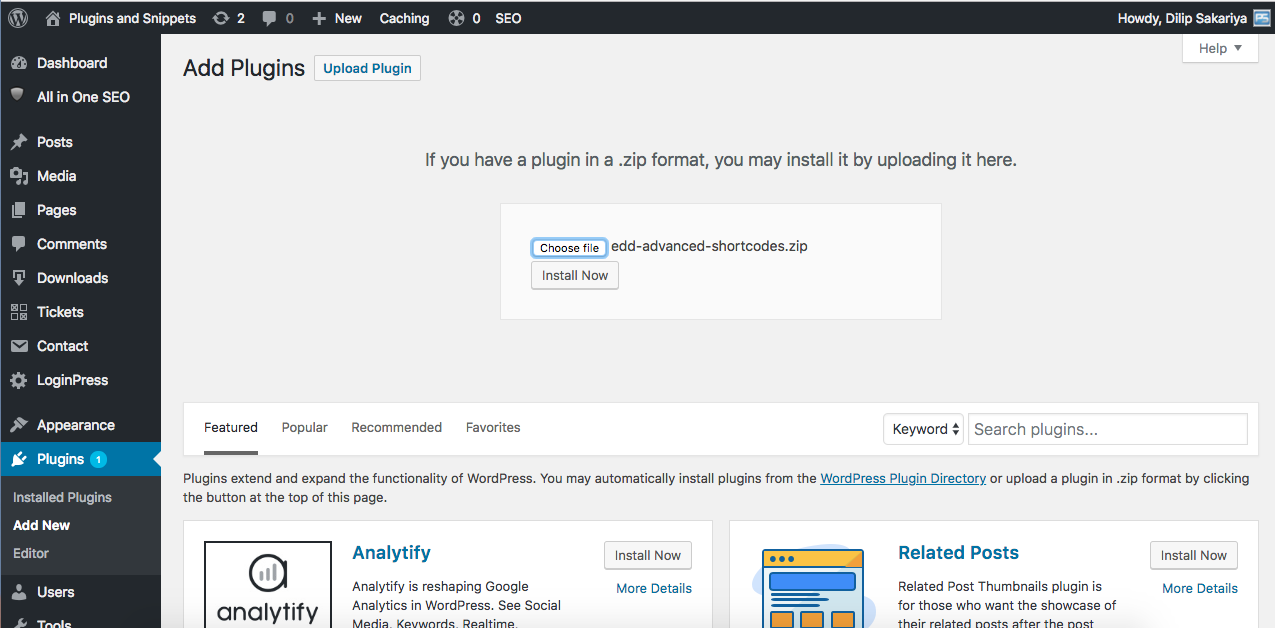 b) After that, the plugin is ready for use. Next, go to Pages and Add new or select which one you like to edit. Finally, you will then see that a text editor where you have to use one of the plugin's shortcode.