Tip #5: Filtering your Enhanced Sales Data in Easy Digital Downloads  
Our EDD Enhanced Sales Report plugin comes with a number of filters on every sales report. You can see these filters for example on your Products Report tab, click on "Show Advanced Filters" button.


These filters below can be used to better analyze your sales data in Easy Digital Downloads webstore. This is helpful if you want to only view a specific subset of sales data, for example, orders only for a specific product. Below is an example from our By Products Sales Report.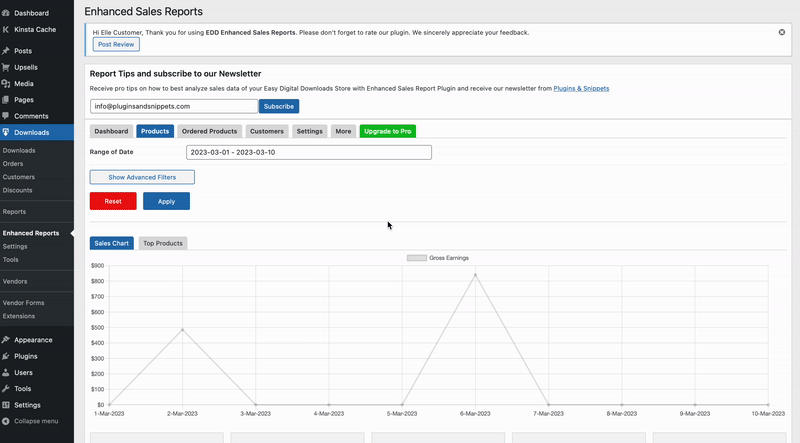 The filters you can apply on this sales report are the following:
Range of Date – Show data within a certain time frame, such as a particular day, week, month, quarter, or year. This can help users to identify trends and changes in sales performance over time.
By Product – Use to focus on specific products or services within the sales data, allowing users to analyze performance metrics for individual items.
Earnings – This filter can be useful when you are looking to analyze certain price segments of the products of your store.
Order Value – This filter can be used when you like to zoom in on certain ranges in terms of average product values.
Sale Type – This can either be Free and Paid, Free Only, or Paid Only. Basically, if you want to see the total of only all paid sales, you can do so, and vice versa.
Customers – Sales data for specific customer segments, specifically, new or existing customers.
By Country – Use to analyze sales performance in specific geographic regions, specifically, by country.
By Author – Allows users to analyze sales data for specific authors or creators, in order to track performance metrics for each individual author.
Taxes – Allow users to filter sales data whether its inclusive or exclusive of tax.
Payment Gateway – Allow users to filter sales data which payment gateway has been used to complete the purchase.
By Customer – Allow users to filter sales data per specific customer, gaining more insights on your top customers.
By applying these filters to their sales reports, users can gain a deeper understanding of their sales performance and make data-driven decisions to improve their results.