Systematically follow up on abandoned carts
View Content of Abandoned Carts and Lost Sales Value
Issues time-limited discount codes
Uses Mailchimp email automation to send follow-up emails
Tracks recovery of abandoned carts
Statistics: Key Performance Indicators
Documentation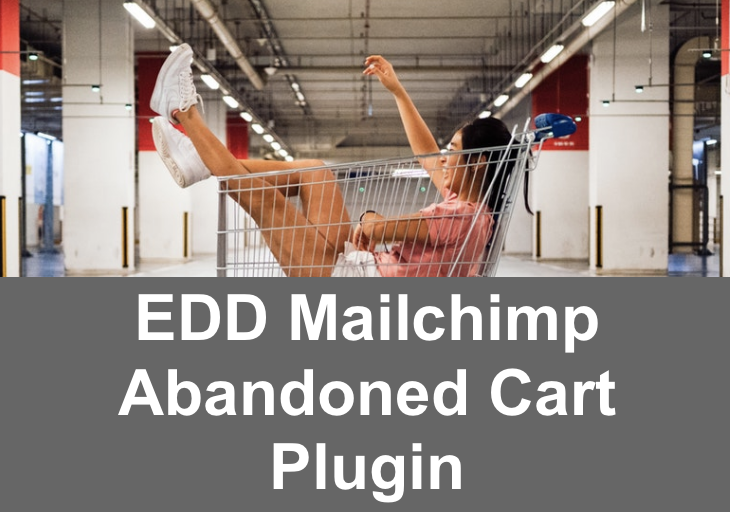 Introduction: The EDD Plugin which pays for itself!
This plugin was created, specially designed to recover abandoned carts for Easy Digital Downloads (EDD) stores by using Mailchimp. Here are some reasons why you should consider using Mailchimp for your abandoned cart recovery process.
Mailchimp is one of the largest email marketing service provider, and it is commonly and especially used by many small and medium-sized businesses to aid them in their email service needs.
It offers a lot of know-how solutions that will be a lot of help and use to the daily email service needs of your eCommerce web store.
It enables you to conduct a lot of different processes and strategies on your email services which makes it a very flexible and effective email marketing service provider to use.
You can have your customer email data all in one place with a brand that is well-known and trusted by many business owners and entrepreneurs.
Mailchimp is not only good with their email processes but they also offer essential statistics and key performance indicators that will give us a better view of how our email marketing service is actually doing.
Why using Mailchimp for Abandoned Cart Recovery?
Recovering abandoned carts is a strategy used by many top eCommerce businesses. Such customers normally are very close in their decision to complete the purchasing of a product and can be called "warm leads".  Important now is to put a process in place to systematically following up with an email series on any abandoned cart.
The prospect simply needs a gentle push which can be done via this plugin by offering a time-limited discount to motivate and drive customers to close the purchase within a limited window of time.
Successful abandoned cart processes lead to a recovery rate of 10% – 20% of abandoned carts by converting a lost sale into a recovered sale. Meaning 1 out 6 potential customers who are still undecided, might decide to give it a try and follow through on their purchase intent. If you assume an average ticket value of $20 – $50 you will quickly figure out that this is a strategy with an excellent return on investment.
Our plugin was specifically designed to optimize the abandoned cart recovery process for Easy Digital Downloads stores, therefore it's a true EDD plugin. We also re-worked it completely trying to improve what we can and now have issued a reworked version. Putting in place an effective abandoned cart recovery process in most cases is a must-have for your Easy Digital Downloads store of for any eCommerce Website.We will explain how the EDD WordPress Abandoned Cart plugin works in the following video. You can also see the full documentation here.
Send email automation series via Mailchimp
Target those leads who abandoned their carts and setup an email series and try to get those customers to follow through with their purchase intent. Hence, the need for a plugin, which triggers such a workflow and sends abandoned cart customer data to MailChimp, and will therefore use the automation processes of MailChimp to send the email series needed for this workflow.
You can learn more how to do this by reading the Documentation page here.
Performance Statistics of your Abandoned Cart Process
Check and track the performance statistics and key performance indicators of your abandoned cart process. The statistics you can see are: a) Information regarding your Abandoned Carts and their Lost Sales Value, b) Recovered Sales and Orders when the discount codes are used and, c) Other Key Performance Indicators.
These statistics can give you a clearer picture of the current status of your abandoned cart process and how your abandoned carts recovery workflow is working for your business, and here you can have an idea where and what to improve on your side.
Detailed list of all abandoned carts and contents
See a full list of all your abandoned carts, along with the necessary details about each entry. Also, you can now have a look at the abandoned cart contents to see what products your customers left on their abandoned carts.
Issue time-limited Discount Codes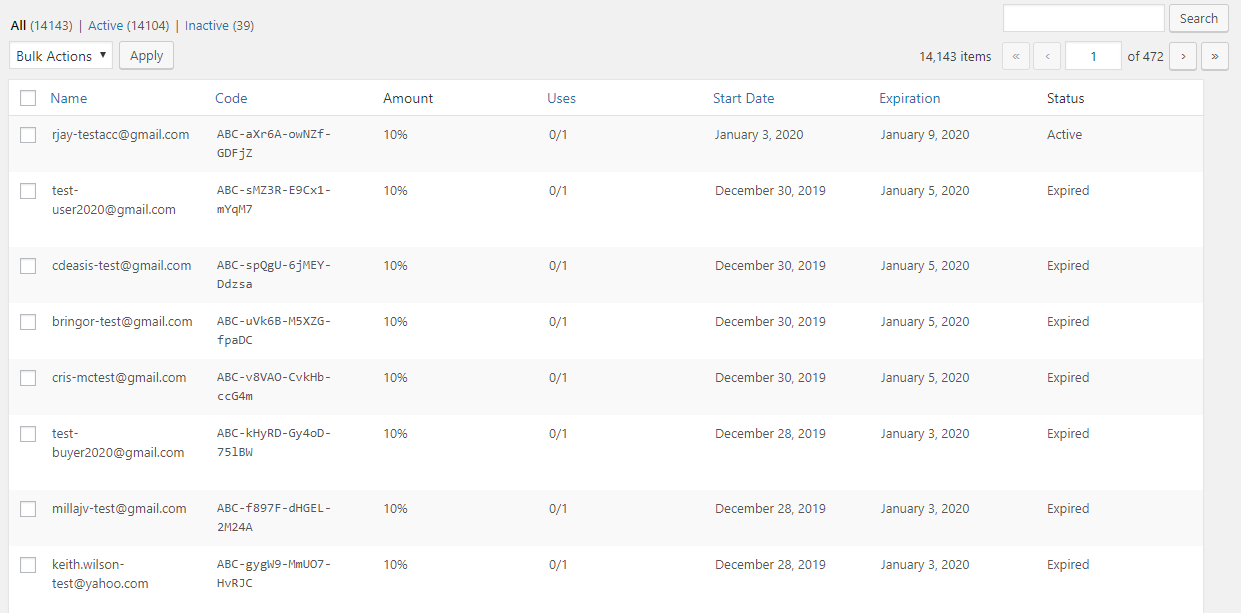 Automatically create unique time-limited discount codes per prospective customer who abandoned their shopping carts. This strategy can effectively attract those customers and therefore increase the chance of them returning to proceed with the purchase and checking out using the issued discount codes. Take note that there's an option to Turn ON / OFF the creation of discount codes.
Here are other features that could be of interest and help to your abandoned cart recovery process.
Enable/disable Abandoned Cart workflow
Have the option to turn ON or OFF the abandoned cart workflow without even uninstalling the plugin.
Trigger abandoned cart emails for existing customers as well
Now cover all your customers, new or existing ones, in sending out the abandoned cart recovery emails.
Button to ensure your abandoned carts are properly synced to Mailchimp
Previously, your abandoned carts are automatically synced into your Mailchimp group. Now, this new feature allows you to force sync your abandoned carts in one click by pushing the "Sync with Mailchimp" button. You can either wait for it to get synced or force sync it with just one click.
Spam Protection
Here's a solution to protect your abandoned cart process away from bots and spammers. The way this work is that your abandoned cart process will stop if the set limit of pending carts is reached.
Improved feature to cleanup issued discount codes
Delete all inactive, expired or used discount codes with the same Prefix as stored on your system database in just one click! Saves you time in manually deleting these codes and allowing more space for incoming discount codes to be generated by your abandoned cart process.
Frequently Asked Questions
You first need a Mailchimp account and create a new list for customers who abandoned their carts. Then you need to install the plugin. The next steps would be discussed step by step in the documentation page.

Yes, your mailchimp account needs to allow and support email automations. We believe you will need a subscription for that. Pricing normally depends on number of email list subscribers.

After logging in Mailchimp, you need to go to Account > Extras > API Keys. Then, select the grey button at bottom left "Create key". Now you will have your MailChimp API key ready.

Upon installing this plugin, you can simply go the Plugin Settings to configure and connect your EDD Store to your Mailchimp Email List. For the complete step by step instruction, please visit our documentation page.

Yes. With the plugin's new update, you can now able to turn ON/OFF the abandoned cart workflow without even uninstalling the plugin.

Yes. You can turn OFF discount code or can Delete auto generated discount codes regularly(weekly/monthly) to clean your DB optimized.

Yes. As a new feature of this plugin, you can now able to see the details on the abandoned carts right on the abandoned cart list.
Number of abandoned carts, issues discounts, lost sales value, recovered carts and sales value, recovery rate, recovery value, and others.

Yes. With the plugin's new update, we can now track and see the recovery value when a discount code is used.

Yes they are stored in EDD and you will have full transparency on all discount codes issued via this plugin as they can be identified by the same prefix.

Yes. EDD Mailchimp Abandoned Cart Plugin will send email to Guest Customer if they inserted Email address in the checkout page of the store and leave without successful payment.

Yes. We provide a money back guarantee for 14 days should you not be satisfied with our product and we will issue you a refund.

Yes. In order to receive updates and support we charge an annual subscription fee. However, you are free to cancel the subscription at any time.
Recover your Abandoned Carts. Get your plugin now!
The purchase price includes plugin related support and updates for 1 year.  Afterward, if your license expires, keeping the EDD plugin installed is possible. But, you can only receive further plugin support and updates if your license will be renewed. We would gladly help if you have any questions regarding this plugin. Simply contact us and we will get right back to you as soon as possible.
Current Version 2.0.1
WordPress: Tested up to Version 5.3.2
Easy Digital Downloads: Tested up to Version 2.9.20