Recover abandoned carts
Systematically follow up on abandoned carts
Uses Mailchimp email automations
Automatic issues unique and time-limited discount codes
Documentation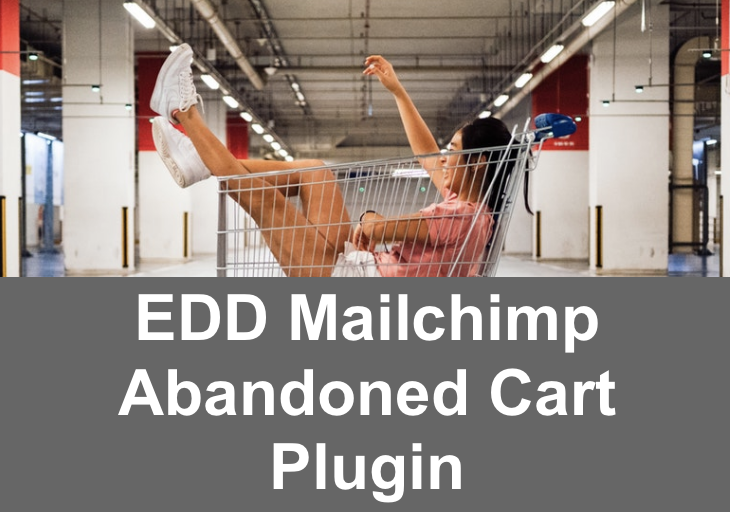 Introduction: The EDD Plugin which pays for itself!
Recovering abandoned carts can be quite lucrative for eCommerce businesses. Such customers normally are very close in their decision to complete the purchasing of a product. But this guarantees that those customers were interested and are in need of the product, which places them as prospective customers that can be recalled.
By following up with an email upon an abandoned cart, it can lead up to a success rate of 10% – 20% for closing with a lead. Meaning 1 out 6 potential customers who are still undecided, might decide to give it a try and follow through on their purchase intent.
The prospect simply needs a gentle push which can be done by offering a time-limited discount to motivate and drive customers to close the purchase. Given this success rate, investing in a WordPress abandoned cart EDD plugin, in most cases, is one of the best investments you can do for your eCommerce Website.
We will explain how the EDD WordPress Abandoned Cart plugin works in the following video. You can also see the full documentation here.
Easy Digital Downloads and Mailchimp Abandoned Cart Recovery Marketing
This plugin was created, specially designed to recover abandoned carts for Easy Digital Downloads(EDD) stores. As you already know, EDD is one of the leading software platforms to sell digital products online. EDD itself comes as a WordPress plugin and therefore, benefits from access to all other plugins from the WordPress ecosystem. With our EDD Mailchimp Abandoned Cart WordPress Plugin, you can now make use of Mailchimp's Abandoned Cart Automation process, to follow up on your abandoned carts with a Mailchimp Email or Email series. MailChimp Digital Download marketing solutions can therefore ideally support your EDD store.
In short:
Easy Digital Downloads is one of the leading open source platforms to sell digital products and works with WordPress.
MailChimp is the leading email marketing services provider.
Our plugin solves the problem on how to automatically follow up the abandoned cart potential sales by using EDD and MailChimp.
Also, this plugin is especially useful for those who prefer using Mailchimp as email marketing provider and who do not like to work with a different provider for recovering abandoned carts.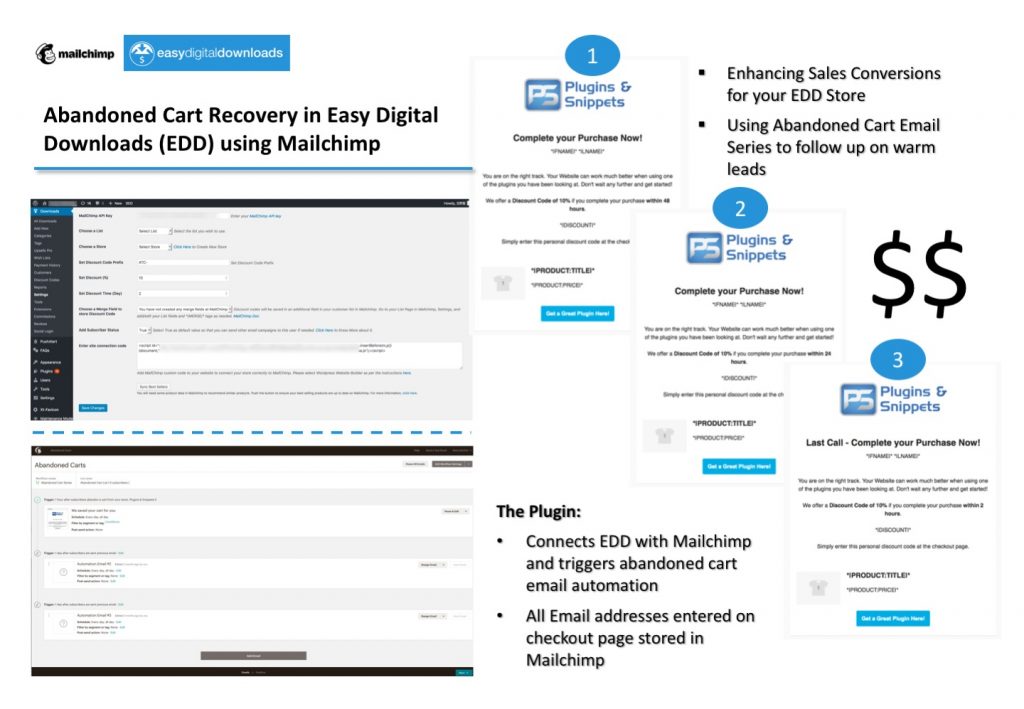 Take note: For this plugin to properly work, you need to make sure your Mailchimp account allows you to setup email marketing automation series. Now, this is how the plugin works:
We recommend it best to create a new Email List in MailChimp. The said list should contain all the prospective customers who abandoned their carts in your webstore.
Then you install the EDD Mailchimp Abandoned Cart WordPress Plugin on your website. Use the plugin's settings page to connect your EDD store to your MailChimp Account.
Once the plugin is installed correctly, every cart with positive order value, email address, and the cart which has been abandoned, will now trigger an abandoned cart Email via MailChimp.
The highlights of this WordPress Abandoned Cart plugin are the following:
The EDD Plugin only sends emails to abandoned carts where cart value >0
The plugin creates automatic and unique time-limited discount codes per prospective customer in EDD. You can use it in your Mailchimp Digital Download Email campaign
ON/OFF Button to create Discount Codes
Clean up Function to Delete Expired Discount Codes
Frequently Asked Questions
You first need a Mailchimp account and create a new list for customers who abandoned their carts. Then you need to install the plugin. The next steps would be discussed step by step in the documentation page.

Yes, your mailchimp account needs to allow and support email automations. We believe you will need a subscription for that. Pricing normally depends on number of email list subscribers.

After logging in Mailchimp, you need to go to Account > Extras > API Keys. Then, select the grey button at bottom left "Create key". Now you will have your MailChimp API key ready.

Upon installing this plugin, you can simply go the Plugin Settings to configure and connect your EDD Store to your Mailchimp Email List. For the complete step by step instruction, please visit our documentation page.

Yes. You can turn OFF discount code or can Delete auto generated discount codes regularly(weekly/monthly) to clean your DB optimized.
Yes they are stored in EDD and you will have full transparency on all discount codes issued via this plugin as they can be identified by the same prefix.

Yes. EDD Mailchimp Abandoned Cart Plugin will send email to Guest Customer if they inserted Email address in the checkout page of the store and leave without successful payment.

Yes. We provide a money back guarantee for 30 days should you not be satisfied with our product and we will issue you a refund.

Yes. In order to receive updates and support we charge an annual subscription fee. However, you are free to cancel the subscription at any time.
Recover your Abandoned Carts. Get your plugin now!
The purchase price includes plugin related support and updates for 1 year.  Afterward, if your license expires, keeping the EDD plugin installed is possible. But, you can only receive further plugin support and updates if your license will be renewed. We would gladly help if you have any questions regarding this plugin. Simply contact us and we will get right back to you as soon as possible.
Current Version 1.0.9
WordPress: Tested up to Version 5.0
Easy Digital Downloads: Tested up to Version 2.9.9