Alternative to selling subscriptions: Selling New Versions!
Manages and organizes download versions
Enhances sales to existing customers
Discounts for updating
Shortcodes for Purchase History and Download History Pages
Archive of old download versions 
Shows if a version is outdated on the Purchase Receipt
Notifies Customers on the Product Page if they are entitled to Discounts for Updating
Full tracking of update-related sales
Works well for Single or Multi-Vendor Webstores
Fully integrated with EDD Frontend Submissions (FES) Plugin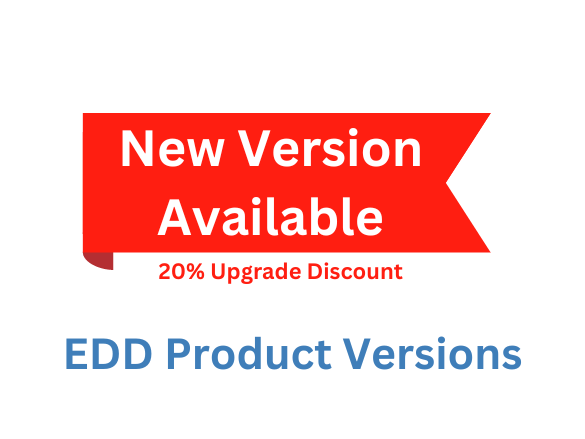 Plugin Description
The EDD Product Versions Plugin introduces versioning of your download files, by saving old file versions of your download products, and offering a New Version Upgrade to existing customers, for an additional revenue flow.
You can either use this plugin to offer 1) old file versions to your existing customers for convenience or 2) offer upgrades, including price discounts, to existing customers. Customers who purchased old file versions will see a button on their purchase receipts to upgrade to the latest product version. This plugin is fully integrated with EDD FES in allowing vendors to create bundles, and new bundle versions.
Enhance your sales by selling updated versions of already existing products! 
Screenshots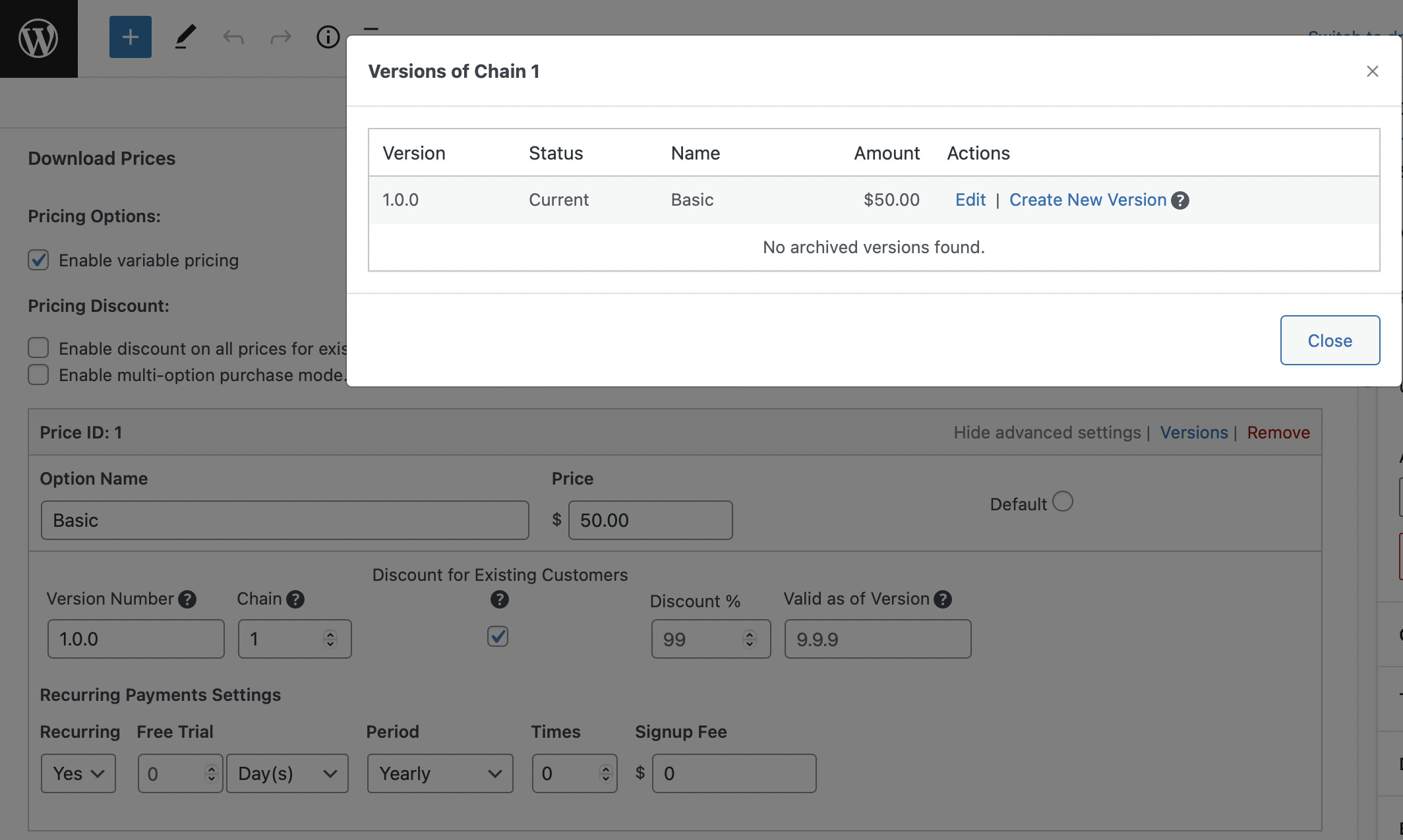 Why do you need File Versioning on your Digital Downloads webstore?
There are two main ways how to operate an Easy Digital Downloads webstore:
Selling products (without any subscriptions)
Selling subscriptions
The problem with the first method is that there is no recurring revenue stream since all products are sold one time. The only way to monetize such store is to sell additional products or version upgrades.
While as for the second method, which is selling subscriptions, we face multiple issues such as:
Most customers hate purchasing products with recurring payment for subscription, especially for digital downloads stores that they don't trust their debit/credit cards that much – basically they don't want to pay yearly fees.
Most customers will outright cancel their subscriptions, once they got the product they needed – basically they don't want your future updates us they already got the product and features they want.
In case you're operating a huge digital downloads store with hundreds of products, maintaining each download and developing new updates would be very tiresome, just so you can release small updates, with no guarantee that customers will renew their subscriptions.
In conclusion, selling one-time products and subscriptions has many risk and issue factors that may affect the long run of your digital download stores. So, as a solution to solve this problem, we recently opened the idea about File Download Versioning.
What is File Download Versioning?
In this method of operating your Digital Downloads stores, basically you will store old download files on your system for convenience, develop new versions, and sell it directly to already existing customers.
As there was no easy system available to manage the sale of new product versions, we decided to solve this problem by launching EDD Product Version Plugin.
We have two use cases:
Product Stores – Sell New Versions 
Many customers don't like to buy subscriptions. However, they would be ready to pay for improvements provided there is a new version of an already existing product available. EDD Product Version Plugin solves this problem by offering a plugin that manages the sale of new versions of a digital product such as a template, an eBook, etc. to already existing customers. 
Subscription Stores – Adding Archive to Downloads
The other use case is offering an archive of old download versions. This can also be useful to a webstore selling subscriptions, such as a WordPress plugin developer. Sometimes customers run into plugin conflicts and need to undo a latest update temporarily. In such cases, the question is always where to find the old plugin version. EDD Product Version plugin allows an option to also show old download versions on the download pages, making it easy for customers to find the full archive of old download versions.
Plugin Key Features
(1) File Version Upgrades
This plugin introduces File Version Upgrades, where you can update your Download Products whenever you can, then sell those new version upgrades to already existing customers, for additional revenue stream. This means we target paying customers to significantly improve the download they previously purchased, a lot more chance to get a sale!
Existing customers for the New Version Upgrades will be notified on their Purchase Receipt Pages where they can directly purchase it.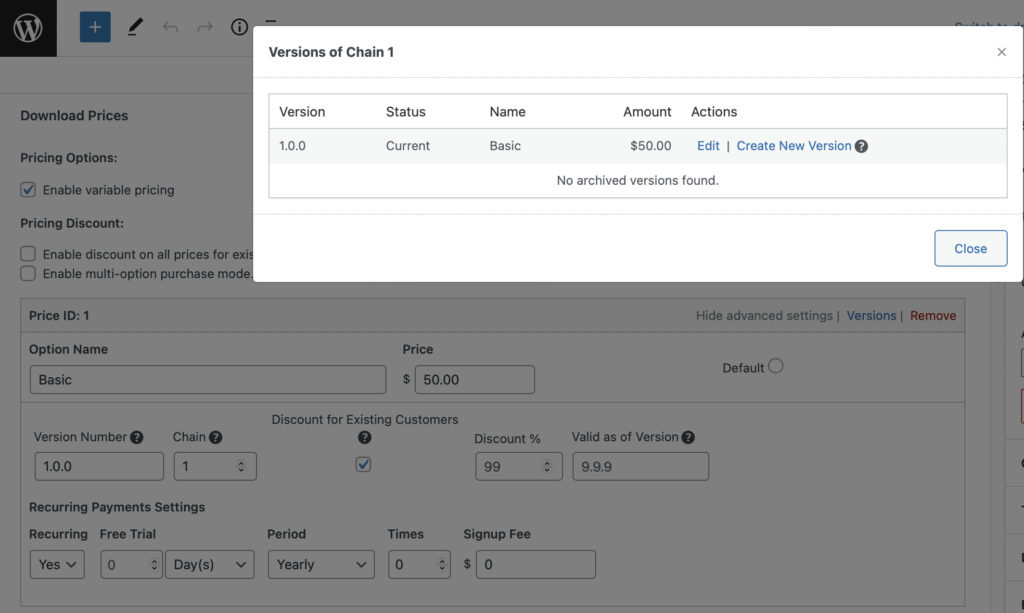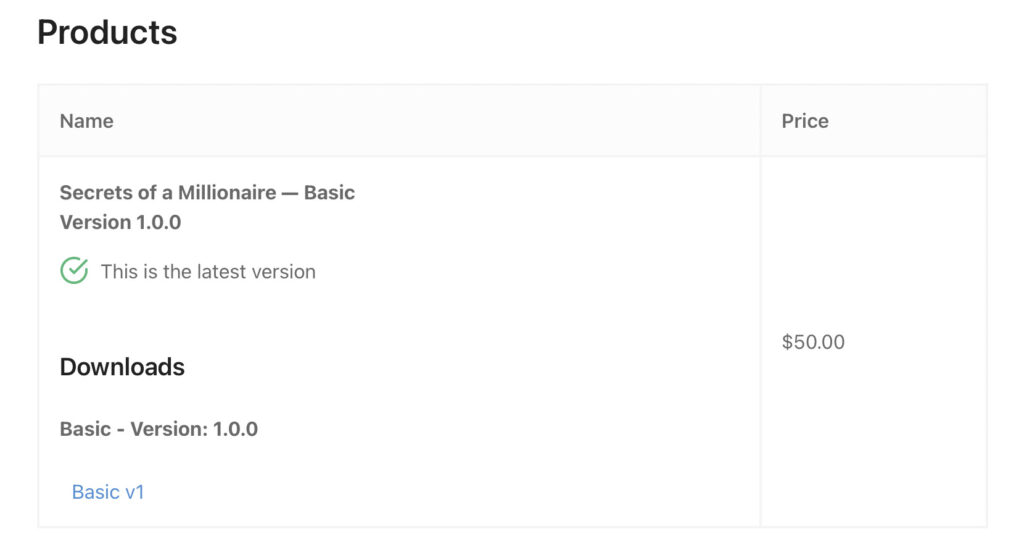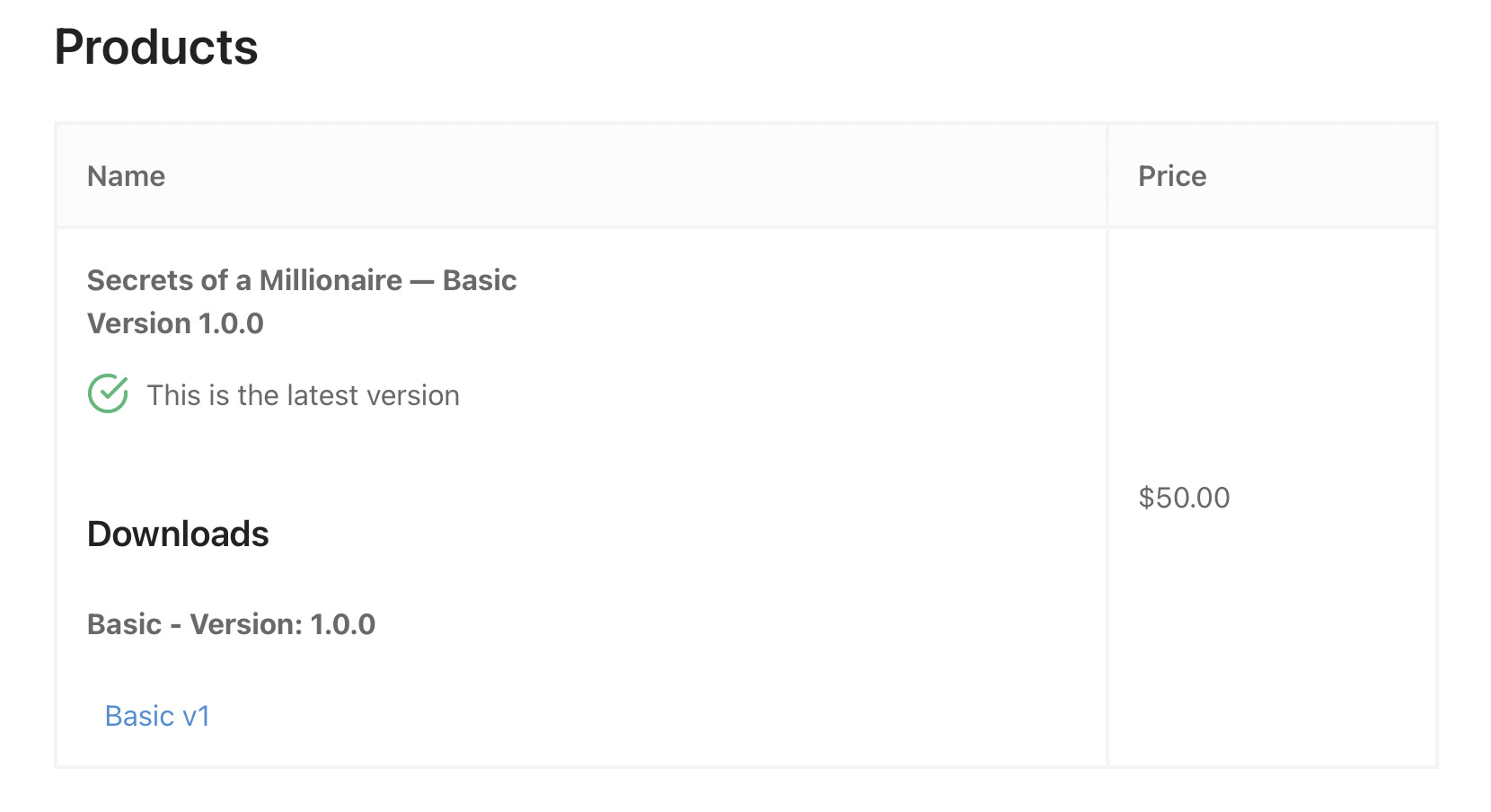 (2) Archive Old Download Files and Prices
Most digital download stores fail to realize the importance of Storing and Archiving Old Download Files. So why exactly it is important? Download Products such as plugins, themes, codes, snippets and others are prone to compatibility issues and conflicts on your customer websites.
Therefore, you must always store old download files on your website, ready to be downloaded by your customers, in case of problems on their website, and might need to go back one version down to troubleshoot the problem.
This is why our plugin allows for Archiving Old Download Files accessible by previous customers anytime, to be displayed on Purchase Receipt and Downloads History Pages.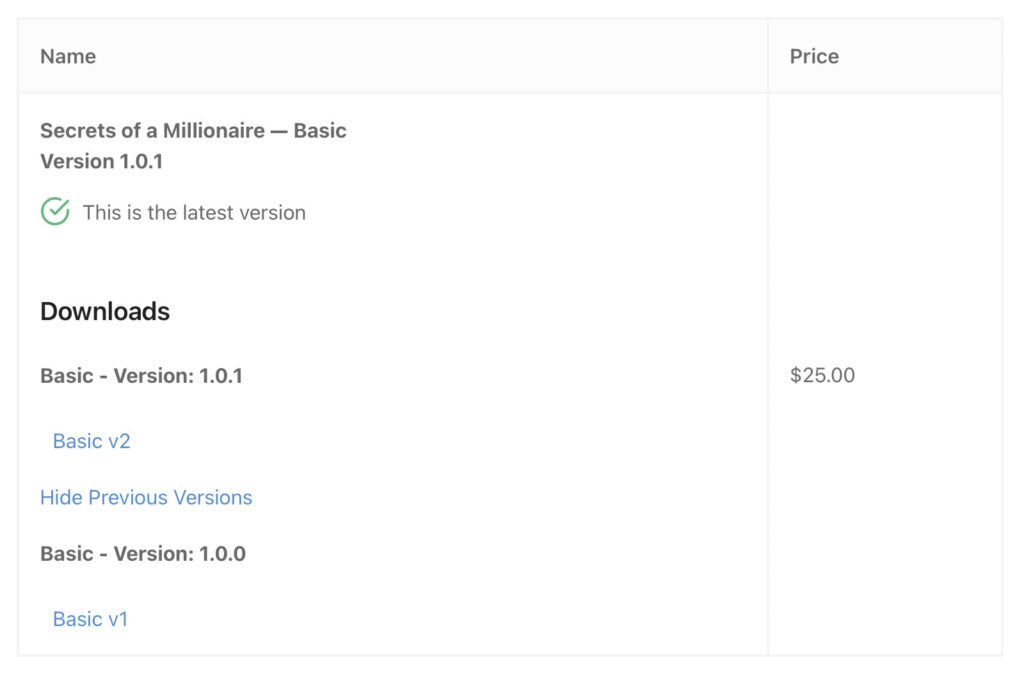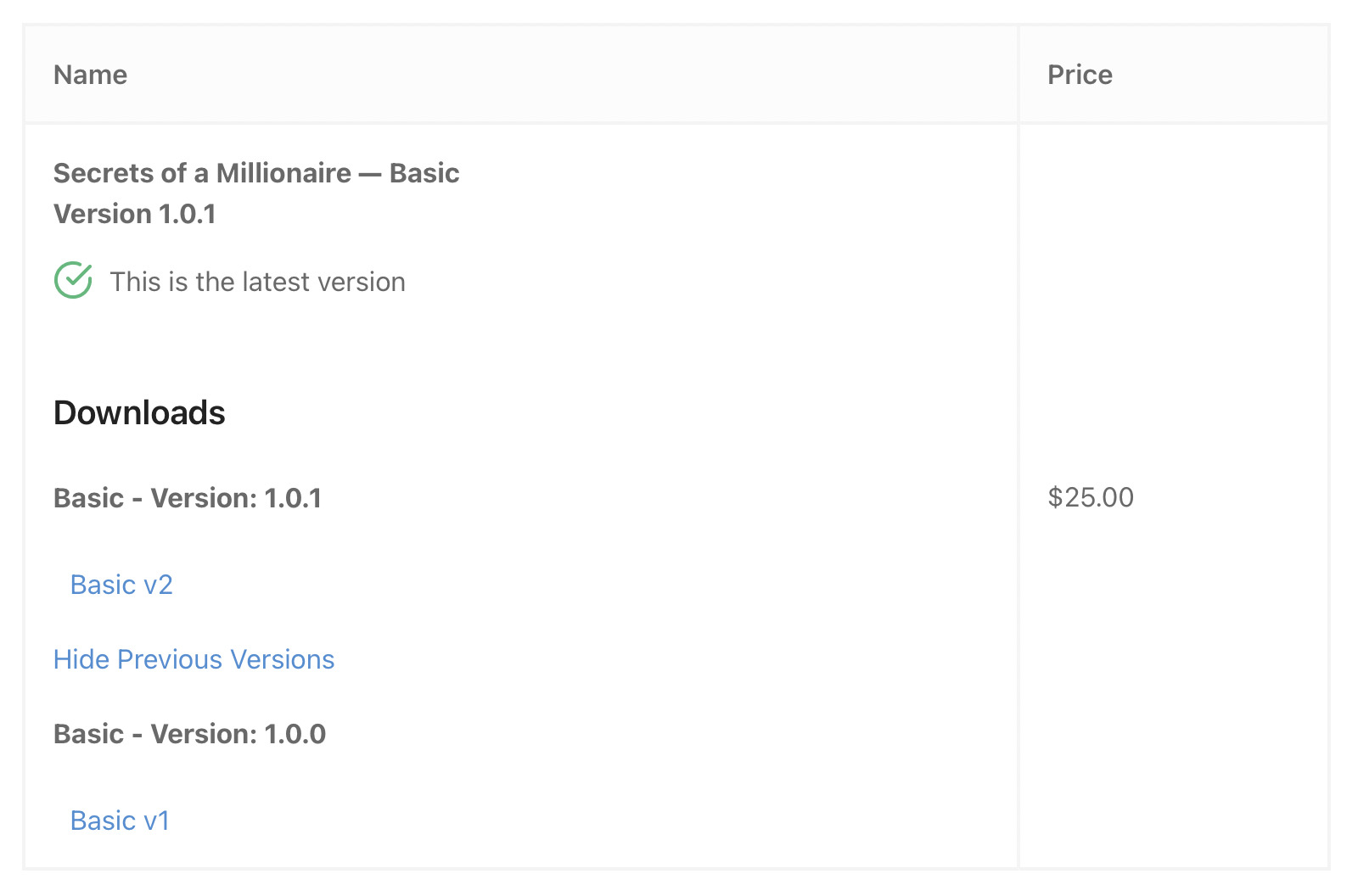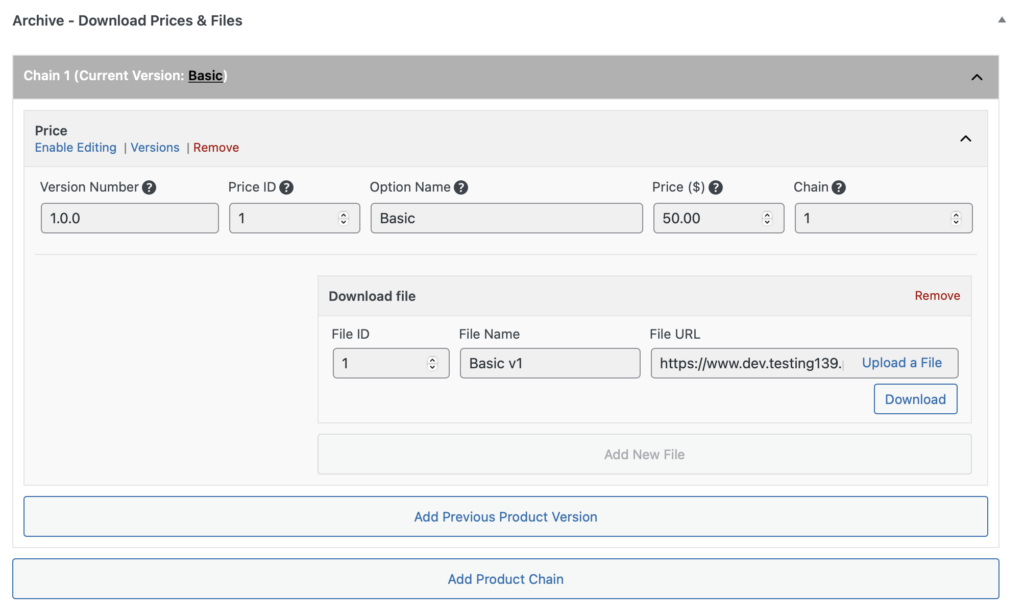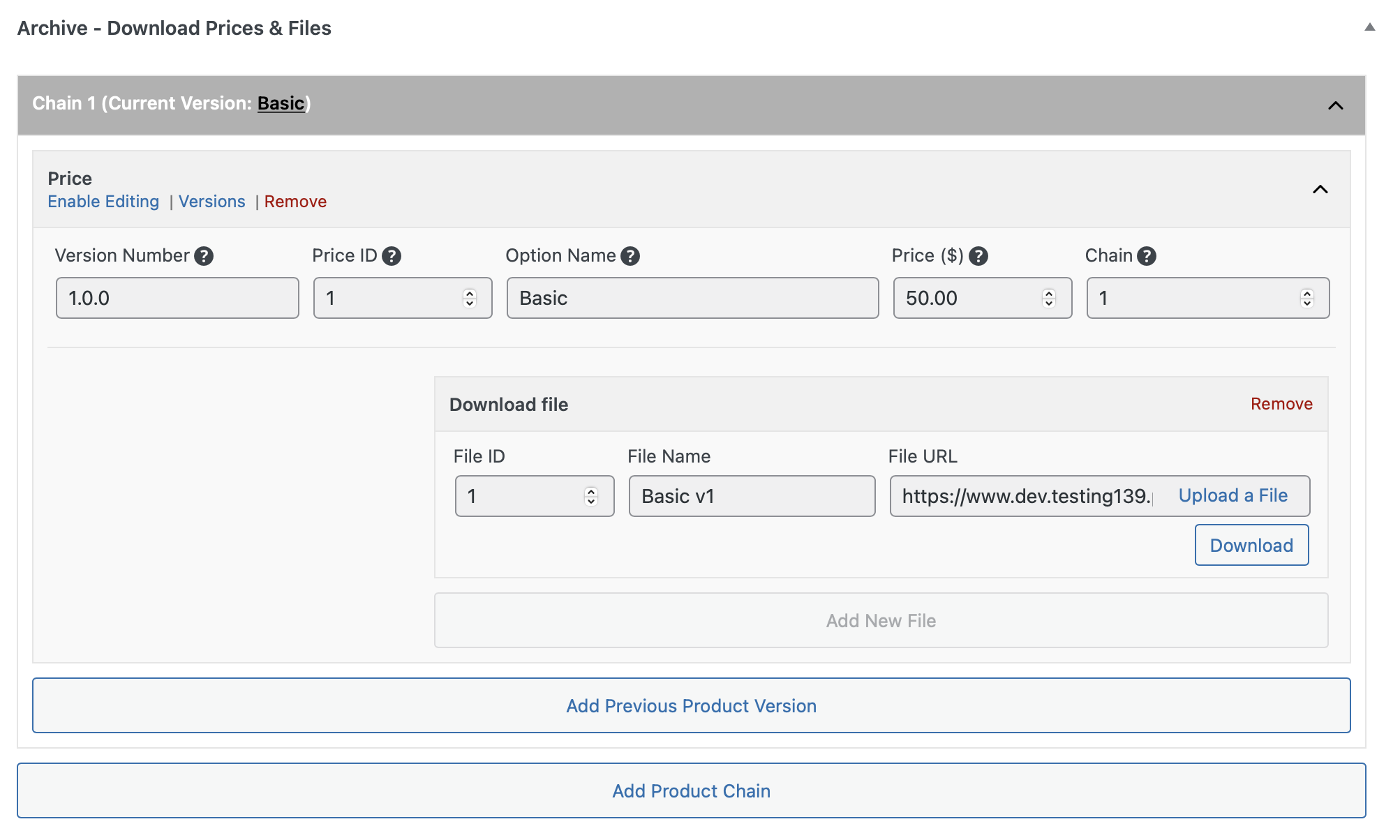 (3) Discounts for Existing Customers
Since our plugin introduces the strategy of selling new version upgrades to already existing customers, we also developed a system to offer discounts for purchasing new version upgrades, which will make the offer more attractive to existing customers and push them to purchase the new version.
Here, you can set a default discount percentage to be applied to all existing purchaser of the download products up for new version upgrade.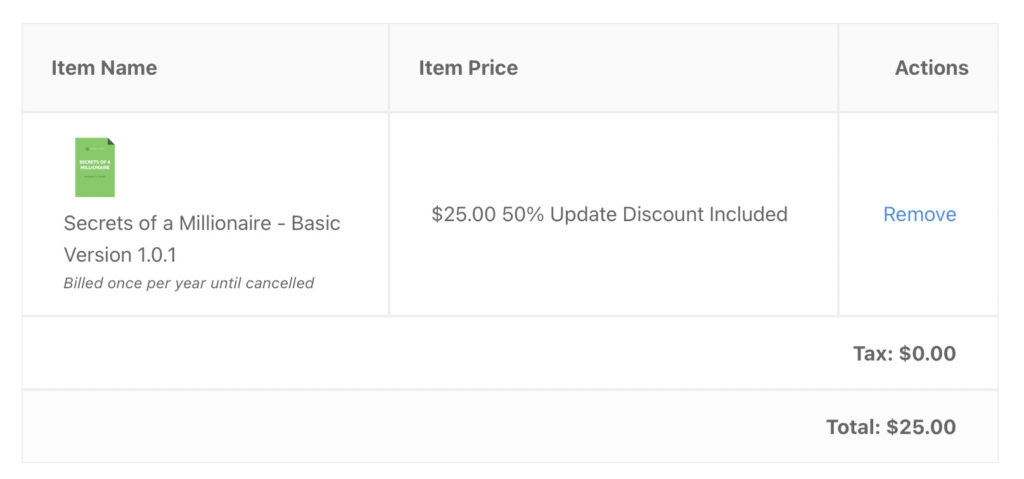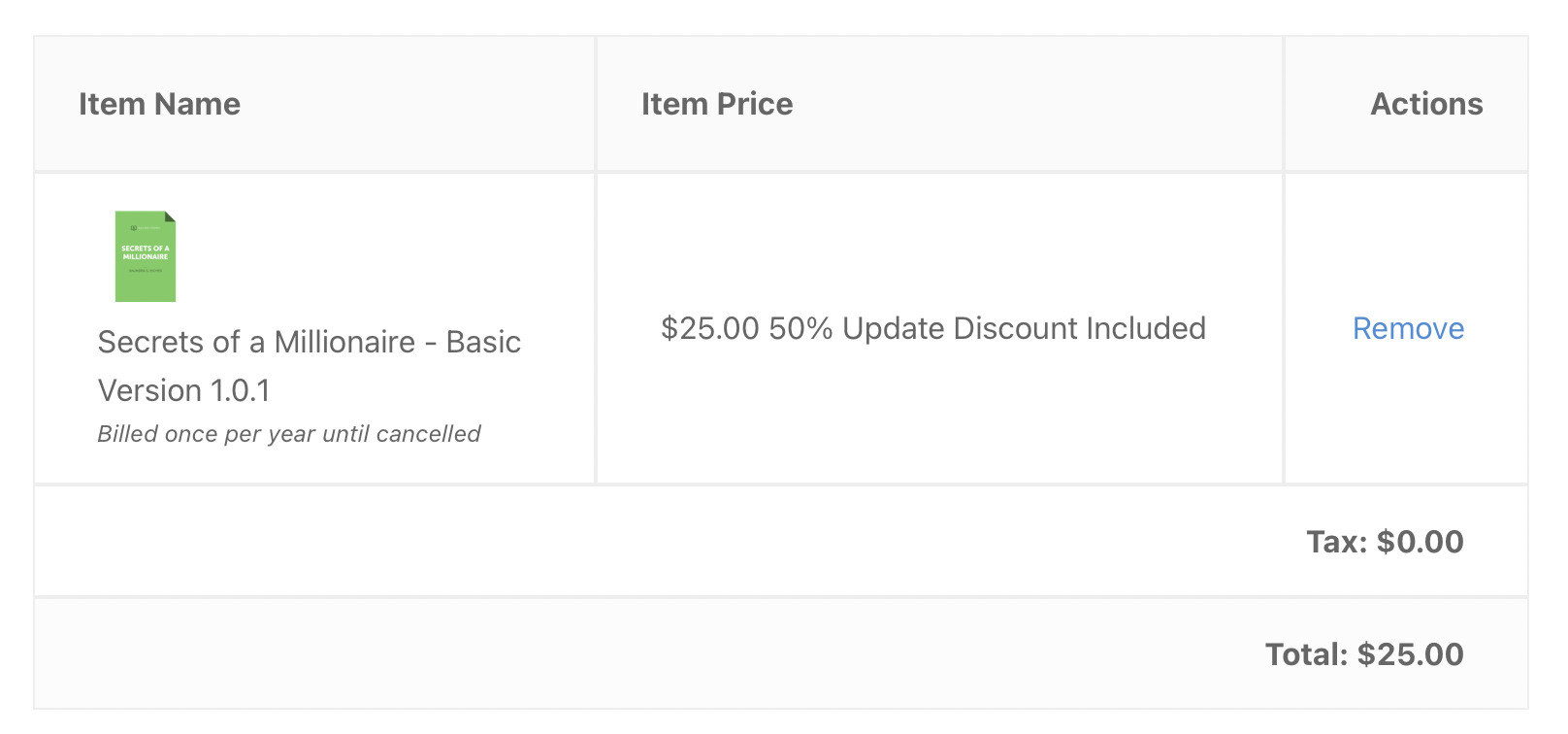 (4) Product Update Message on the Purchase Receipt Page
Be able to inform existing download customers by adding an Update Message on their Purchase Receipt Pages, notifying for a New Version Update, available for purchase. This serves as a quick, call-to-action, that pushes customer to checkout, and to purchase the new download version.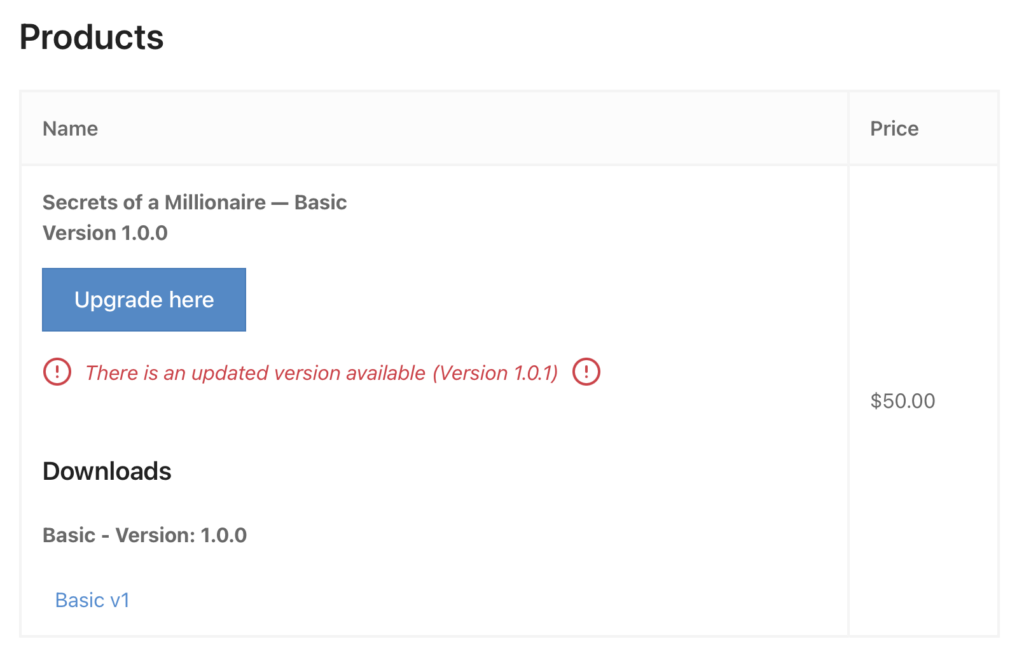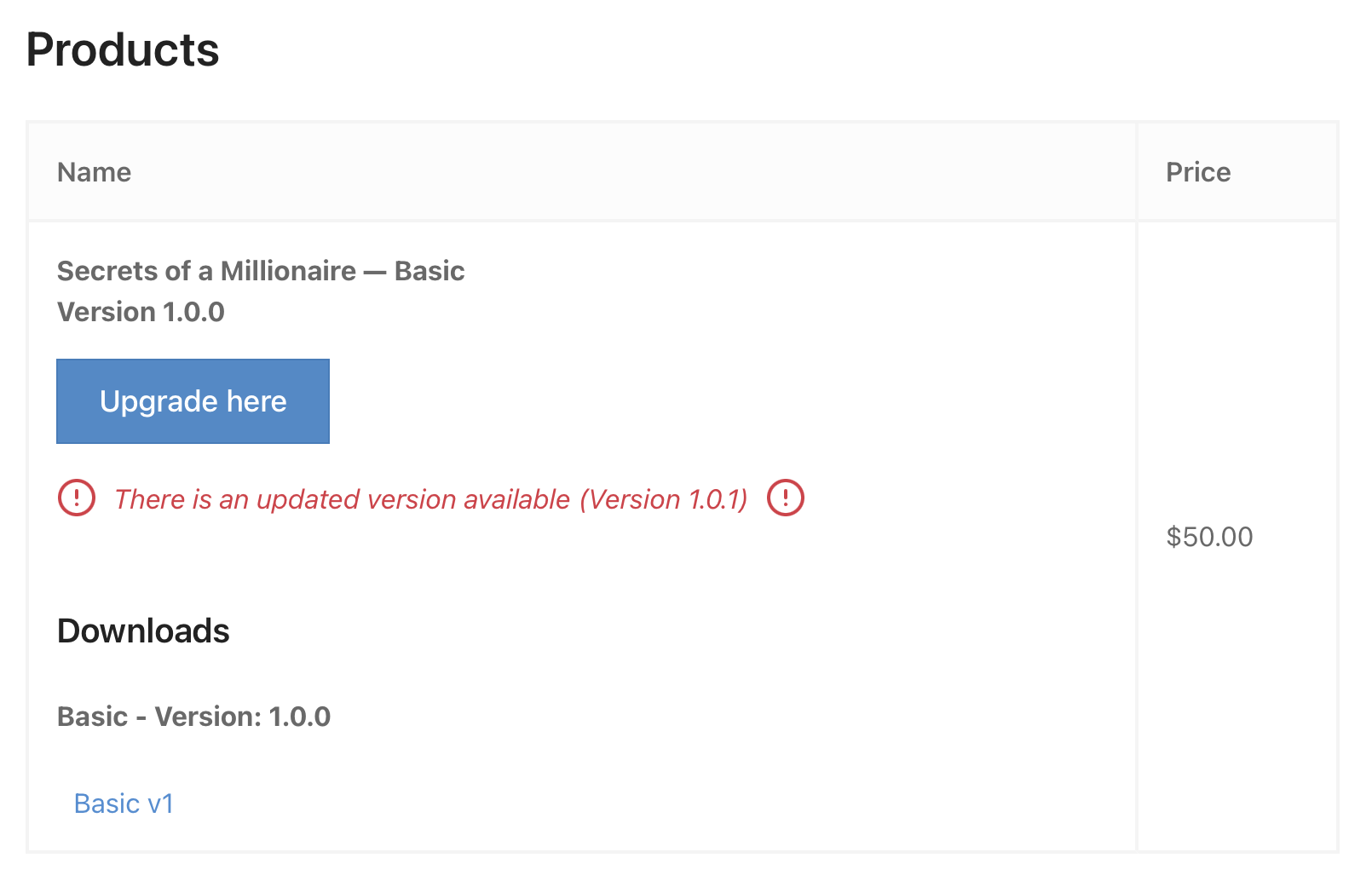 (5) Version Upgrades Tracking
Our plugin allows you to track Version Upgrades on your website. This is important so you can monitor how download version upgrading strategy is working on your digital downloads store, especially on your revenue flow.
In this tracking, you can see how many customers purchased the upgrade, the amount of discount used on the purchase, number of orders, updates, upgrades and file version downgrades. It also listed down all Customer Version Upgrades for site admins to check.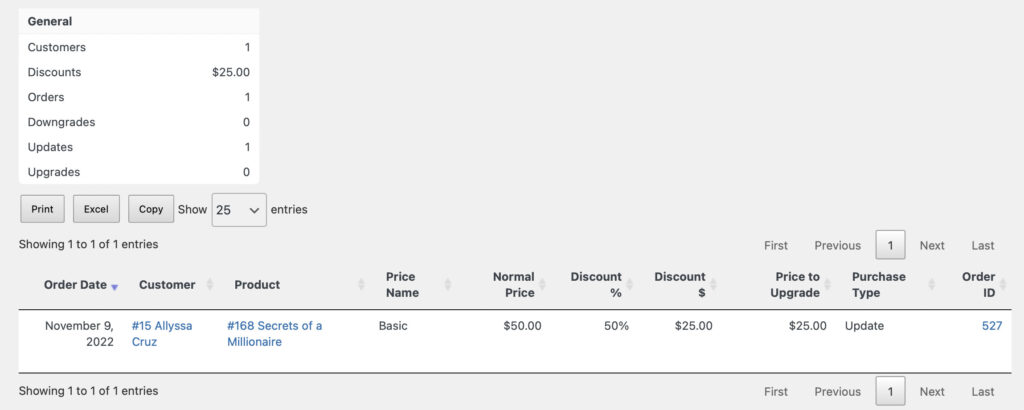 (6) Improved EDD Purchase Receipt Page
In relation to our plugin, we have decided to develop and improve the default EDD Purchase Receipt page for compatibility purposes. With our plugin enabled on your website, you have the replace the page shortcode to: [ edd_product_versions_receipt ].
The notable changes we added is now you will see the list of old file versions archived and ready to be re-downloaded anytime by users, as well as the notice whenever a new version upgrade is in preparation or is ready for purchase.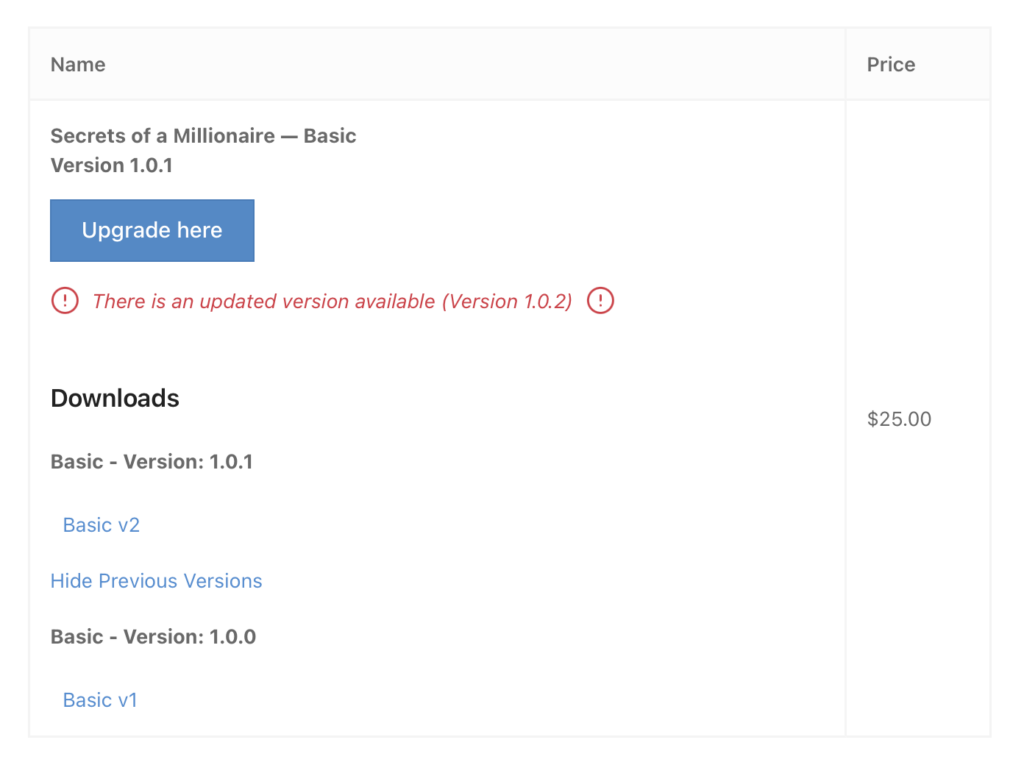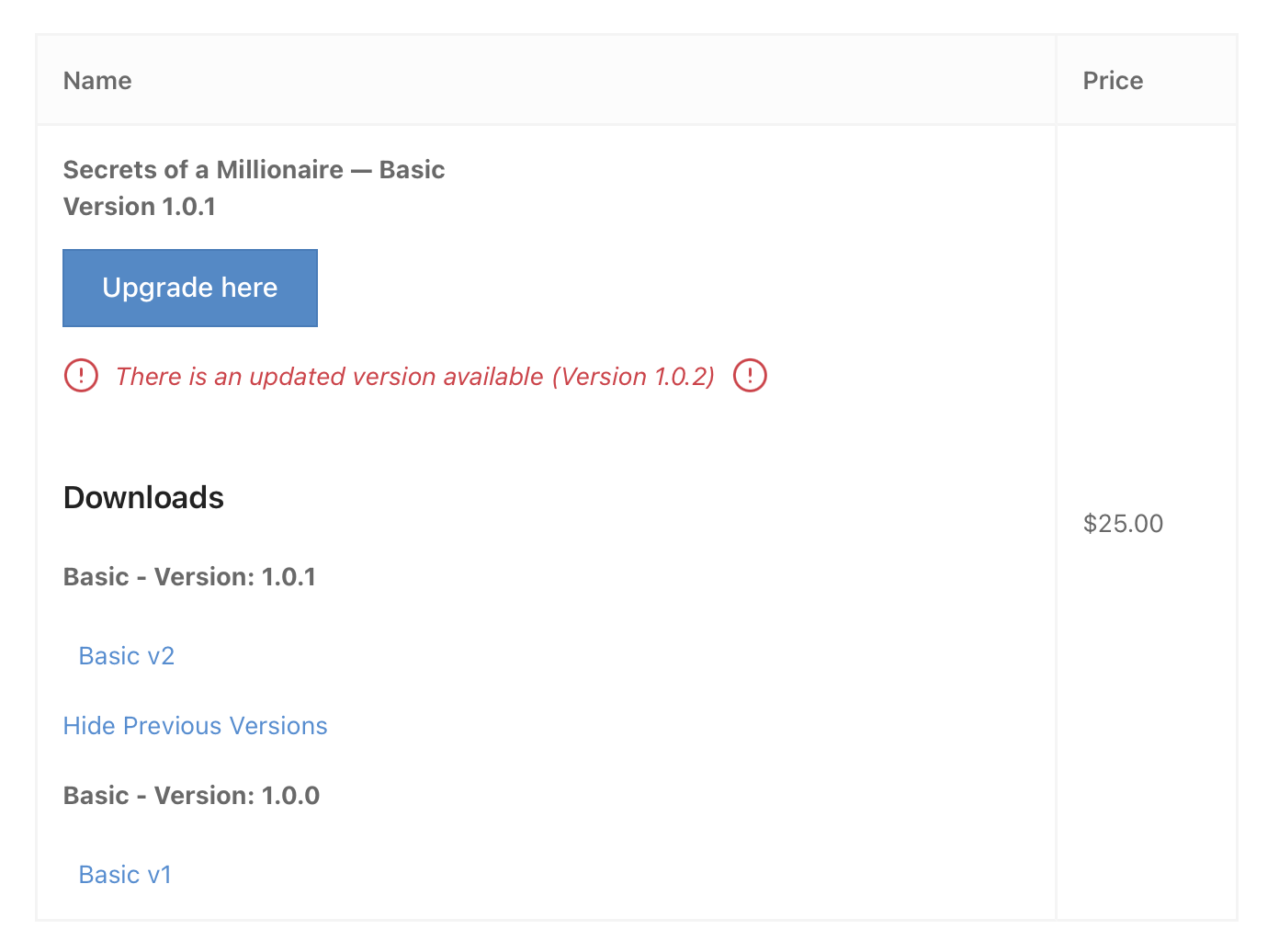 (7) New EDD Download History Page
We have developed a new page – EDD Download History Page – that basically list down all Download Files purchased and downloaded. This allows for easy access on all file versions the customer has, downloadable at any time. 

Why should you purchase this plugin?
EDD Product Versions is a very powerful plugin especially needed if you want to improve the monetization strategy of your Easy Digital Downloads stores. Here are the notable reasons why:
Sell File Version Upgrades, instead of subscriptions that are very hard to maintain and sell.
Archive Old Download Files for customer to easy access and download in case of issues.
Retarget Existing Customers which we have a better chance to earn a sale!
Improve the Monetization Strategy of your Easy Digital Downloads Webstores as a whole.
FAQs
Why sell version upgrades, instead of subscriptions?
As we have discussed above, subscriptions do not appeal that much to customers as most of them hate paying yearly fees, with no guarantee of any significate product updates.
What plugin do I need to use EDD Product Versions?
You just need Easy Digital Downloads (EDD) Plugin installed and activated on your WordPress website.
Can I use it both for single and multi-vendor webstores?
Yes. Our plugin can be both used for a single-vendor store, as well as for a multi-vendor store, as it is well integrated with the EDD FES Plugin.
Can I bulk create new version updates to all pricing options?
Yes. You can easily create a new version update for all pricing options in one click using our plugin.
How many file versions can I put to archive?
You can put as many old file versions on archived, as you like. So, customers will have easy access to all previous download file versions, ready for download.
Can I know how many customers have purchased an upgrade?
Yes. Using the Version Upgrades Tracking page, site admins can monitor all transactions related to purchasing an upgrade.
Can I give discounts to existing customers when purchasing an upgrade?
Yes. To make your offer appealing to existing customers, you can give out discounts to be applied when trying to purchase a new version upgrade.
Can I create new versions for Bundles?
Yes. Also, in case you update a download included in such a bundle, you also need to define if your bundle points to the old or the new version to that.
How to inform Customers that a new Update is available?
There are two ways to notify customers whenever a new update is available:
a) They can see on the product page and in their purchase history that a new version is available.
b) In EDD, you can extract a list of customers per product and e.g. upload or tag those customers in Mailchimp to send out a newsletter informing them about a new update available.
Purchase this Plugin today!
EDD Product Versions plugin allows you to sell updated versions of your download files to already existing customers or provide your customers with a download archive for your previous customers.
Note: All paid subscriptions below includes the latest plugin version as well as plugin support and updates for 1 one year.
Single Site License
$89/ Year
3 Sites License
$129/ Year
10 Sites License
$209/ Year
Plugin Meta Data
Current Version: 1.4.5
WordPress: Tested up to Version 6.0.2
Easy Digital Downloads: 3.1.0.1