As a digital web store owner, you can generate different types of sales data such as order data, vendor data, customer data, product data, revenue data, profit data, vendor data, geographic data, and any other important data you can get and make use of for improving the sales performance of your digital webstore.
Now, you may have several eCommerce data in you, taken and generated from your digital download stores, but what significance can it bring to you? What can you get out of it? How those numbers can actually help your business grow? Do you know how to efficiently use those data for effective decision making?
Unlocking your true potential with eCommerce Sales Analytics
Sales Data Analysis in eCommerce provides businesses with a deeper understanding of customer habits and preferences. If you analyze sales data, it can give you a conclusion as to how are your products are doing? Why is your sales trend going up or down for a specific time period? What does your customer in a specific location want? Why some of your vendors are not doing well? And many other questions that can give light to your business decision-making.
eCommerce Sales Analytics will allow digital web stores to boost sales and conversions by running targeted campaigns to promote products among the different audience or customer segments that in turn, will eventually maximize their profits.
Also, we can discover additional untapped sales potential that they can also work on and try. But most importantly, these sales analytics will help them to do better in everything – products, vendors, marketing campaigns and many other sales and business aspects.
How to correctly Analyze Sales Data on your digital downloads webstore?
Tracking sales and understanding where the sales come from is essential when you look to optimize your Easy Digital Downloads store. Basically, you need to properly understand and get the most out of your sales data on your digital downloads stores.
Generally, the important questions to be answered are the following: Which countries do you sell best to? What are the best products to sell to by each country? From which vendors can you make most profits? How do sales compare to the previous month or the previous year? Which products are sold to which states (e.g. relevant for the US)? Also, which customers show the highest ARPU? etc.
Important Questions you might want to get answered
You may now wonder what in-depth analysis you must observe when using sales data in order to come up with a better decision that will help your business grow. To get you started, here we enumerated a few of the very important questions you might want to get answered in order to come up with better and effective economic decisions.
Which are the Top KPIs to track?
KPIs, or Key Performance Indicators, can be used to measure and track the sales performance of your digital downloads webstore. These are the metrics to understand sales and to extract factors which drive sales. So how do we find this out? Here's the magic formula we can use:
Net Earnings = Number of Paid Orders x Average Order value
Or extended: Net Earnings = Number Total Orders x Paid Conversion % x Average Order value
Now, how can we understand and get the variables for this formula? See below the top KPIs you should track on your digital webstore.

(1) Net Earnings – provide an accurate measure of a webstore's financial performance. By tracking net earnings, webstore owners can identify areas where they can reduce expenses and increase profits. Knowing the amount of money, they have available after all expenses are paid, webstore owners can make informed decisions.
(2) Products Sold – this pertains to the number of products sold on your webstore from the selected time period. This helps us measure sale performance and determine if we are meeting our sales goals, as well as to evaluate our sales strategies and identify areas for improvement.
(3) Free to Paid Percentage – as already discussed, tracking conversion from free to paid products on your digital webstore is an essential aspect especially if you're both offering free and paid products. You should aim for a high paid percentage which basically means your customers loved your Free Products, that they felt the need to obtain more features which allows them to upgrade and purchase the Paid Product.
(4) Number of Paid Orders – knowing how much of the orders received are paid is an accurate measure of real webstore's sales performance. This is also used to compare and check the conversion from free to paid orders, which is essential to know your webstore's revenue generating capacity.
(5) Average Order Value (AOV) – generally, this metric only includes paid orders making it an accurate measure of actual order value. If the AOV is low, webstore owners can develop strategies to upsell customers or offer promotions to increase the value of each order. This can also provide insights into customer behavior and preferences. If the AOV is high, webstore owners can analyze the data to understand what is driving those higher sales and adjust their strategies accordingly.
Overall, KPIs are an important tool for businesses to measure, track, and optimize their performance, helping them to achieve their goals and objectives in an efficient and effective way.
Which products convert best from free to paid products?
When a customer starts using your free product, they are essentially trying it out and deciding whether or not it meets their needs. By tracking conversion rates, you can gain insights into what motivates customers to upgrade to a paid version of your product.
Tracking sales conversion from free to paid products on your digital webstore is an essential aspect especially if you're both offering free and paid products. This allows you to monitor the effectiveness of your marketing campaigns, improve your product offerings, and ultimately increase your revenue.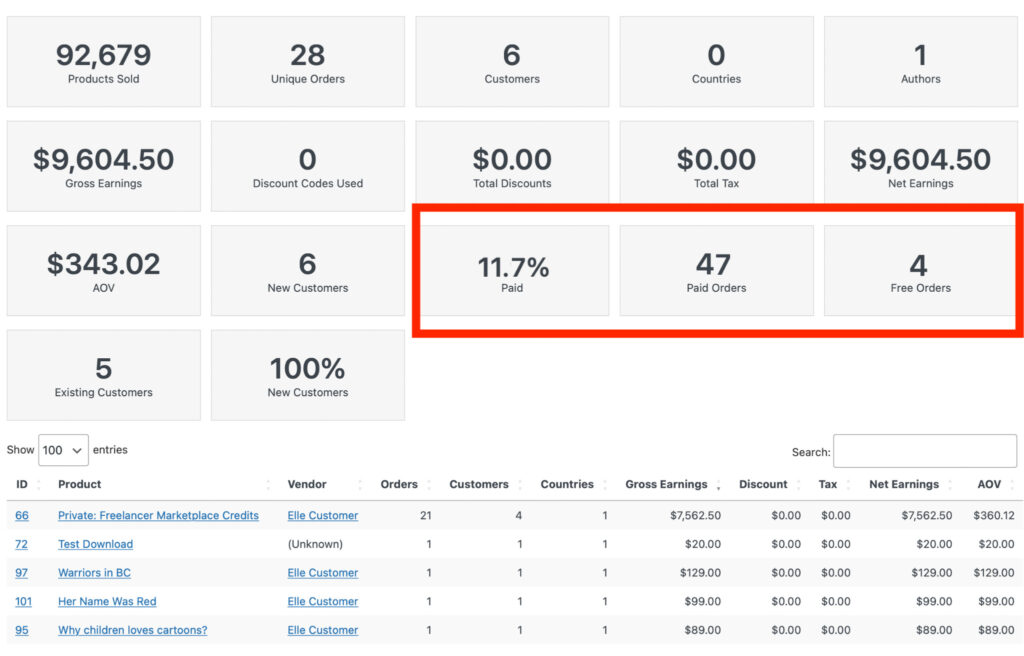 Here are the KPIs you can see on our By Product Sales Report. We should focus on the # of Paid Orders, # of Free Orders, and the Paid Orders Percentage.
Overall, tracking conversion from free to paid products is crucial for your digital downloads webstore selling free and paid products. By monitoring and analyzing conversion rates, you can make data-driven decisions that will help you improve your marketing, and product offerings, and ultimately increase your webstore's revenue.
Which of your vendors can bring you the most sales and profits?
When running a digital product marketplace, your vendors may issue products with both free and paid versions. Free versions are products that have limited features and benefits compared to the Paid Versions. In this case, customers may first try the product's free version. Later on, few or many of those customers will return and purchase the product's paid version.
Now, to answer our question of which of your vendors shows the best conversion rate from free to paid products, we need to generate sales data of each of your vendors and compare their free to paid version downloads and purchase and see which of them has the best conversion rate.
Basically, you can:
Compare your vendor sales revenues per month.
Compare your vendor profits after deducting commissions.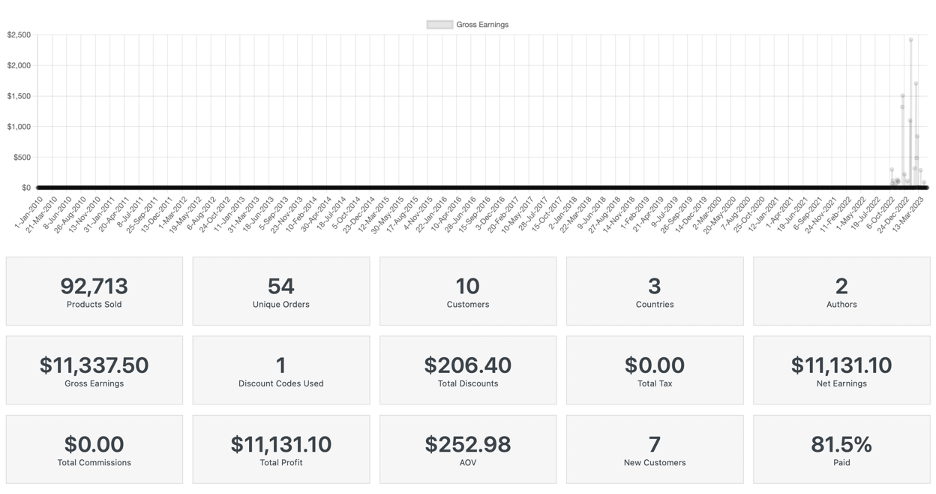 Since vendor management is very important when operating a digital product marketplace, conducting the analyzations above is essential to come up with decisions on how to particularly manage your vendors and therefore help them earn more.
Know your Best-Selling Products in Easy Digital Downloads
If you want to optimize your sales conversion, keep revenue coming in and do better with your products and business as a whole, this is a very important question you have to get answered. Why? If you know which of your products sell best, there are a lot of implications you can learn and make use of to increase your sales revenue.
How to know which of your products sell best?
Upon analyzing specific sales data that you have gathered in your Easy Digital Downloads WordPress Webstore, you can try to come up with conclusions as to which of your products sell best.
Compare your product sales revenue over weeks, months or years. Watch how your sales trend goes by. This will show which of your products are selling consistently and which are slowly falling behind others.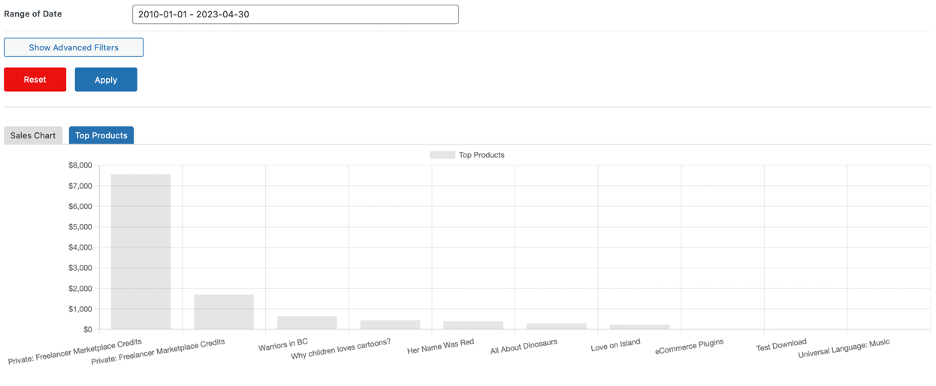 What you can see in the chart above, is a sales report of the top 10 best-selling product and their earnings as per a selected time period and showing the earnings by product.
A next important item is to obtain a quick view on your store performance overall. For this please refer to the listed key performance indicators on top of each report page.


Overall, knowing your best-selling products and comparing their sales metrics can lead to important insights into the sales performance of your Digital Downloads Webstore and allows for better reporting.
Using the product's sales report to compare poor performance vs. the benchmark revenue figures of your best-selling products allows you to better identify unused potentials to improve some of your products in order to increase their average order values.
Using sales data effectively allows for identifying the reasons why some products are selling better than others and can lead to new ideas on how to create better-selling products. This is especially relevant in the case of selling digital downloadable products which can easier be produced and changed than manufactured products such as those sold in WooCommerce.
Which geographies show the highest revenue per user?
After establishing your digital product web store, you might actually conduct marketing campaigns to almost all parts of the world, just to reach every potential customer who might be interested to buy from your web store. But, as the months go by, marketing campaigns with very large coverage may no longer be needed, especially when paid advertisements and huge marketing budget is at stake. We now need to decide which specific locations we must prioritize in our marketing campaigns that we know will be effective in getting visitors that turn into customers.
Our goal now is to know which specific countries or states show the highest revenue per user that our web store is getting. How can we do that? We can apply below analyzation strategies to answer our question.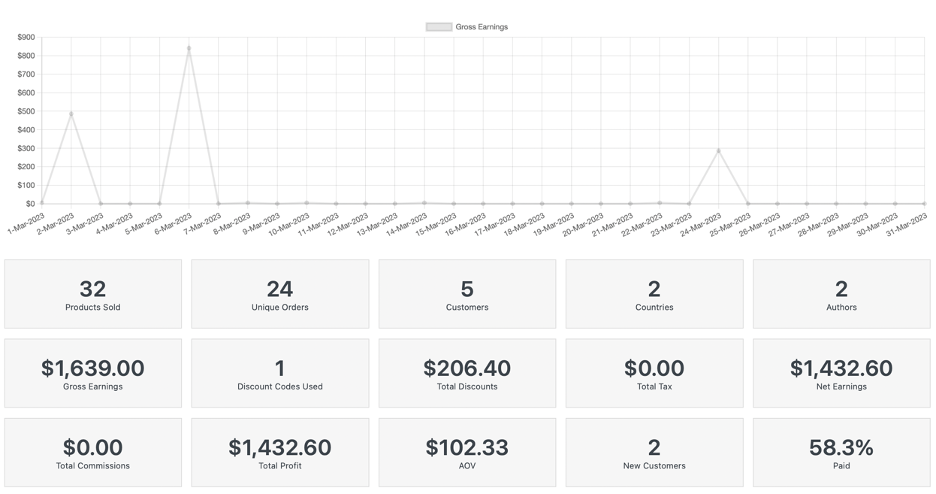 If you are operating a Digital Product Marketplace, you should consider revenue after deducting vendor commissions for a better and accurate sales comparison. Deducting commissions clearly shows which of these countries bring you the highest profit among others.

Now with all those analyzations above that, we have conducted using our sales data per geography, we can now conclude as to what countries our web store is earning the best revenues and profits. This is now the ideal time to decide and plan specific marketing campaigns and target those countries where our products are best purchased. In this case, we can increase our sales revenue by concentrating our marketing campaigns in certain regions where revenue and profits are actually coming, instead of spending the time and effort in regions which our products don't sell well.
Analyze Sales Data using EDD Enhanced Sales Reports Plugin
Tracking sales and understanding where the sales come from is essential when you look to optimize your Easy Digital Downloads store. The EDD Enhanced Sales Reports Plugin offers additional analytics and reporting features to better understand where sales and profit data come from.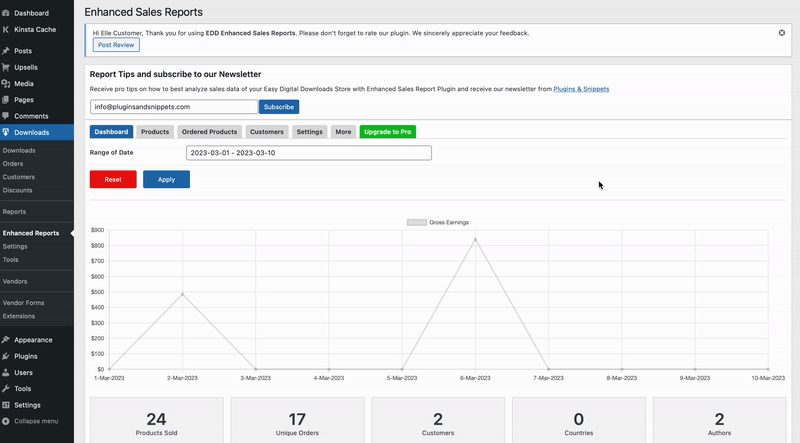 The goal of this plugin is to help EDD webstore owners extract all critical sales data from their website, and guide on how to use the best out of those metrics on optimizing the sales performance of the webstore.
Conclusion: Make the most out of your Sales Analytics
Being able to correctly and effectively analyze sales data on your EDD stores can have a major impact on your sales performance in the long run. Make sure you checked everything on the list above in order to properly improve your web store's performance.
But, if you want to get an even extensive sales reporting with a lot more reporting features and customization, do not hesitate to try our EDD Enhanced Sales Report Pro Plugin. Kindly check the product page for the full plugin details.