Inspired by the success of online digital marketplaces such as Code Canyon, Creative Market and Theme Forest, the biggest WordPress theme marketplace on the web with each of them being a huge success?
Want to learn how to build your own online digital marketplace? You've come to the right place!
Why create a Digital Product Marketplace?
How to setup and operate?
Which marketing strategies to use?
How to source your first vendors?
Which software to use?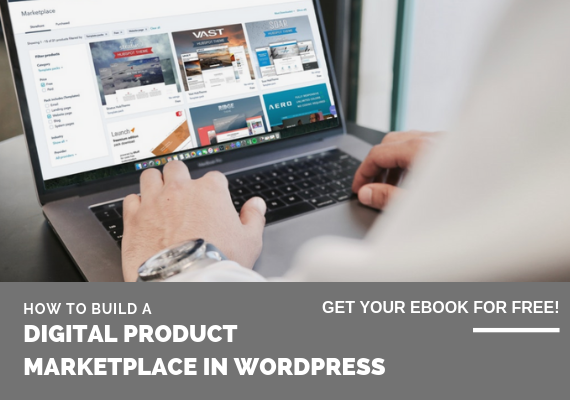 A comprehensive guidebook how to setup and operate a digital product marketplace
Before you actually start building a digital product marketplace, it is very important to know all these necessary details and information. Starting from reasons to start a digital marketplace, concepts and strategies to apply, setting up, installing a marketplace theme and specific plugins, sourcing vendors, marketing campaigns, operating the marketplace and other important things to consider.
Now, here we offer a comprehensive guidebook on how to setup and operate a digital product marketplace with Easy Digital Downloads on WordPress. We went through everything you need to know about developing your idea into a good digital product marketplace, offering lots of practical advice, tips and strategies along the way.
This eBook outlines how to setup a digital product marketplace with WordPress and Easy Digital Downloads. This comes as PDF File to download.
1        Introduction.. 5
2        Why creating a Digital Product Marketplace?. 6
2.1      The opportunity in eCommerce.. 6
2.2      Selling Digital vs. Physical Products.. 7
2.3      Multi-Vendor Marketplaces vs. Single-Vendor Websites.. 8
2.4      Why Marketplaces are Attractive Business Models.. 9
2.5      The Reasons to Start A Digital Marketplace.. 10
3        Defining the Marketplace Concept and Strategy.. 11
3.1      What Type of Products to Sell?.. 12
3.2      Competitor Research.. 14
3.3      Keyword Research.. 15
3.4      Defining your Strategy.. 17
3.5      Marketplace Commission Fees. 17
3.6      Specify the Minimum Marketplace Setup needed to go to Market.. 18
4        How to Setup a Multi-Vendor Marketplace.. 19
4.1      Open Source, WordPress based Easy Digital Downloads.. 19
4.2      Installing a Multi-Vendor WordPress Marketplace Theme.. 20
4.3      Essential EDD Plugins for your Digital Products Marketplace.. 21
4.3.1   Frontend Submissions (FES) Plugin.. 22
4.3.2   Commissions.. 23
4.3.3   PayPal Adaptive Payments.. 24
4.3.4   Product Reviews.. 25
5        How to Source First Vendors for Your Digital Product Marketplace.. 27
5.1      Create your Own Products.. 27
5.2      Partner with Vendors You Know Personally.. 28
5.3      Reaching out to Potential Vendors.. 28
5.3.1   Researching a list of Potentially Interested Vendors.. 28
5.3.2   Connecting via Social Media.. 29
5.3.3   Using Cold Emails.. 29
6        How to Market your Digital Product Marketplace.. 32
6.1      Social Media Marketing.. 32
6.2      Content Marketing.. 33
6.3      Search Engine Optimization (SEO).. 34
6.3.1   On-Page SEO.. 34
6.3.2   Off-Page SEO.. 35
6.4      Email Marketing.. 37
6.5      Affiliate Marketing.. 39
6.6      Paid Ads.. 40
7        How to Operate your Marketplace?.. 44
7.1      Sales Optimization.. 44
7.1.1   Conversion Rate Optimization.. 46
7.1.2   Number of Orders per Customer.. 48
7.1.3   Average Order Value (AOV).. 49
7.2      Vendor Management.. 50
7.2.1   Product Curation.. 50
7.2.2   Monitoring How Vendors are Doing.. 51
7.2.3   Promote your Vendors on Social Media and your Blog.. 51
7.2.4   Providing Vendor Resources.. 51
7.3      Building a Team… 52
7.3.1   Tasks you can Outsource.. 52
7.3.2   Hiring Freelancers.. 53
7.3.3   Hiring a Virtual Assistant.. 53
7.4      Tracking Key Performance Indicators (KPIs).. 54
7.4.1   Why KPIs are important?.. 55
7.4.2   Essential KPIs you should track.. 56
7.5      Corporate Development.. 58
7.6      Automating and Improving Processes.. 59
7.7      Website Security.. 61
7.7.1   Common Website Security Threats.. 61
8        Conclusion: Establishing a New Digital Product Marketplace is a Journey not a Destination.. 65
Resources. 65
Terms and Abbreviations. 66