Every eCommerce or online store employs upselling to persuade existing consumers to upgrade or acquire a premium product or service. And, lest you get the wrong idea, upselling isn't just about generating more money (though that's a nice bonus), it's about improving your customer's experience and relationships. It focuses on giving your customers more value and obtaining them faster outcomes.
What is the Checkout Page?
Any website pages given to a customer throughout the step-by-step checkout procedure are referred to as checkout pages. Consider a checkout page to be the online equivalent of a grocery store's physical checkout counter. There are two sorts of checkout pages: one-page checkout and multi-page checkout.
Online buyers prefer a single checkout page than numerous ones in general. By putting all of the fields a customer must fill out on one page, they will be able to see how the entire process works and will be more likely to complete their purchase. The biggest issue with single checkout pages is that they might be difficult to design. On a single page, presenting all of the information to the customer and collecting all of the information needed from them can be tough. A busy and difficult-to-navigate single checkout page is easy to create.
The type of business you run and the size of your consumer base will ultimately determine which choice you choose.The main thing to remember is that choosing a style of checkout page is only the first step; you should next consider how to improve it.
Overall, a checkout page:
A page that every customer has to pass through and complete in order to make a sale
Summarizes the products added in the cart
Offers a login option or guest checkout
Collects customer details such as name, address and email
Offers payment methods which need to be clear and easy to use
Needs to be trustworthy and to work properly
Needs to trigger the purchase confirmation
Customers will have a better purchase experience if you provide a convenient, easy-to-use, and high-performing checkout. This will reduce checkout abandonment and increase conversions.
What is the situation of the Customer at Checkout?
Let's take a look at the scenario we're in with regards to what's going on with the checkout page.
Here, the user has already reviewed and compared the things he has added to his cart. But first, he wants to ensure that he buys the proper things and that he will receive them once he has made the transaction. Customers also want proof that the price they see on the checkout page is the final pricing.
After that, he evidently decided which things are best for him and is now ready to make the buy. As a result, the checkout page will collect the following information: a customer's shipping information, billing information, shipment method, payment method, and the choice to submit the order. When customers don't want to offer any personal information, a guest checkout is an excellent option to include.
It's also important to keep in mind that new clients have trust difficulties. To give customers peace of mind during checkout, prominently display trust symbols, emblems, and seals. Customers will have more confidence in the platform they're utilizing and the security it provides if these are displayed throughout the checkout process.
Why put WooCommerce Upsell at Checkout?
Customers are familiar enough with you and your products at this stage to proceed to your checkout page and, more than likely, to complete the purchase. Customers also feel at ease and are willing to indulge in certain spontaneous purchases. In fact, some vendors report a 10% boost in conversion rate when they wait till the end to offer upsells. Customers may, however, be fatigued and simply want to pay and leave. What can we do to avoid it?
So, rather of designing a checkout sequence that merely collects payment information, use it to introduce an upsell. They've already spent time determining which product to purchase. As a result, they may require an incentive to give a gentle nudge in the direction of impulsive purchases.
If you provide an upsell on the checkout screen, you're giving yourself a significant chance to sell more. They've already decided to buy anything; you must have persuaded them to do so. A special deal, on the other hand, can entice customers to spend more.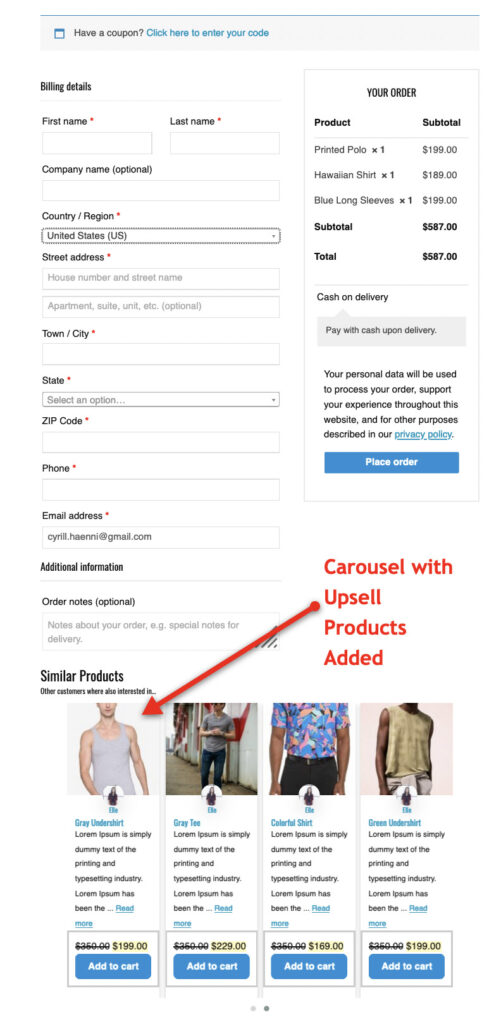 It's nearly impossible to get to the checkout page without adding more items to your shopping cart. However, this strategy is only effective if you have a diverse product line and can offer items that are closely linked; purely random products have a far lower possibility of piqueing the customer's interest.
Upsells generate 70-95 percent of sales and renewals for retailers who provide them, and they are 68 percent less expensive than onboarding new consumers. Consider that for a moment. Your sales grow and you save money that would have been spent on customer acquisition techniques by simply asking a consumer to boost the value of their basket. Upsells are a win-win situation for you.
As a result, upselling tries to raise the average order value by giving focused and useful product ideas to assist the consumer with whatever he may require.
Tips with WooCommerce Upsell on Checkout Page
So how should we proceed in Upselling on the Checkout Page? You can try the following:
Use the data you currently have, such as the information from the customer's cart. First, we try to comprehend the customer's preferences and purchasing habits. We can see which product he is interested in, what he has recently visited, what he has added to his cart, and what he has actually purchased from this page. These details are critical in developing a more effective and conversion-oriented upselling strategy.
Make specific product recommendations. We can't just slap random product upsells on the checkout page and expect users to buy them. We must provide calculated products that are tailored to the clients' purchase habits. This is when the information about the cart comes in handy.
Experiment with alternative layouts, such as lists or carousels. Give customers something eye-catching to draw their attention to the products and encourage them to buy them. Carousels are the greatest option because they are visually appealing and simple to navigate.
Make it simple to add more items to the cart. Activate a process that allows customers to quickly and easily add more things to their cart, regardless of the page containing upsells they are on.
Make it simple for customers to check out. The easier you can make your clients' checkout procedure, the more tempting it will be. Continuously improve the process by eliminating needless processes, reducing redundant form fields, and streamlining it to make it as quick and efficient as possible.
Conclusion: WooCommerce Upsell at Checkout is important!
Now you know how to upsell your customers to give them a positive experience and grow your business. Even if you're a small retailer, you can try any of these options to increase sales.
WooCommerce Checkout Upsell are the perfect opportunity to experiment based on your customer needs and expectations. Consider segmenting customers based on the types of products they buy and test how different segments respond to your upsell strategies. Based on the options that result in high sales, introduce them to a wider customer base to continue to grow your business.
Kindly check out our EDD and WooCommerce WordPress Plugin – UpsellMaster. This plugin uses a data-driven algorithm to automatically calculate suitable Upsell products in 1-click for each product. You can modify how your algorithm works so that you can continuously optimize your Upsell Strategy. This avoids having to spend countless hours defining which other products can serve as Upsells for each of your product. Instead, click on the Calculate All Button, sit back and relax while our algorithm does its work.