Sell more at higher prices
WordPress Plugin which increases sales for your eCommerce Store
Displays Upsells and Recently Viewed Products
Tailored Upsell suggestions per product based on data fetched by our Algorithm
Huge time savings: 1-Click Automatic calculation of suitable Upsell suggestions instead of spending countless hours of manual work
Algorithm with Flexible Logic allows changes in Upsell Strategy
Detailed Tracking of Upsell Sales Results
Carousels or Lists on Product Page, Checkout Page, Purchase Receipt Page, Widget, ShortCodes or Gutenberg Blocks
Integrations with WooCommerce and Easy Digital Downloads
Documentation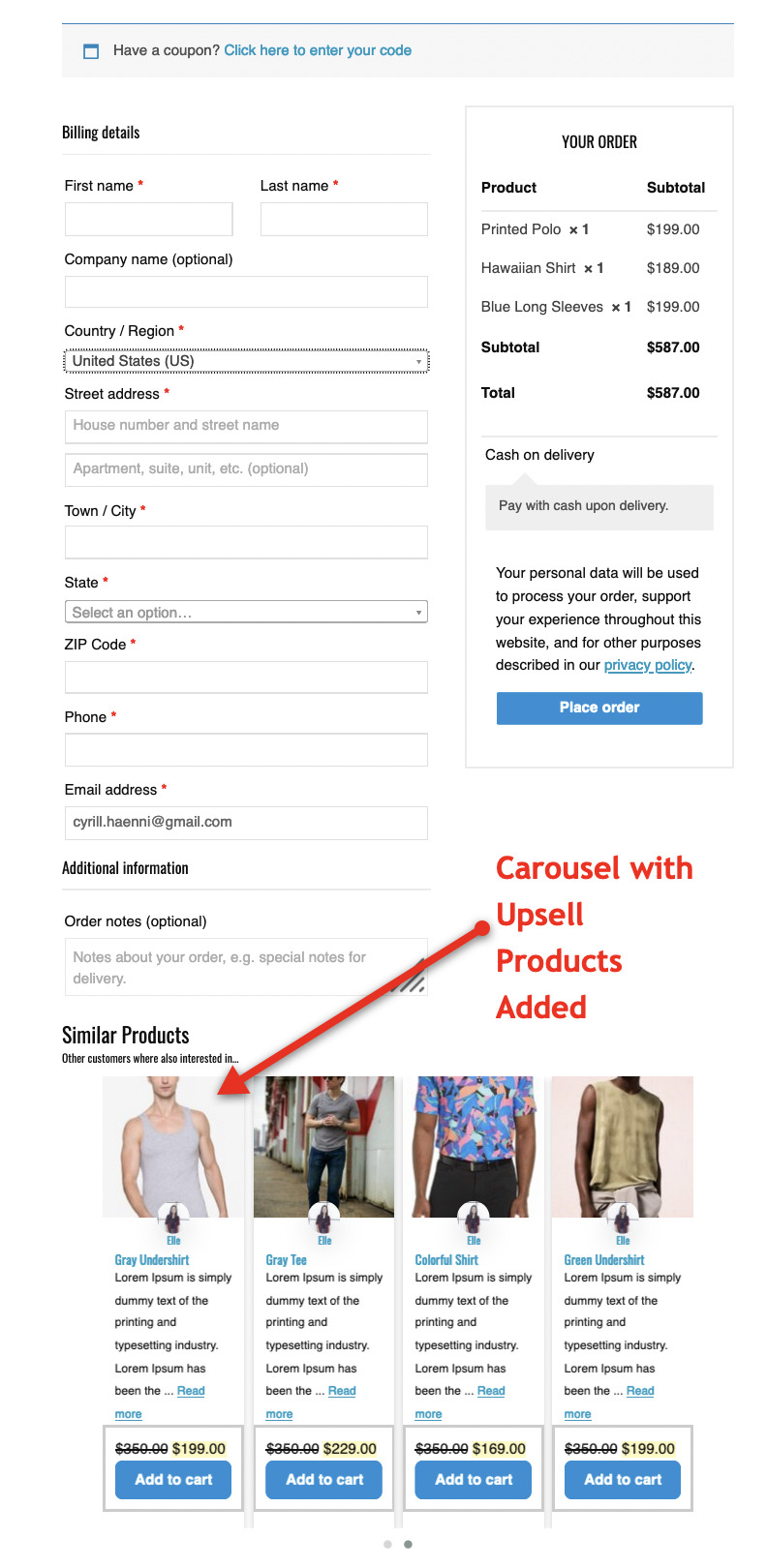 Plugin Purpose
The UpsellMaster Plugin uses a data-driven algorithm to automatically calculate suitable Upsell products in 1-click for each product. You can modify how your algorithm works so that you can continuously optimize your Upsell Strategy. This avoids having to spends countless hours defining which other products can serve as Upsells for each of your product. Instead, click on the Calculate All Button, sit back and relax while our algorithm does its work.
The plugin displays the calculated Upsells or Recently Viewed Products on suitable pages such as the Product page, the Checkout page, the Purchase Receipt page or any other page by placing a widget, Shortcode or Gutenberg block. The plugin offers close integrations with WooCommerce and Easy Digital Downloads and comes with its own Upsell Sales Tracking Report. The Algorithm logic can be changed and fine-tuned which allows you to test different Upsell Strategies for your eCommerce Stores using WordPress.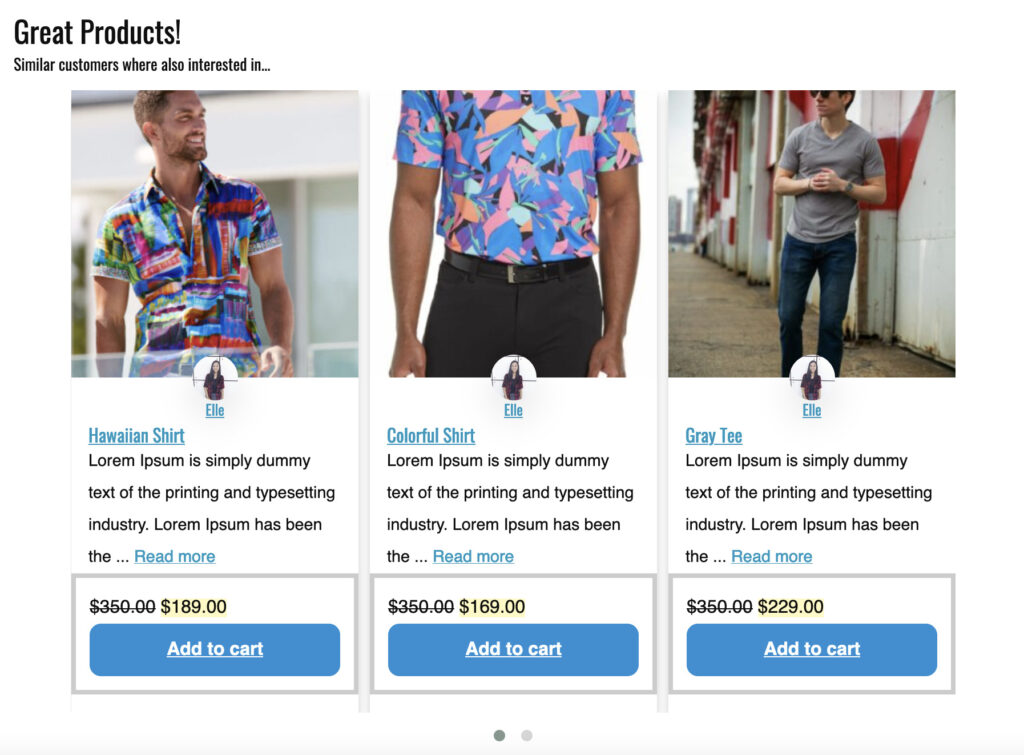 Key Features
Algorithm which calculates suitable Upsells Per Product in 1-Click

Upsell Sales Report and Tracking

Upsells by Products

Recently Viewed Products
Display Locations for Upsells and Recently Viewed Products on your Website

Product Page

Cart Page

Checkout Page

Purchase Receipt Page

Widget for Sidebars

Shortcode and Gutenberg Block for any Page/Post

Preferred and Excludes Upsells Per Product
Integrations with WooCommerce and Easy Digital Downloads

Comprehensive Settings Page
Why do I need this Upsell Plugin for WordPress?
Here are the key reasons why this plugin offers great value to your WooCommerce or Easy Digital Download Store:
Increases sales by displaying targeted suggestions which products to add to a cart at the key places
Tailored Upsell suggestions for each product
Huge time savings through 1-click algorithm which calculates individual Upsell suggestions per product
Flexible algorithm which allows changes in Upsell Strategy
Many display options to show Upsells and Recently Viewed Product suggestion on most pages of your website
Detailed Tracking of Upsell Sales Results
Integrations for WooCommerce and EDD
How does this Plugin compare to other Upsell Plugins?
| Features | Upsell Order Bump Offer for WooCommerce | EDD Cross-sell and Upsell Plugin | UpsellMaster Plugin |
| --- | --- | --- | --- |
| Automatically Calculate Upsells per Product | No | No | Yes |
| Flexible Changes of Upsell Strategy | No | No | Yes |
| Minimum Price points for Product Upsells | No | No | Yes |
| Include/Exclude Product Categories for Upsells | Yes | No | Yes |
| One-Click Setup | No | No | Yes |
| Conditional Upselling Strategy | Yes | No | Yes |
| Reports and Analytics | Yes | Yes | Yes |
| Show Recently Viewed Products | Yes | No | Yes |
| Exporting Sales Reports | Yes | Yes | Yes |
| Heading Customization | Yes | Yes | Yes |
Frequently Asked Questions
You can display your Upsells and Recently Viewed Products on a number of pages:

Product Pages
Checkout Page
Purchase Confirmation Page
Sidebars (via the Widget)
Any page/post (via the ShortCode / Gutenberg Block)

Yes. On the settings page, there's an option to enable/disable the automatic calculation of product upsells on newly published products.

Yes. On the settings page, you can set the Recalculation Interval either daily, weekly, monthly, or never (if you want to turn it off).

No. You can also upsell normal products of your store, not only bundles. However, you can choose to only offer Bundles as Upsells if you wish so.

We currently have integrated this plugin with

 

We might add additional integrations in the future. Kindly let us know that you would be interested by contacting our customer support.

Yes, the texts used in this plugin can be translated with the help of Loco Translate.

Contact us if you need assistance.

Here are the steps you can do to fix this problem:

Add Default Upsells by going to the Settings page.
Make sure that Upsells are enabled.
If you use EDD, try changing to Position 2 in the Settings > Product Page. This is to work around a conflict with WP Bakery.

We provide a money-back guarantee for 14 days should you not be satisfied with our product and we will issue you a refund.
Current Version 1.2.0
WordPress: Tested up to Version 5.8
Easy Digital Downloads: Tested up to Version 2.11.6
---