7 Other Aspects
Previous Chapter | Table of Contents | Next Chapter
7.1 Template Override
To create an Template Override file such as for our Freelancer Profile, Project Page and others, you have to create folder "fm_templates" inside the Child Theme or Parent Theme and place modified template files of Plugin which is under "templates" folder inside our plugin.
Also, if you want to replace Email Template Design that our plugin use to send emails then you can follow the same steps above by creating "email/template.html" file inside the "fm_templates" of Child/Parent theme. So Final path should be "fm_templates/email/template.html" you can copy this file from the plugin and make appropriate changes that you want.
7.2 Languages
If you need this plugin to be translated to your native language other than English, you can able to do so with the normal .mo and .po files. You can do this by using Poedit software. Follow the instructions in this article to learn how to do it.
7.3 Backups
It is very importantto have a backup of yourwebsite ready especially whenyou experience a hack or things go wrong during an internal action orupdate. This way, you'llhave an easy access to a cleanversion of your website right beforesomething goes wrong.
Although it may sound overly technical to do, it's actuallyquite easy. Many hosts provide simple ways to create backups within theircustomer control panels and even if they don't, there are several backupplugins made specifically for WordPress that are easy to use.
A good backup website tool we recommend you to use are ManageWP and BlogVault.
7.4 Social Login
Freelancer Marketplace Plugin enables the site admins to give users the capacity to register and/or log in using their Social Accounts. You can do this by installing and configuring the OneAll Social Login Plugin. This gives an easier and smoother registration process for all users on your platform. The Freelancer Market Plugin is very much compatible with the OneAll Social Login Plugin.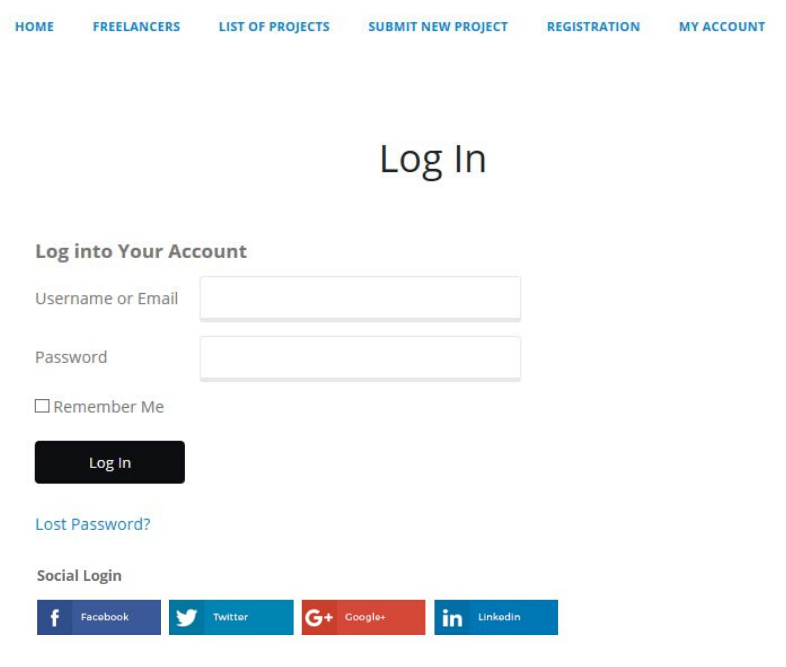 7.5 Page-Speed
When it comes to page speed, if your website takes more than2 seconds to fully load, it can be a serious concern. A slow-loading websitecan cause significant loss – also it will dramatically increase your bouncerate and affects your SERPs standing.
To maintain a fast and stable page speed with this plugin, we advise you to use an external email service such as SendGrid or Mailgun. This is because there are tons of emails to be sent out to different parties during the plugin's processes.
It is also important to regularly test your page speed using tools such as Google Page Speed Insights and GTmetrix. This enables you to correctly measure and check the page loading time of your website.
7.6 Stage Server
If you are operating a large website and marketplace whereyou have frequent software updates, we recommend you to also set up a stageserver. This is to check and test if your software updates run smoothly and iscompatible all of your other plugins, which prevents further complications andproblems on your website.
Take note to use a dev subdomain to setup your stage server asthis way you can also update your plugins even if you only have a single pagelicense. As this is only a subdomain, updating your plugins with single sitelicense won't be an issue.
7.7 Security
Hacking is regularly performed by automated scripts writtento scour the internet in an attempt to exploit known website security issues insoftware. Especially when you areoperating a Freelancer Marketplace Website, where users store a lot of personaland sensitive information, you need to enhance your website security using WordPressSecurity Plugins that actively prevent website hacking attempts. Each of themain CMS options has security plugins available, many of them for free.
Wordfence Security Plugin is the most popular WordPress Security Plugin with over 2 million active installs and that is really impressive considering how many great security plugins exist. Learning how to protect your Freelancer Marketplace platform against hackers is a big part of keeping it healthy and safe in the long run.
7.8 Themes
This plugin is compatible with free WordPress Themes such as DigiFly, Astra, PopularFX, and Storefront. Also, this plugin has been tested to work well with our Fiery Theme. A Beta Version of this theme will only be available on request. We are currently looking for Theme Developers who might want to test and use our plugin.