When it comes to increasing the revenue of your eCommerce site, there are usually two options. The first is to attract new clients, and the second is to enhance the average value of each purchase you receive from current customers. The first approach necessitates a significant amount of marketing work and expense. The second alternative, on the other hand, is simple to implement with a few changes to your website.
By providing your consumers a better version of a product they're already buying, you can not only boost the value of their transaction but also provide them with an unexpected benefit. Upselling is the term for this practice.
You may be seeking ways to increase your sales and revenue as an eCommerce store owner. Upselling is one of the most successful ways to increase order value while also enhancing customer satisfaction. You'll be able to recommend a product or a combination of items that will boost customer satisfaction if you have a successful upselling plan. You might try a few different approaches to upsell more effectively.
Benefits of Upselling
Upselling is essential for businesses, but how exactly? Here are 6 reasons that both you and your customers want upselling and cross-selling:
Increases Profits – It's no secret that a consumer who purchases more implies your business makes more money. Growth for your business doesn't only mean keeping the clients you already have; it also means expanding your wallet allocation for the ones you already have.
Increases Customer Loyalty – The goal of upselling is to provide all of the customer's options so that they can make an informed decision. It demonstrates to customers that you are concerned about their needs and anticipate them.
Increase in ROI – It might be expensive to bring on new clients. You may quickly see a profit and get a greater return on your investment by upselling and cross-selling to your clients. You've already put in the effort to promote to, identify, and sell to your consumer; now it's up to your company to get the most out of the interaction.
Increases Customer Lifetime Value – Upselling or cross-selling will not only result in a higher initial profit after the customer is signed up, but it will also increase the customer's overall worth throughout the duration of their lifetime.
Balances Growth Between New and Existing Customers – According to studies, increasing customer retention by only 5% boosts earnings by ranging from 25% to 95%. Maintaining a balance between the consumers you sign up initially and the ones you keep is critical to your institution's existence.
Offers Convenience and Flexibility for Customers – Upselling and cross-selling are beneficial to individuals as well as organizations. In reality, it is so effective for businesses because it is also effective for customers. They don't have to take a chance with a new firm because you give them more options or appropriate add-ons.
Features to look for a WooCommerce Upsell Plugin?
It's critical to select the best WooCommerce upsell plugin in order to properly showcase your WooCommerce products. This is dependent on the types of products you sell and the upsell offers you intend to generate on your online store.
Let's briefly go over some features store owners should consider when looking for a WooCommerce upsell plugin:
Simple and Easy to Use – The WooCommerce upsell plugin should have a simple interface that allows you to rapidly generate product upsell offers without needing to write.
Multiple places to display Upsells – Instead of throwing upsell ideas on every product, your Upsell Plugin should provide targeted upsells per product based on data gathered by a flexible and sophisticated algorithm.
Tailored Upsell suggestions – Your Upsell Plugin must not blindly throw upsell suggestions on every products, instead, it must generate tailored upsells per product based on data fetched by a flexible and powerful algorithm.
Let's you personalize the upsell offers – You want to personalize and distinguish your upsell offers. This is a terrific approach to make your product stand out and entice customers to add it to their shopping basket.
Automatic Upsell Suggestions – A wonderful Upsell Plugin allows you to save time by automatically calculating suitable Upsell suggestions instead of spending countless hours of manual work.
Tracking of Upsell Results – Your WooCommerce Upsell Plugin must provide you with a detailed Upsell Sales Report the results of your Upselling to help you optimize your upsell strategy better.
Top Upsell Plugins for WooCommerce
Here is a list of WooCommerce upsell plugins that are valuable for your marketing efforts.
One of the simplest ways to upsell your WooCommerce store is to recommend a better product. Because it uses machine learning to suggest products, the Product Recommendations plugin is a great choice among the Best WooCommerce Upsell Plugins. It allows you to display product recommendations in 20 various spots throughout your site. Furthermore, the plugin provides useful information to help you improve your product recommendation tactics.
Key Features
• Use machine learning to make smart product recommendations on your WooCommerce store.
• Make a large number of upsells.
• Conditionally display upsells based on the customer's cart and order selections.
• The ability to place upsells in various areas on your website.
• Use a variety of product recommendation tactics to boost client satisfaction.
• Use analytics to improve conversion rates.
For $79, you can get a single site subscription to this extension.
This plugin uses a unique data-driven algorithm to automatically calculate suitable Upsells for each product via a 1-Click Calculate All button. The days you have to manually define Upsells for hundreds of products for your store are gone! You can display Upsells or Recently Viewed products throughout your website in the form of Carousels, Lists, Widgets, Shortcode or Gutenberg Block to increase sales in your EDD store. The plugin offers a flexible algorithm where you can quickly change the priority factors of your upsell strategy. The plugin also comes with a comprehensive dashboard and filters to better track and understand the sales results from Upsells.
Key Features
1-Click Automatic calculation of suitable Upsell suggestions instead of spending countless hours of manual work
Tailored Upsell suggestions per product based on data fetched by our Algorithm
Detailed Tracking of Upsell Sales Results
Displays Upsells and Recently Viewed Products
Carousels or Lists on Product Page, Checkout Page, Purchase Receipt Page, Widget, ShortCodes or Gutenberg Blocks
Algorithm with Flexible Logic allows changes in Upsell Strategy
Integrations with WooCommerce and Easy Digital Downloads
For $99, you can get a single site subscription of this plugin.
YITH WooCommerce Frequently Bought Together
One of the most popular upselling and cross-selling plugins available today is YITH WooCommerce Frequently Bought Together. You'll be able to propose 'Related products' or 'Frequently bought together' items to your consumers using this extension. You can pique your consumers' interest in purchasing your suggested goods by doing so.
It might be quite attractive to suggest things that people normally buy together. Recommending phone coverings to consumers who are purchasing a new phone, for example. Using this successful marketing technique can result in a considerable rise in conversions and AOV. You can also select to show the suggestions only to a specific group of people. In addition, your suggestions could save them a lot of time.
Key Features
• Option to automatically market similar items, up-sells, or cross-sells to customers who are purchasing a product.
• Decide how many things you want to recommend and whether you want to show them all at once or only a few.
• Ability to place the up-selling box 'Frequently Bought Together' anywhere on the product page.
• Offer up-selling products at a discount to entice clients to make a purchase.
• Easily access the linked items list to keep track of or remove associated products as needed.
For €69.99, you can get a single site subscription of this plugin.
Beeketing is an eCommerce automation platform that creates a variety of goods for eCommerce sites, including a suite of 10+ WooCommerce extensions that allow your site to perform a variety of tasks. The extensions have all been integrated into a single plugin that is simple to install and can assist you with both upsells and cross-sells.
Features:
• AI-powered cross-selling functionality eliminates the need for you to manually establish product groups.
• Add a last-step upsell to your cart page to improve sales just as the user is about to make a purchase.
• Notifications of recent orders to increase consumer confidence and encourage cross-selling
• Numerous other features (i.e. personalized recommendations, mailbot email marketing, countdown timer for shopping cart, etc.)
For $49, you can get a single site subscription of this plugin.
WooCommerce Upsell Order Bump Offer Pro
On the checkout page, this plugin presents order bump offers. Customers can simply check a box to add this deal to an existing order without leaving the checkout page. Admins can show discounted order bump offers for appropriate target products by selecting simple, variable, or subscription products and categories. It also comes with three customisable templates to assist retailers in designing responsive offer designs.
Key Features
Special Offer – On Checkout Page
Multiple Order Bumps
Order Bump Behavioral Analytics
Order Bump Sales Reports
Just a precious single click to accept the offer
Target Product Category For Triggering Bump Offers
Smart Skip If Already Purchased
Smart Offer Upgrade To Boost Average Order Value
Create Product Specific Bump Offers
Schedule Bump Offers
Create Unlimited Order Bumps
For $69, you can get a single site subscription of this plugin.
This is yet another fantastic plugin that allows you to upsell appropriate products on the shopping page. This easy add-on allows you to show products to your clients on the cart page based on the Conditions you've defined as rules. It gives you the ability to make conditions based on Products, Categories, and Cart Totals. The nice thing is that you may make two different rule groups: A) 'The AND group B) 'The OR group'.
Now, the product will only appear for upselling on the cart page if the conditions are met, based on the conditions or rules you've defined. If you don't set any conditions, it will monitor your customer's shopping cart automatically. And, by displaying the upsell offer you've generated, you're encouraging your customer to boost their AOV.
Key Features
• Easily display products as an upsell on the shopping page without causing any issues.
• As rules for customers, create 'AND/OR' conditions to make the upsell product visible.
• Include numerous conditions relating to products, categories, and total cart value.
• Make each product's title, image, and color unique.
• To increase conversions, use auto mode or alter your site's color design.
For $29, you can get a single site subscription of this plugin.
This plugin, which was created by the same people that created WordPress and WooCommerce, is an official offering from Automattic to enable us upsell and cross-sell our products. It works on the Cart page, which means that the products you've chosen to be presented for upsell will only appear on your site's Cart page once a specific product related to them has been added to the cart.
Key Features
• Simplicity. Because of its straightforward features, setting up and learning how to use this plugin is a breeze. It doesn't come with a ton of different popup styles or placement options, so it's simple to customize.
• You can define three distinct types of add-on products for upsell: Category linked add-ons, which show items from the same category, Product linked add-ons, which show products you define, and Default add-ons, which appear for all products that don't have a corresponding add-on product defined.
• You can change the title of the section and the number of products displayed.
• Consistent and reliable support and compatibility. It works perfectly with every update of WordPress and WooCommerce because it was created by the same team who created WooCommerce. If you still have problems, you can count on the help of their amazing team.
For $29, you can get a single site subscription of this plugin.
Although it is not as well-known as some of the other plugins included on this page, VillaTheme's WooCommerce Boost Sales plugin is one of the best for cross-selling and upselling your products.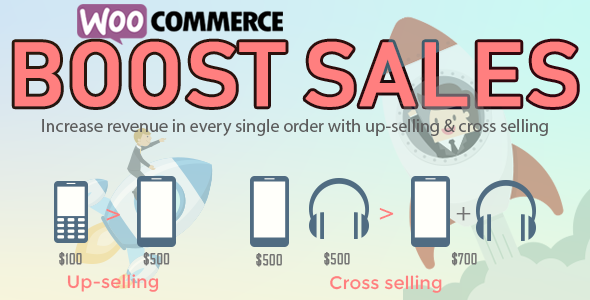 Key Features
• Three separate product selection criteria – popups with products you choose, products from the same category, and products that are frequently purchased together
• Product bundles that can be used for both mobile phones and PCs and can be placed in a variety of locations
• Syncs with WooCommerce, which means it detects any upsell products you've generated in your WooCommerce dashboard and lets you utilize them in upsell popups.
• AJAX-based add-to-cart technology that allows you to add upsell products to your cart without having to refresh the page.
For $30, you can get a single site subscription of this plugin.
WooCommerce One Click Upsell Funnel
This is a one-of-a-kind plugin since it allows you to upsell products to clients via post-purchase offers. Because WordPress supports major page builders, you can construct responsive upselling pages. Offering a post-buy upsell is a good idea because it is less distracting and adds value to your customer's initial purchase. It also allows you to target product categories for unique upsell offers.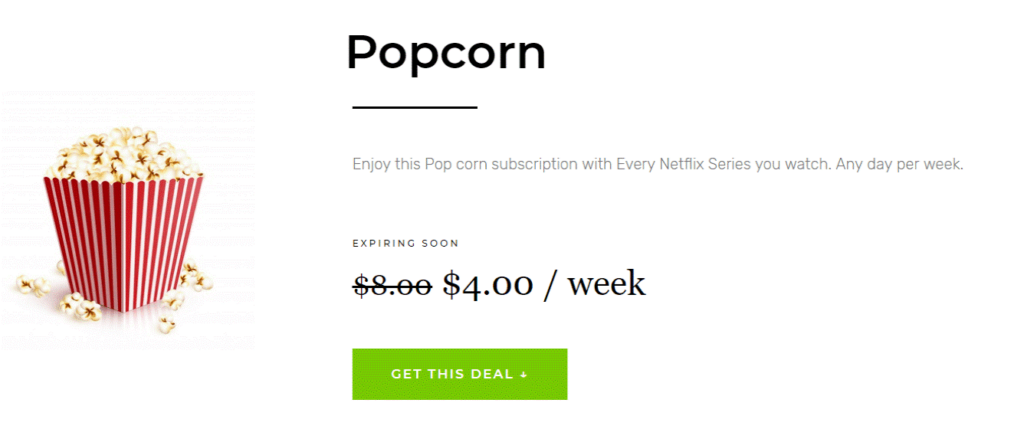 Key Features
• After you've completed the checkout process, you can offer your customer an upgrade on an existing product transaction.
• By combining upsell and downsell offers in a single funnel, you can increase your sales possibilities.
• Redirect your customers to another upsell offer when they accept or reject the prior one to control their behavior.
• Make as many upsell or downsell funnels as you like.
• You have complete control over how you customize and create your upsell offer pages.
For $69, you can get a single site subscription of this plugin.
Booster Plus for WooCommerce is a plugin that includes over 100 modules for customizing the look and feel of your online store.
You may change the way upsell products on your online store are displayed using Booster's WooCommerce Upsells module. This means you can opt to show numerous upsell products, adjust the default order, or altogether hide them from your WooCommerce store.
Key Features
• Change the currency, shipping method, and country of WooCommerce payment gateways.
• Use WooCommerce custom fields, such as promo codes and checkout fees, to personalize the checkout process.
• You may add customizable buttons and price labels to your products using the Button and Price Labels module.
• Customize your emails and add more recipients. Produce a variety of reports that incorporate verification for further security.
• Define price regulations and display products in several currencies with automatic exchange rates.For $69, you can get a single site subscription of this plugin.
Conclusion
So, this was my list for the Best WooCommerce Upsell Plugins!
All of the plugins listed above will significantly increase your Average Order Value. But, if you have to choose one, I recommend going with the plugin that best suits your needs and requirements.
Customers will be more likely to add more products to their shopping carts and spend more money if you use a WooCommerce upsell plugin for your WooCommerce business. As a result, the average order value rises, resulting in greater revenue for your company.
What are you waiting for now that you know about the instruments that can assist you in implementing this strategy? Start cross-selling and upselling your items with any of these extensions right now, and let us know how it goes in the comments.