Notice: PayPal Adaptive Payments is previously owned by Easy Digital Downloads but as from May 2019, all rights to this plugin has been acquired by us, Plugins & Snippets. We will be proud to provide support and future updates to this plugin.
IMPORTANT: If you still have a valid License Key for PayPal Adaptive Payments Plugin from Easy Digital Downloads and purchased no later than May 1st 2019 , we offer to replace that License Key with a new one FREE of charge or prolong for a year from now by taking into account the period you already have paid. Kindly contact us.
Plugin Description
PayPal Adaptive Payment is a key plugin to use when running a multi-vendor marketplace. The payment of third-party revenue can be done instantly and it saves significant time. This plugin is a tested and true time-saver for all multi-vendor Easy Digital Downloads stores.
This plugin connects Easy Digital Downloads to the versatile PayPal Adaptive Payments gateway. With the PayPal Adaptive Payments gateway integration, you can easily split payments with up to 6 different receivers at the same time. You can set each receiver up with a specific percentage of the payment within the settings for this gateway. Also, you can determine whether you would like to use chained or parallel payments.
You can read through here to know more information about Adaptive Payments.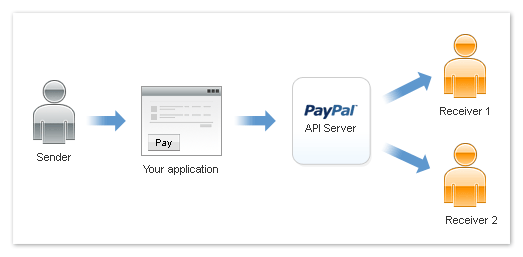 Please check out the PayPal Adaptive Payments Setup page for more explanations on how this plugin works.
SUPPORTED FEATURES, CURRENCIES, AND COUNTRIES
Features
Physical Products, Pre-approve Payments, Credit Card Processing, Digital Products, E-wallet Balance, Integrated Refunds, Off-site Checkout, Split Payments
Currencies
AUD, CAD, CHF, CZK, DKK, EUR, GBP, HKD, HUF, ILS, JPY, MXN, NOK, NZD, PHP, PLN, RUB, SEK, SGD, THB, TWD
Countries
Australia, Canada, Denmark, Finland, France, Ireland, Norway, Sweden, United Kingdom, United States, Austria, Belgium, Germany, Italy, Netherlands, Spain, Brazil, Hong Kong, Switzerland, China, Poland, Turkey
The countries and currencies shown here may not reflect the most up-to-date supported lists of the merchant processor.
NOTICE: Due to recent changes regarding the PayPal Adaptive Payments service, your PayPal account must be approved for use with Adaptive Payments before purchasing this extension. Accounts which have not been approved by PayPal for use with Adaptive Payments will not work with this extension!