Turn your WordPress website into a Freelancer Marketplace
Fully integrated with WooCommerce and Easy Digital Downloads
Easy to follow workflow
Comprehensive plugin customization
Customers to post Projects
Third-Party Freelancers to submit Bids
Complete email workflows
Allows you to extend store functionality by selling Freelancer Services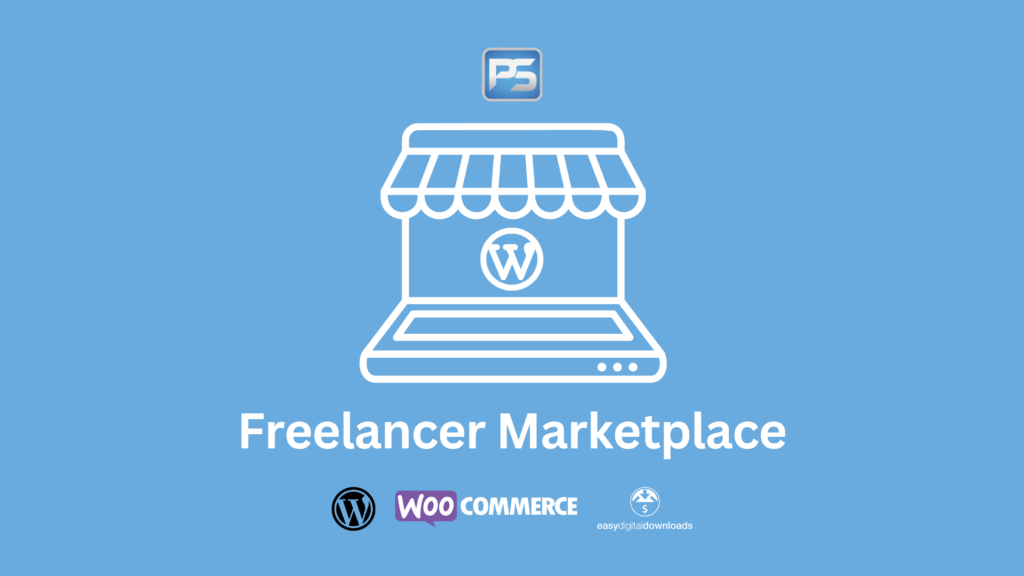 Plugin Purpose
This Freelancer Marketplace plugin will help you build a freelancer marketplace in WordPress for WooCommerce and Easy Digital Downloads webstores. This plugin will be your starting point to start selling Freelancer Services via your WordPress webstore using the ultimate Freelancer Marketplace Plugin.
Our plugin offers a comprehensive collection of settings and configurations to give you a total control over your own freelancer marketplace, allowing you to configure it any way you what.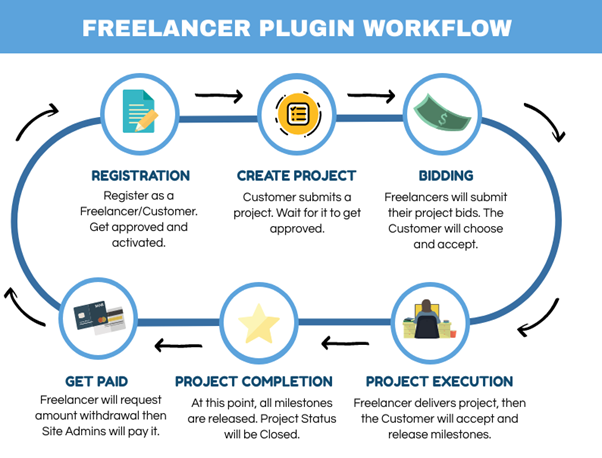 Why creating a Freelancer Marketplace?
The demand for Freelancer Marketplaces is continuously growing at a high rate. With 57.3 millionfreelancers in the US alone (which makes around 36% of the total country's workforce), there is no denying that Freelancing is becoming increasingly popular. Also, it's expected that freelancers will account for as much as 80% of the entire workforce worldwide by 2030.
What is a freelancer marketplace? It is an online platform where businesses can find and hire individual contractors and freelancers to do some work remotely. It acts as an intermediary providing a safe and convenient way to contract remote experts for short-time and long-time projects.
Starting your own marketplace can certainly be daunting, but it helps when you use the right MaaS (marketplace-as-a-service) platform to aid you in bringing your idea to life.
Explanatory Video
Key Plugin Features
Easy Onboarding Processes
It is a must-have for a Freelancer Marketplace to have a quick and easy onboarding process that will benefit and give ease your upcoming platform users.
The plugin comes with a Short and Quick Project Submission Form for customers to list their projects on your platform. Then, registration is done right after creating the project to make the process easier and simplier for the users.
Then to easily onboard Freelancers on a certain project, customers can either hire them right on the Freelancers List or on the Freelancer Profile. Also, users can also use their Social Logins to register by using the OneAll Social Login Plugin.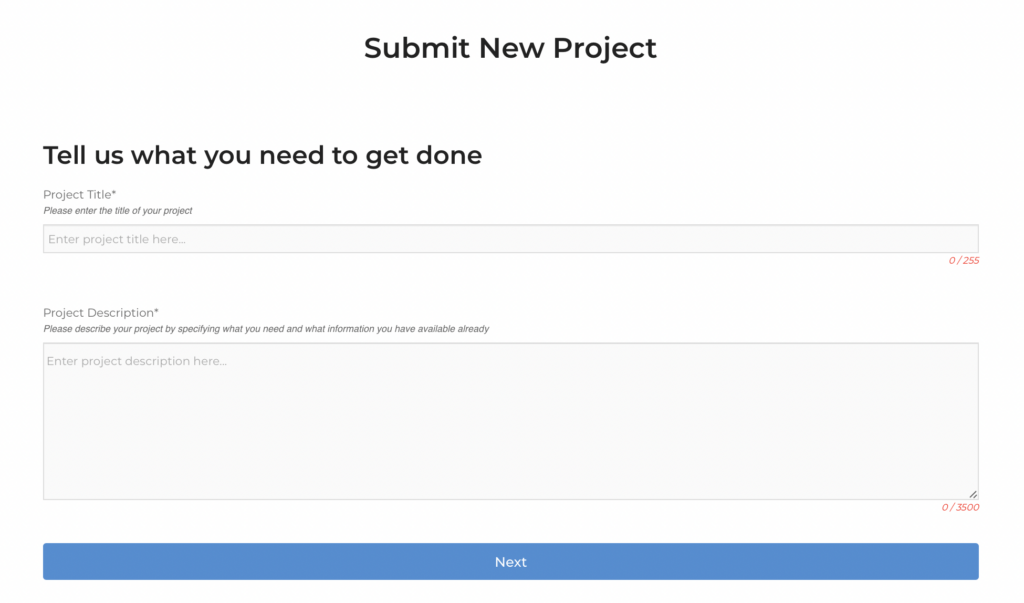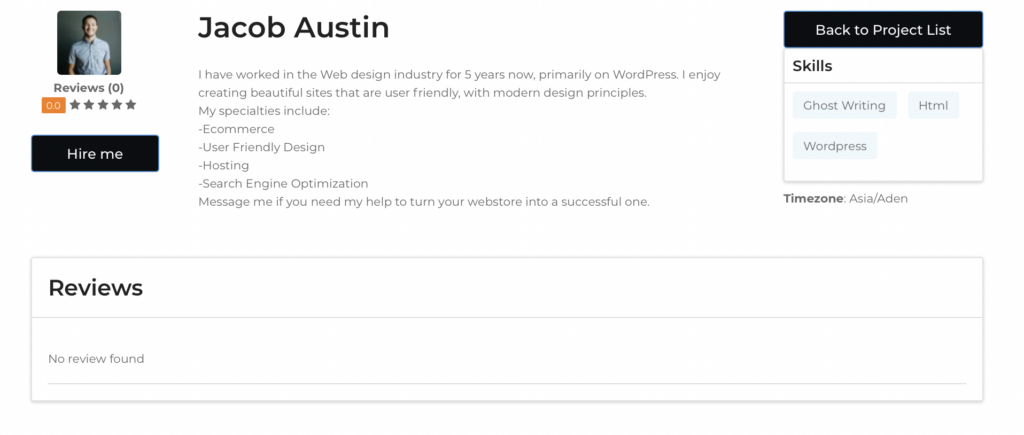 Bidding System
The plugin comes with a bidding system, where Freelancers can submit their bids. Bids include also important terms such as Time required, Milestones and a description. Once a Bid has accepted, the project is moved to execution modus.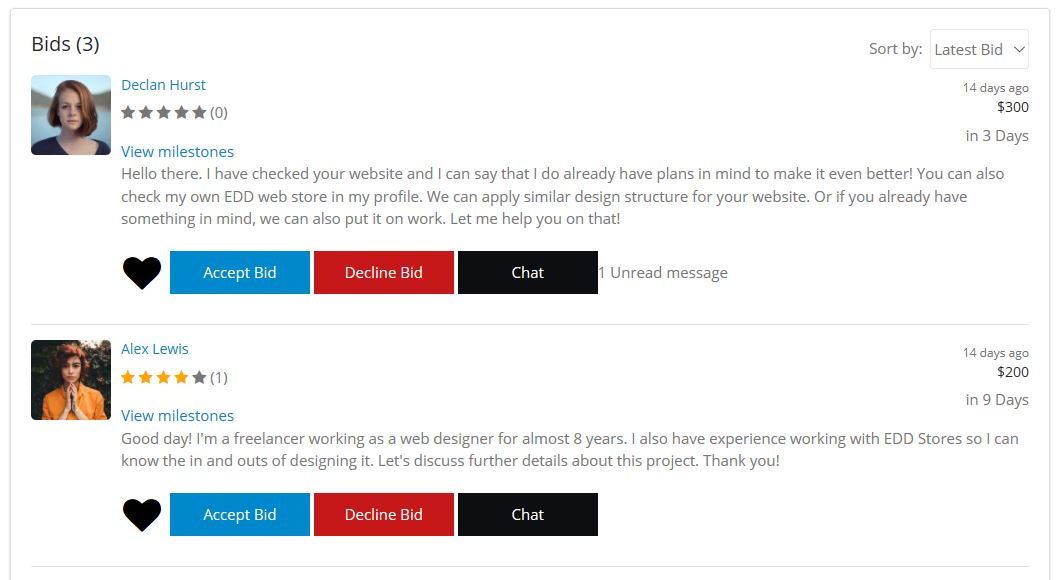 Commissions
The plugin allows you to set and charge a commission fee either or from both sides (the Freelancer and the Customer). This gives you full control on your business model by setting the fee rates and which side(s) to charge the fee.

Messaging System
The plugin comes with an in-built messaging system to allow Freelancers and Customers to discuss the project and bid in more detailed before accepting. It is a must-have for a Freelancer Marketplace to have an excellent form and way of communication for each user end.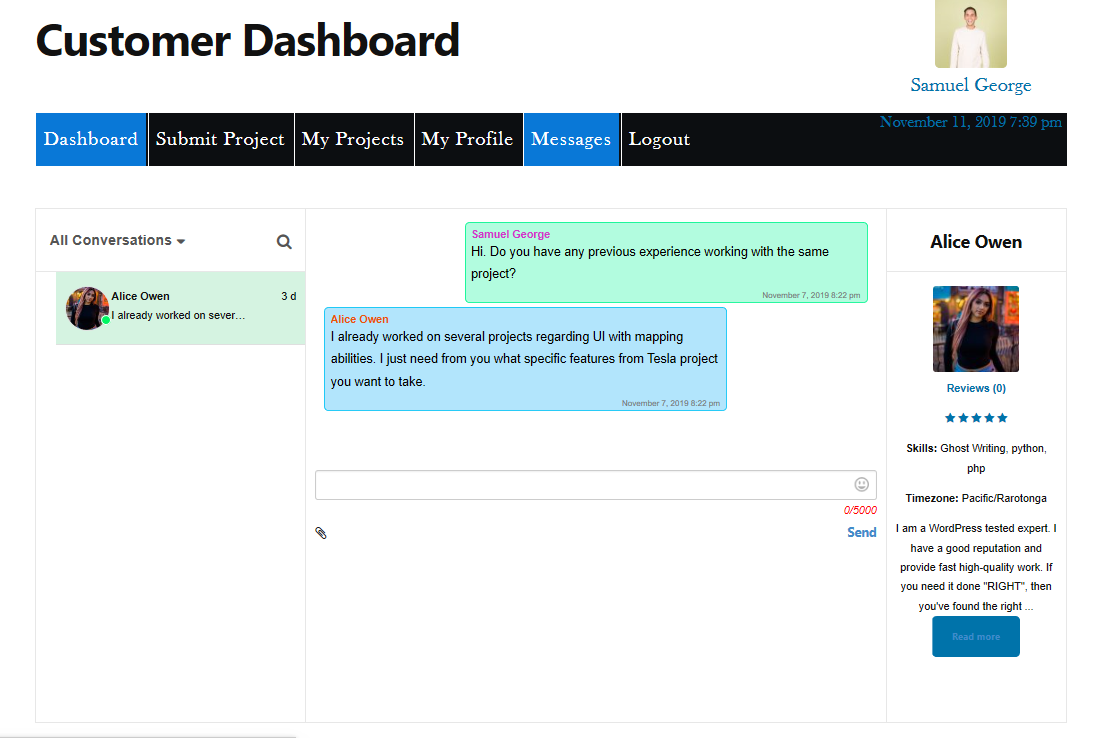 Milestones
This plugin allows both users to create Project Milestones that needs to be approved. Here, Freelance Project uses Milestones for Project Payments. During the Bidding Process, the Freelancer needs to specify the required Milestones while during Project Execution, both users can also create additional milestones.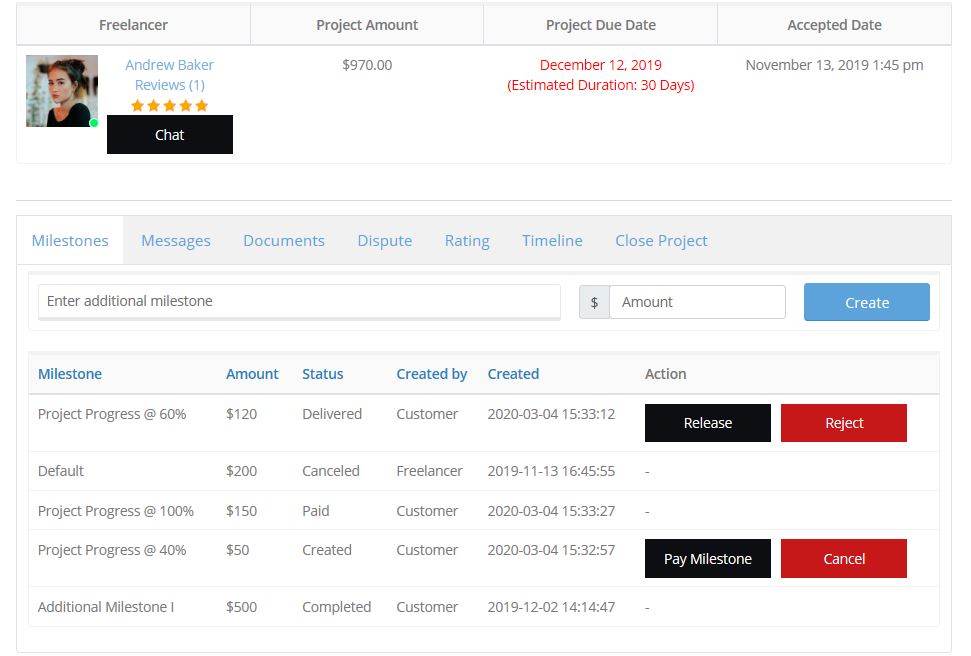 Ratings
During project execution and upon completion, both Customers and Freelancers can submit their ratings to the other party. Ratings use a 1 to 5 Star scale and also an input field to leave some additional comments. This enables your platform to collect and display valuable feedbacks that help create trust on the users as well as attract additional users.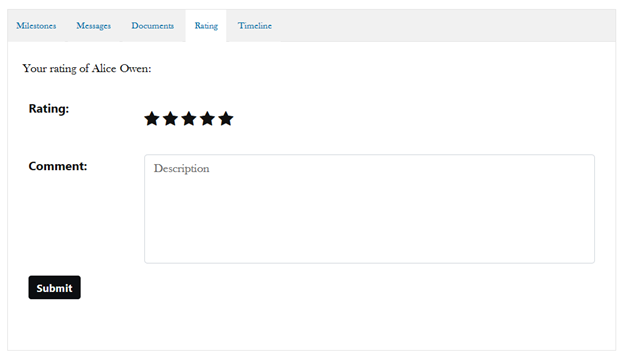 Dispute Management
During project execution, either party can submit disputes or claims against each other, for reasons of unresponsiveness, not enough information or other reasons which you can define in the settings.

Email Workflows
Freelancer Marketplaces rely on a set of Email Processes to drive user actions. Therefore, this plugin has a built-in, countless email templates which can be edited and customized all the way you want.
Optimizing the wordings of your email are key to pull your users through the workflows starting from onboarding, bidding, project execution, disputes, ratings and project completion.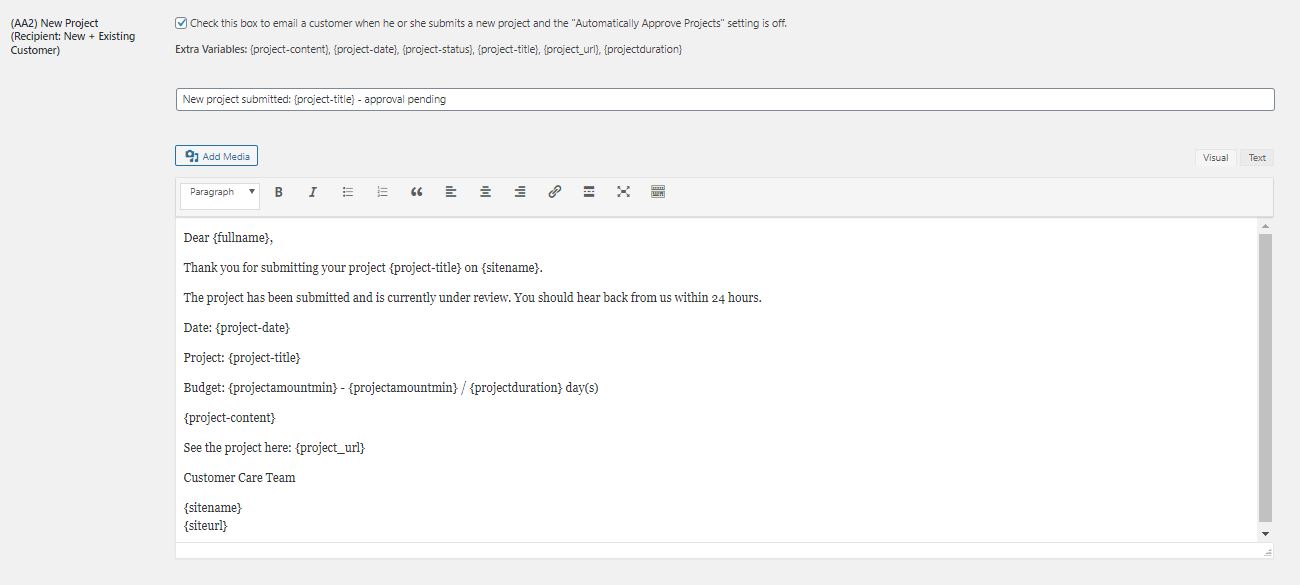 Modern Layouts
The plugin contains easy to understand, simple but powerful page layouts so that both Freelancers and Customers can easily track the progress of their projects.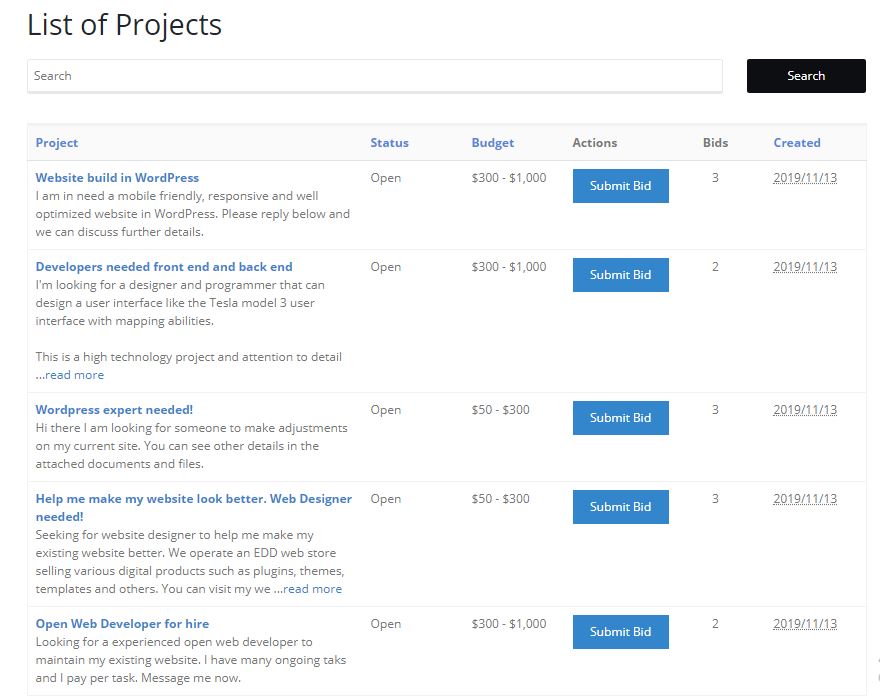 Form Builders
This plugin has a built-in, extensive and complete Form Builders that enable site admins to customize both the Freelancer and Customer Registration Forms. It almost has all the important fields you might want to add in your forms, which will surely give more value and color to your User Registration and Profiles.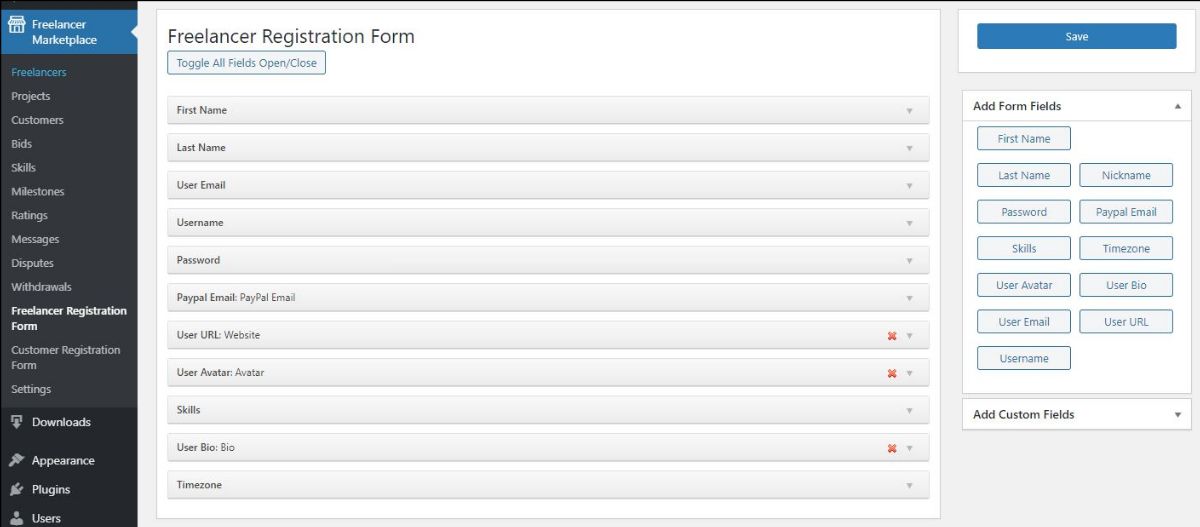 Documentation & File Folders
Once the project has been approved, users can upload files and documents through the Messaging System. The plugin keeps them in a separate File and Documentation Folder aimed to properly document the project and keep all files in one place.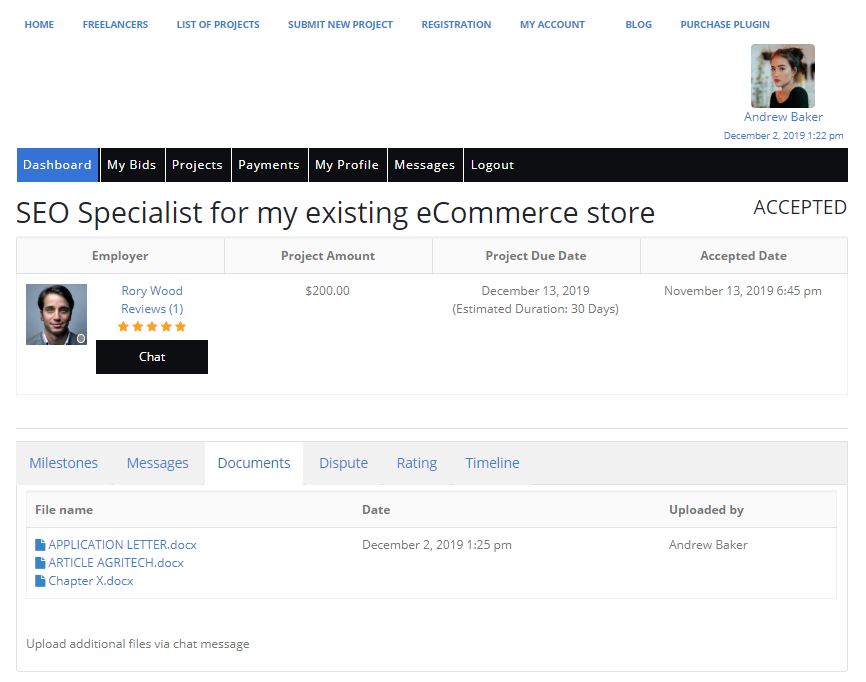 Timeline
Our plugin also captures the timeline of projects in Execution modus. So both parties can keep track of what's happening with this project and identify progress easily.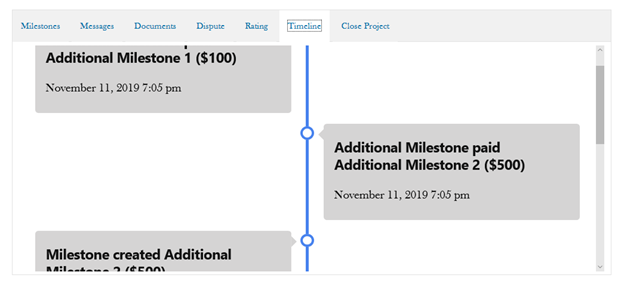 Payments & Withdrawals
Once the customer confirms that the project is accepted or a milestone has been delivered, the funds are credited to the Freelancer's Balance, paid in escrow by the customer at that time.
If the Freelancer has then a positive fund balance, he can request a withdrawal. The payment then can be done via PayPal transfer (e.g. you can upload a mass payment file in PayPal for larger platforms).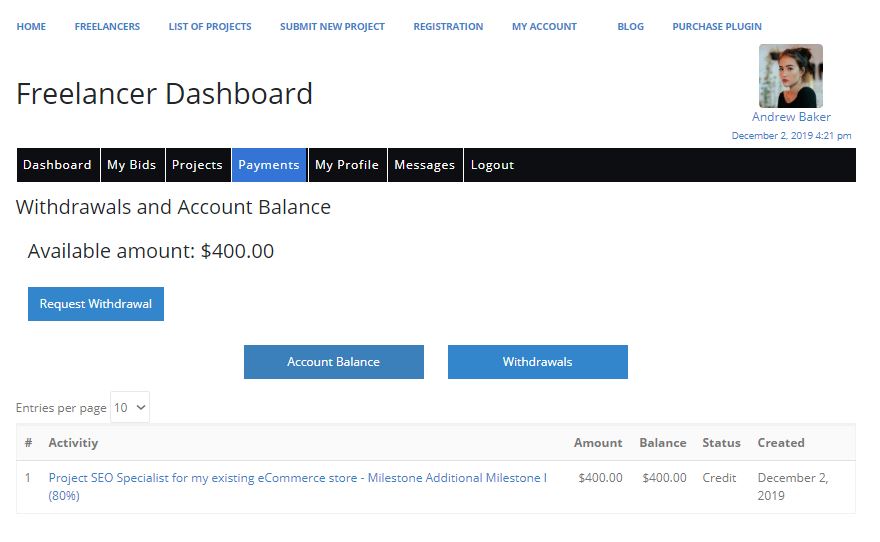 Clean and Precise Backend Pages
A good advantage of this plugin when compared to other platform solutions out there, is it has a very clean, complete and precise backend pages. Right on the WordPress Dashboard, site admins can see complete list and details of the important functions of your Freelancer Marketplace.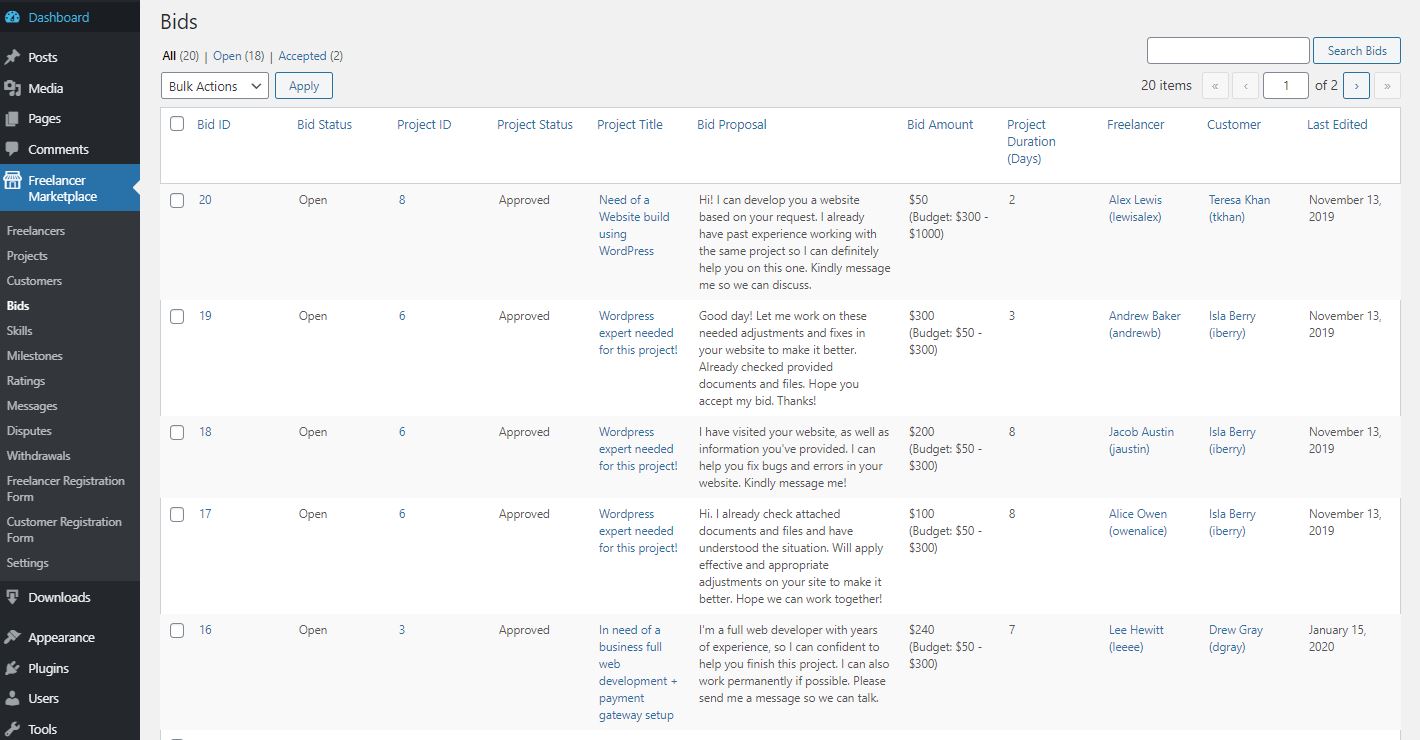 Customization
Our plugin offers a comprehensive collection of settings and custom configuration options to give you total control over your Freelancer Marketplace. The aim is to give you the tools you need to build the Freelancer Marketplace you want.

Themes
The Freelancer Marketplace Plugin is compatible with some of the free WordPress Themes such as Astra, PopularFX, and Storefront.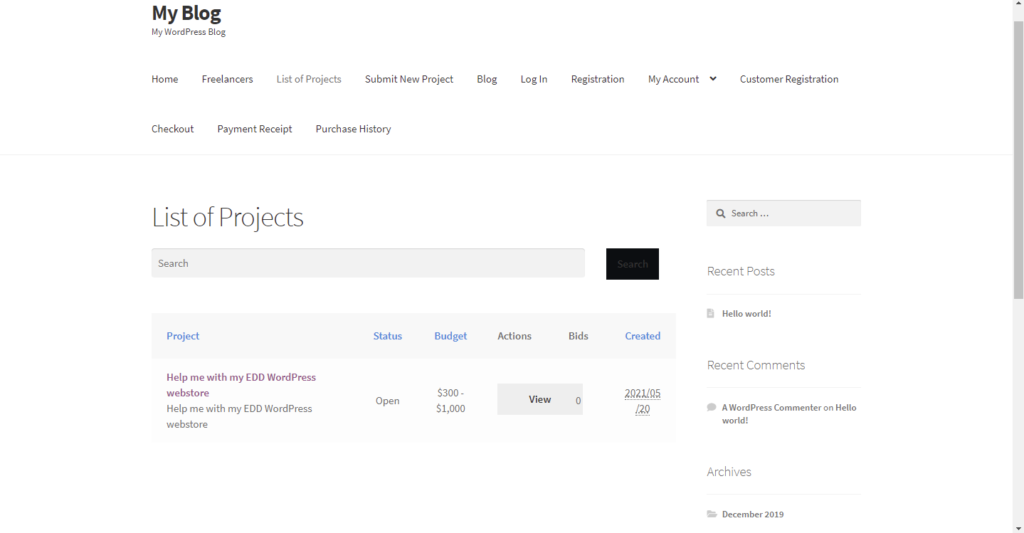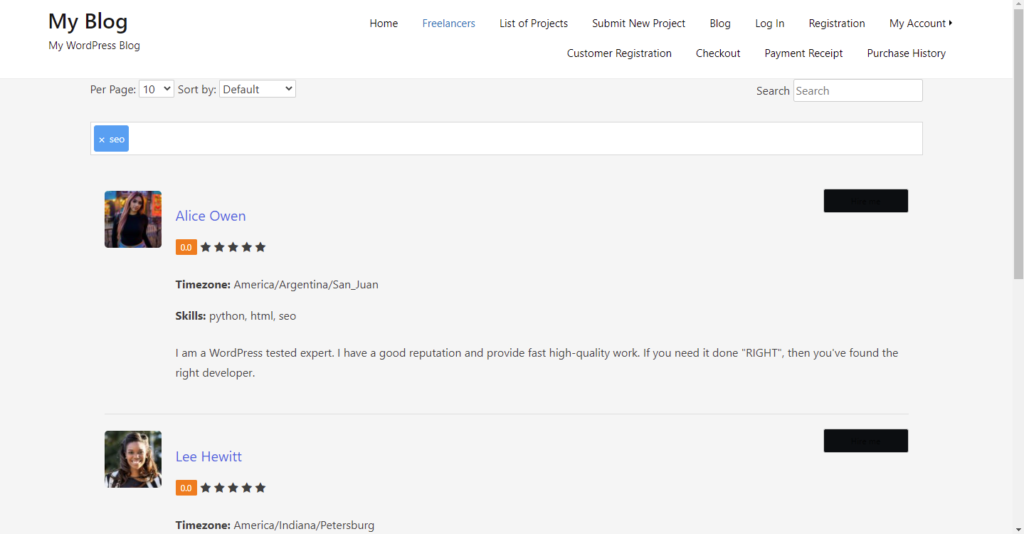 Frequently Asked Questions
What other Plugins do I need?
You will need to install either WooCommerce or Easy Digital Downloads together with Freelancer Marketplace Plugin. The reason is that the checkout needs to happen in either one of those webshop solutions. Both Plugins are freely available.
What can I get using this plugin?
By using our plugin, you can now build your Freelancer Marketplace, where customers and freelancers could work together, while you can earn some money in the process. Not only that, but you can also sell digital downloads at the same time.
Can I combine the website with other WordPress plugins?
Yes, all plugins should work in principle as it's a WordPress website. However, compatibility needs to be tested to avoid plugin conflicts in the future.
Can we use other plugin to allow Social Login?
Yes. You can use any available Social Login plugins out there to enable Social Logins on our plugin.
Which Free WordPress Themes can we use with this plugin?
Can Freelancers also be Customers at the same time?
Yes. A user can both have the features available for a Freelancer and Customer, but must be verified and/or approved first.
How do Freelancers get paid?
Freelancers will first have to request withdrawal to the site admins, who will therefore process it manually, and just wait for it to get paid directly on the freelancer's paypal account.
Is payment to Freelancers done automatically?
No. We believe for the moment that it is better for the admin to only do and allow manual payments in paying out Freelancers for the moment.
Can customers upload project files?
Yes. Attaching and uploading files during project submission is allowed.
Can the users send each other messages?
Yes. Messaging system works fine in our plugin. This will be better explain in the plugin documentation.
Can the users rate each other?
Yes. Upon completing a project, both the customer and freelancer can submit their ratings with each other.
Can the users login/register using Social Accounts?
Yes. Our plugin is very much compatible with the OneAll Social Login plugin that gives users a very easy registration procedure by just using their social accounts.
Can I get my money back if I am not 100% satisfied?
Yes. We provide a money back guarantee for 14 days should you not be satisfied with our product and we will issue you a refund.
Will you charge me every year?
Only if you decide to keep the subscription. You can cancel your subscription at any time. The subscription allows you to receive plugin updates and support as long as you are subscribed with us. We recommend to keep the subscription and renew it every year as this is a complex plugin which we plan to update regularly.
What if I need further help?
Yes. If you have any questions and clarifications, just contact us and we will get back to you immediately.
Create your Freelancer Marketplace now!
Note: All paid subscriptions below includes the latest plugin version as well as plugin support and updates for 1 one year.
Single Site License
$199/ year
3 Sites License
$299/ year
10 Sites License
$499/ year
Plugin Meta Data
Current Version 2.4.1.5
WordPress: Tested up to Version 6.0.2
Easy Digital Downloads: 3.1.0.1
Changelog
Version 2.4.1.5 – October 09, 2023
* New: Added new configuration settings related to "Hire Me" button, which now allows us to disable/enable it on the page, as well as choose a redirect page upon clicking on it.
Version 2.4.1.3 – September 29, 2023
* New: Social Login Integration using "Nextend Social Login and Register" Plugin, on all Login/Registration Pages, Forms and Popups.
* New: Admins can now create new projects from the Projects Backend Page, which redirects to the Submit New Project form.
* New: Theme Integration Improvement for BuddyBoss.
* Fix: Minor Bug Fixes
Version 2.3.6.2 – July 04, 2023
* Fix: Hire Me Popup Layout and Process Improvement
* Fix: Project Page Drop-down List on the Advanced Search
* Fix: Project Page Advanced Search Layout Improvement
* Fix: WordPress Standards Compliance Improvement
* Fix: Minor Bug Fixes
Version 2.3.5.2 – February 28, 2023
* New: Added feature where Admin can only submit bids, and function as a freelancer.
* New: Added settings to disallow account registration as freelancers.
* New: Direct hiring freelancers now shows a popup to choose either selecting a new project or creating a new one.
* New: Added advanced project search
* New: Added new Setting Tab for remove plugin data when uninstalled
* Fix: Issue where Freelancer is automatically converted as Customer
* Fix: Improved WP Standards
Version 2.3.3.8 – January 06, 2023
* Fix: Changing file size limit of uploads on the File Upload Field doesn't work.
Version 2.3.3.7 – December 27, 2022
* New: File Upload Field that can be added on both Customer and Freelancer Registration and Profile Forms
* Fix: Removing uploaded file on users's profile page
* Fix: Showing Uploaded File on user's public profile page
Version 2.3.3.4 – December 16, 2022
* Fix: Submit Project Form is disappearing on the page; hence cannot submit projects
Version 2.3.3.3 – December 14, 2022
* New: Setting options which allows that Site Admins can only create projects
* Enhancement: Additional permission settings re-arranged properly for Customer role
* Fix: Suggested bids using Hire Me button payment issue
* Fix: Freelancer Registration Email Activation doesn't reflect on backend
* Fix: Custom Action Hook issue for Freelancer Registration Form
Version 2.3.2.3 – November 28, 2022
* Enhancement: Site Admins can now change the Project Status on the backend manually
* Enhancement: Automatic Project Deactivation (Days) Settings can now only input maximum of "9999" days
* Fixed: Project Duration improper number format on the backend
* Fixed: Login Form bug when entering wrong passwords
Version 2.3.2.1 – November 23, 2022
* Fixed: Password field on the registration form now fully working
* Fixed: Error log entries in PHP Log
* Fixed: New installation of the plugin resulted in an unexpected error when WooCommerce or EDD Plugin was not active
* Fixed: Ping sound for messages required one fix to show correctly
* Fixed: Deactivation of License now should work correctly
* Fixed: Project duration was not showing correctly on the Freelancer Dashboard
* Enhancement: Layout enhancement of the Login Popup from at project submissions
* Enhancement: Improving logic to avoid special cases where the milestone at checkout would show 2 times
Version 2.2.2 – October 25, 2022
* Small bug fixes and layout improvements
Version 2.2 – October 10, 2022
* Added WooCommerce Compatibility
* EDD Version 3.0 Compatibility
* Various improvements in the Source Code
* Minor Bug Fixes
Version 1.1.0 – Nov 26, 2021
* Fixed: Custom Field on Registration form was not adding to form
Version 1.0.9 – Nov 18, 2021
* Added Pagination for Reviews on Freelancer Profile Page
* Fixed: Project not found an error
* Fixed: Stripe Payment gateway redirect issue
Version 1.0.8 – October 22, 2021
* Fix: Milestone amount was not synced with updated Bid amount.
Version 1.0.7 – October 09, 2021
* Fix: HTML, Javascript and CSS prefix.
* Fix: Upon Uninstall plugin allows removing plugin data.
* Fix: Minor bugs
Version 1.0.6 – December 18, 2020
* Email Template design can be overridden through child/parent theme.
* Fix: Chat button on the Freelancer's bid not redirecting to the correct page
* Fix: Buttons on the Customer Dashboard Menu are not working
* Fix: Edit Project Button not working
* Fix: Hire Me Button not working
* Fix: Admin > Registration and customer form java script bug
Version 1.0.4 – December 12, 2019
* Enhanced wording of notifications for freelancer auto approval work flow
* New email template added for conversion from Customer to Freelancer
* Updated file upload layout for edit project page
* Various bug fixes and layout improvements
* Fixed layout issue for selecting dispute reasons
Version 1.0.3 – November 30, 2019
* Added list of declined bids for Freelancers
* Various bug fixes and layout improvements
Version 1.0.2 – November 15, 2019
* Bug fixing.
Version 1.0.1 – November 8, 2019
* Small bug fixes.
Version 1.0.0 – October 15, 2019
* 1.0.0 Initial release