Sales and profit data by products, ordered products, and customers
Sales Report Charts
Rich Search Filters per Report
Plugin compliant with EDD 3.0
Free Plugin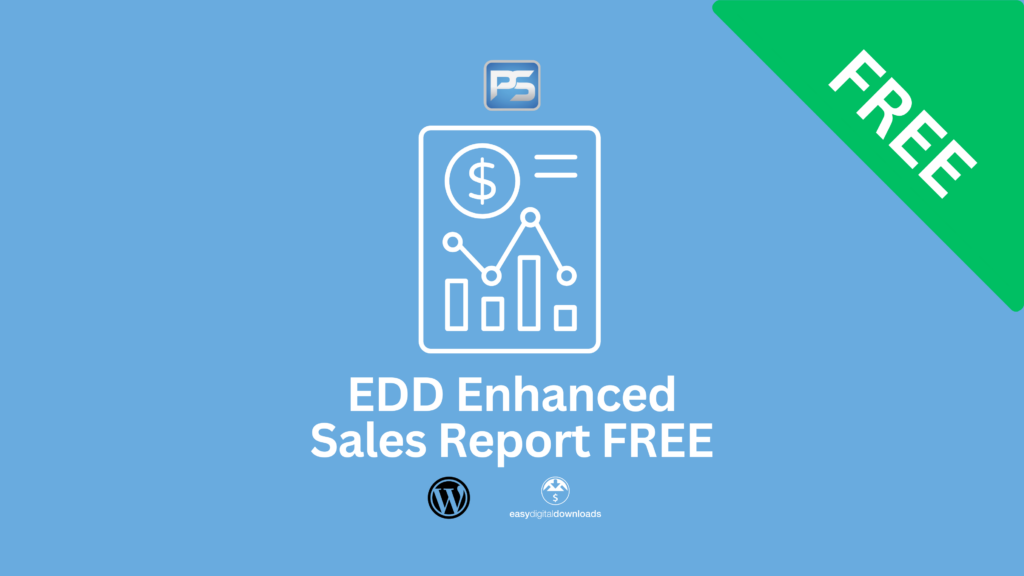 Plugin's Purpose
The EDD Enhanced Sales Report Plugin is a WordPress plugin extension for Easy Digital Downloads eCommerce stores which provide detailed sales and profits report in order to obtain a better understanding from where sales and profits come from.
Enjoy a lot of features to help filter your store's sales and profit data according to certain specifications such as filter by product, by customer, by country, by vendor, and many more.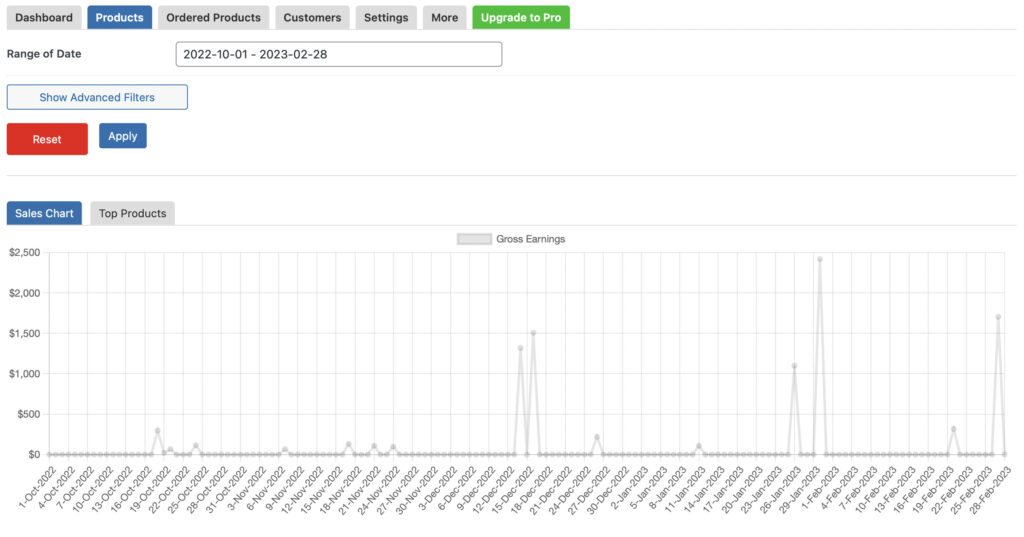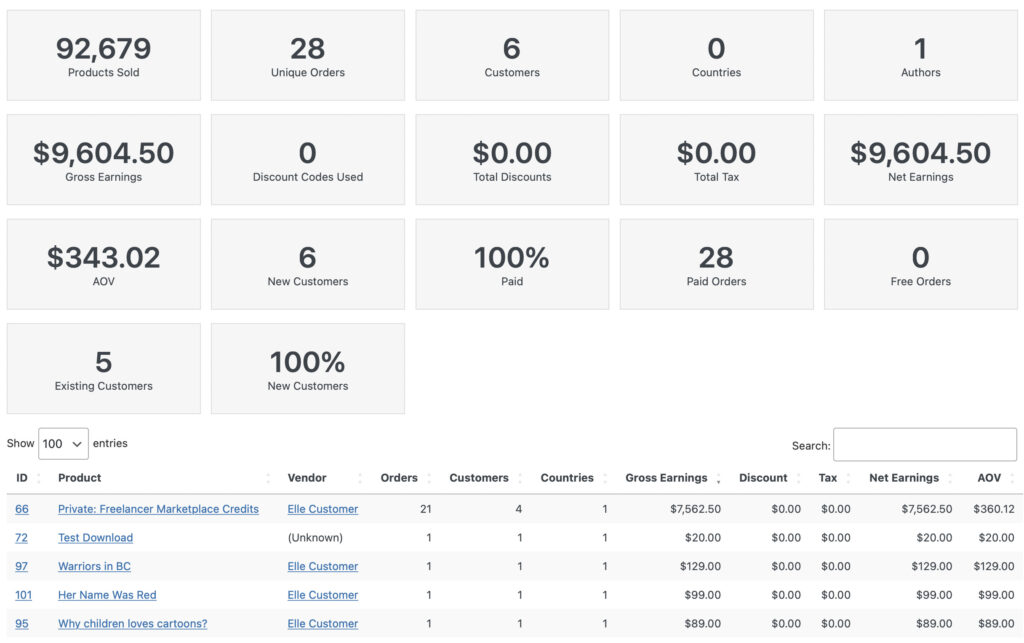 This plugin offers you great insights into customer behaviors, market segments, and vendor management. Therefore, this plugin is a recommended add-on to your Easy Digital Downloads store.
Why analyze your sales and profit data?
Sales Data Analysis in eCommerce provides businesses with a deeper understanding of customer habits and preferences. It shows everything that's working and not working with your digital downloads web store.
In other words, if you analyze sales data, it can give you a conclusion as to how are your products are doing? Why is your sales trend going up or down for a specific time period? What does your customer in a specific location want? Why some of your vendors are not doing well? And many other questions that can give light to your business decision-making.
Also, upon analyzing their customer history and behavior, they can discover additional untapped sales potential that they can also work on and try. But most importantly, these sales analytics will help them to do better in everything – products, vendors, marketing campaigns and many other sales and business aspects.
Plugin Key Features
Reports Dashboard
This plugin now has a Dashboard that shows your sales trend chart for a given time period, as well as important KPIs to track your sales revenues, and at the bottom, your Top Products and Top Customers data needed in monitoring your Digital Downloads webstore.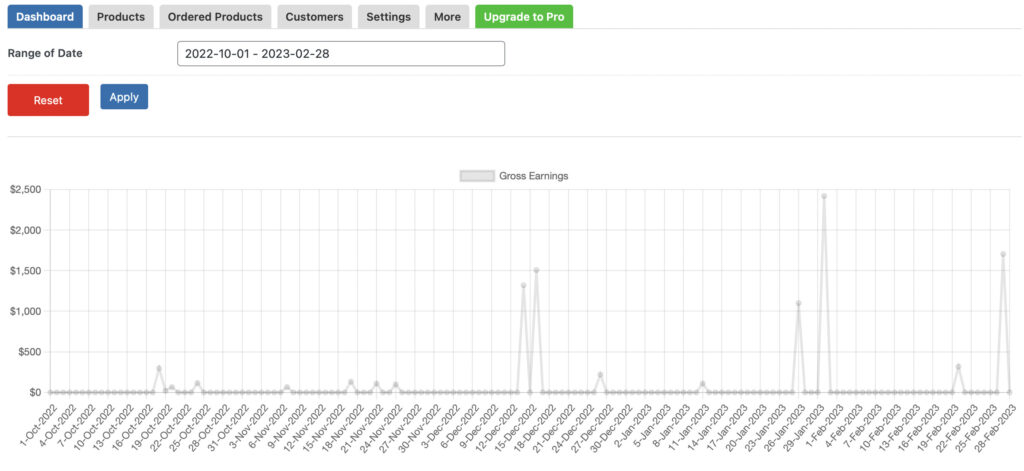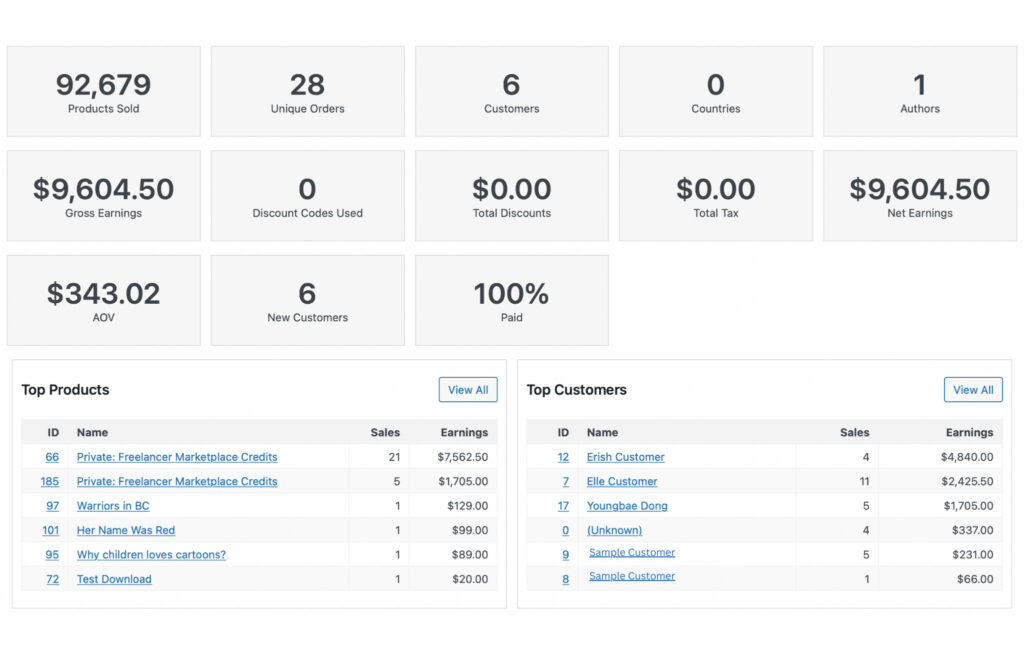 Products Included in Orders
The plugin has a special feature to also enhance the standard orders report in Easy Digital Downloads by adding an additional column displaying the products included in each order. So now you can also see in the default order report which products were included in which order for quick reference.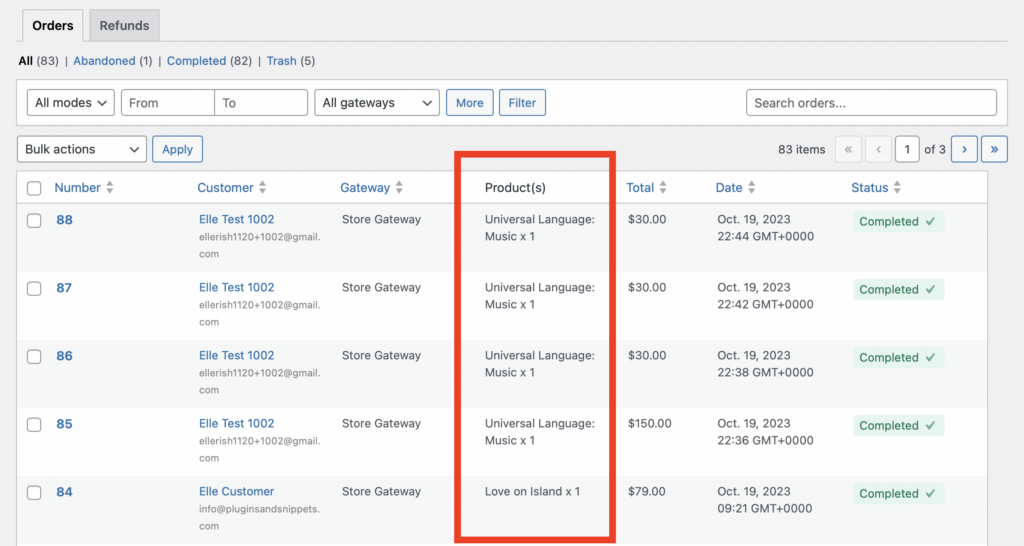 By Products Report
This sales report provides a detailed breakdown of the revenue generated from the sale of each product, as well as other important metrics such as the number of units sold, the average order value, and the total net earnings generated, and others.
A product sales report can be used by webstore owners to gain insight into the performance of their products and make informed business decisions. You can also see a time period chart to see the trend of your sales performance over time.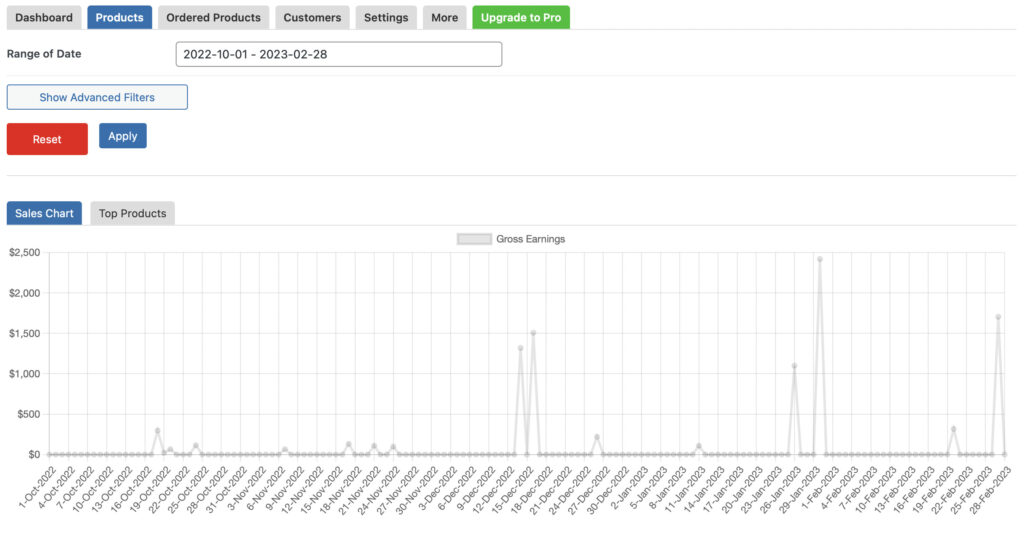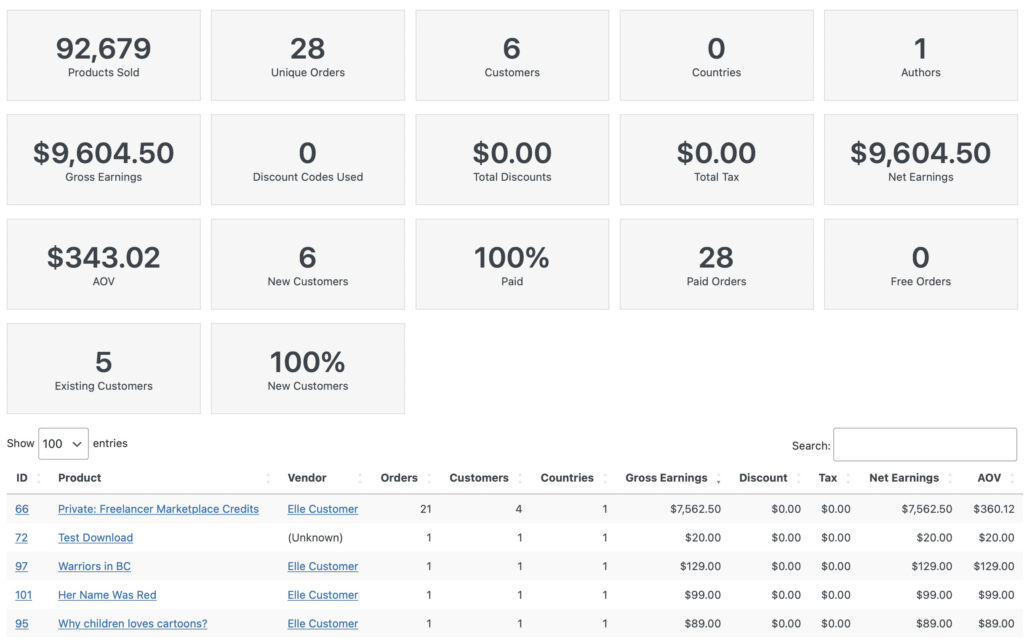 By Ordered Products Report
This sales report provides a report of which products being purchased per customer order. It also present important metrics to track like product quantity purchased, gross and net earnings, discounts, tax, product customer, author, and others. You can also see a time period chart to see the trend of your sales performance over time.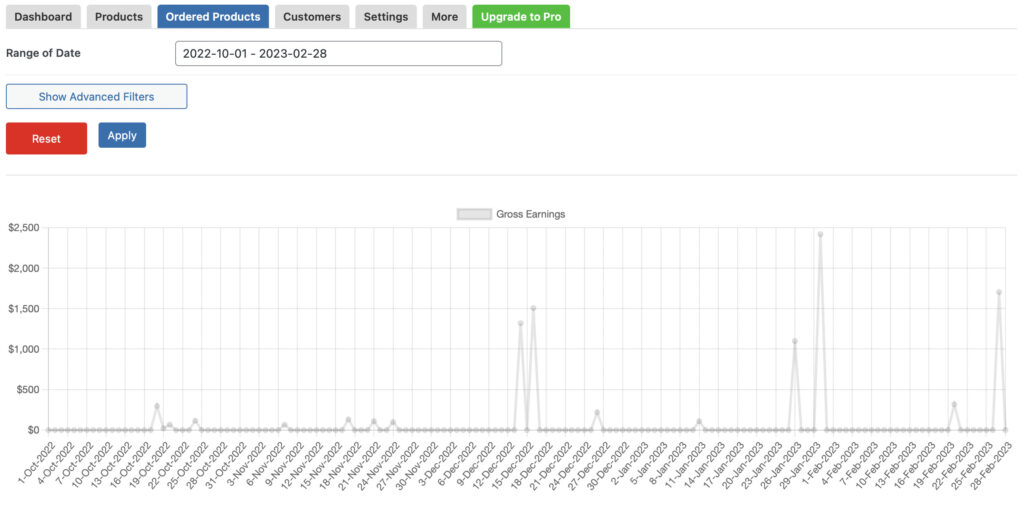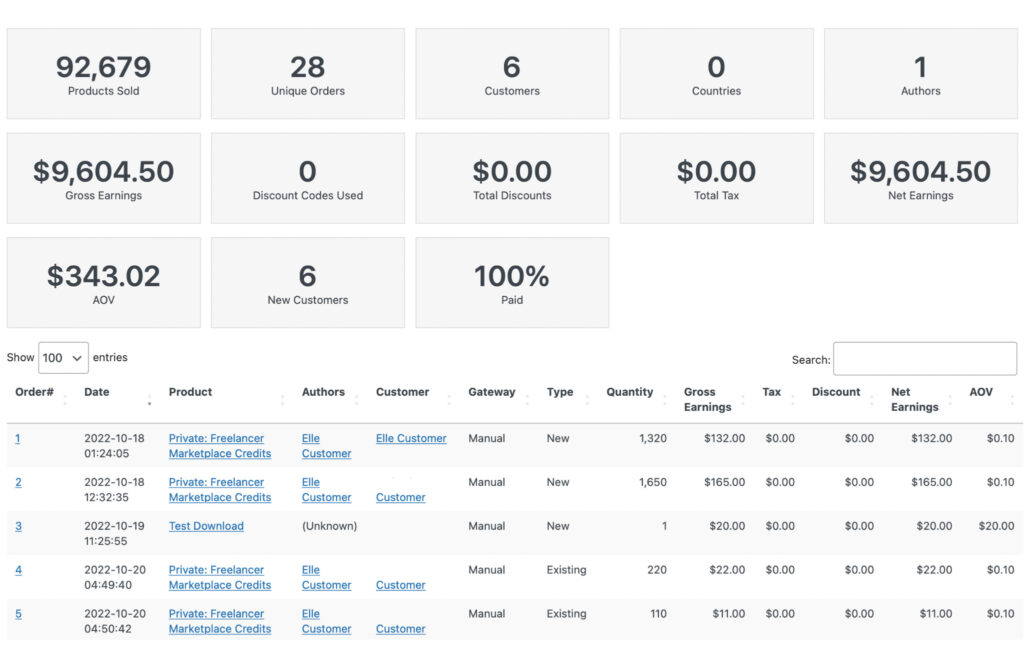 By Customers Report
This sales report includes customer name, email used, country of origin, no. of products purchased, no. of order, average order value, net and gross earnings, and others. This report can be used to gain insight into customer behavior and make informed business decisions that can improve the customer experience and increase sales.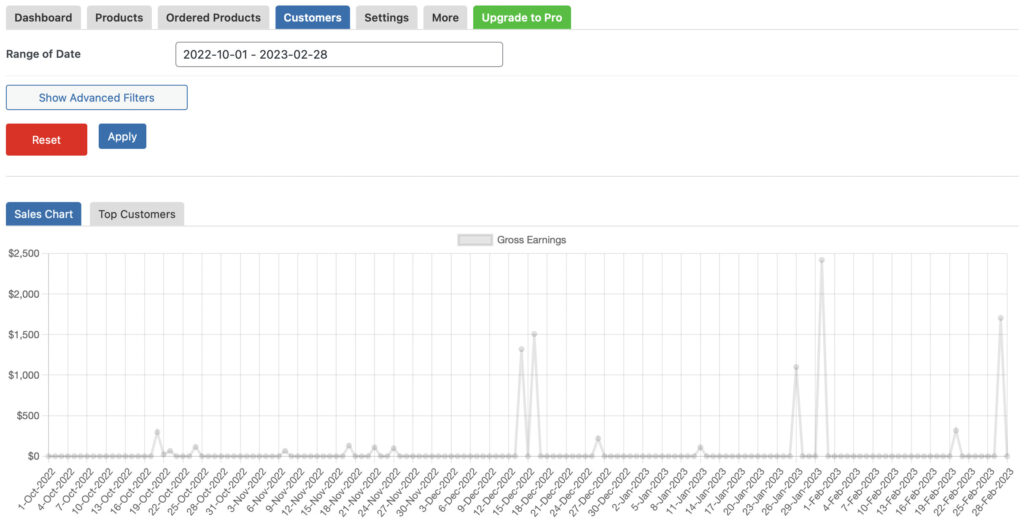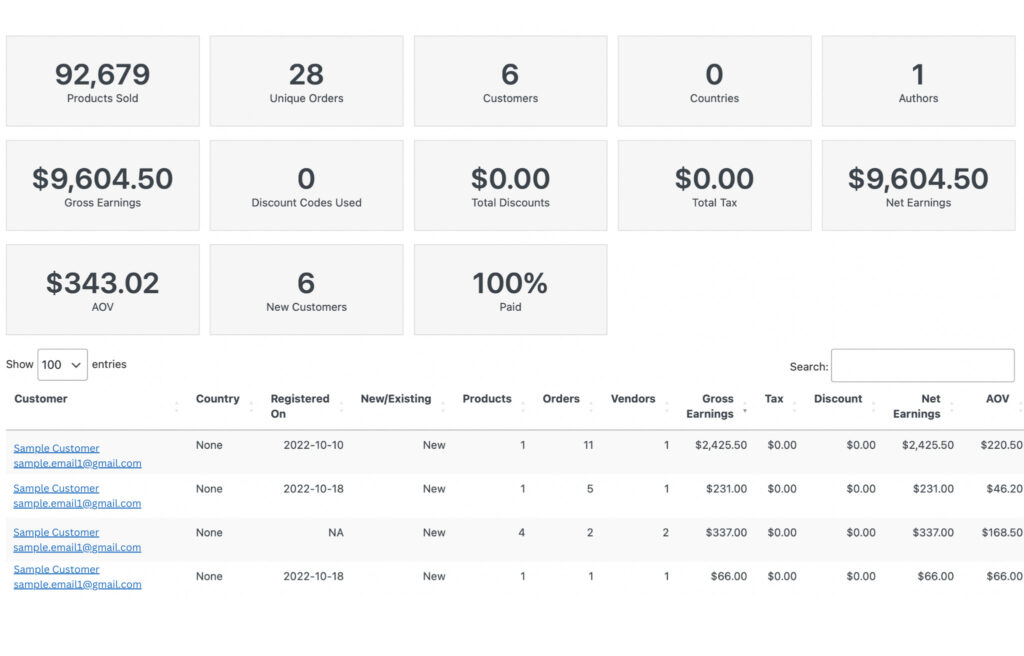 Filter Options for all Reports
Filters basically allow users to view specific subsets of sales data based on certain criteria. They can be used to focus on specific aspects of sales performance or to isolate certain segments of data for analysis.
Therefore, we have added advanced filters across all sales reports within our plugin. Below is an example from our By Products Sales Report.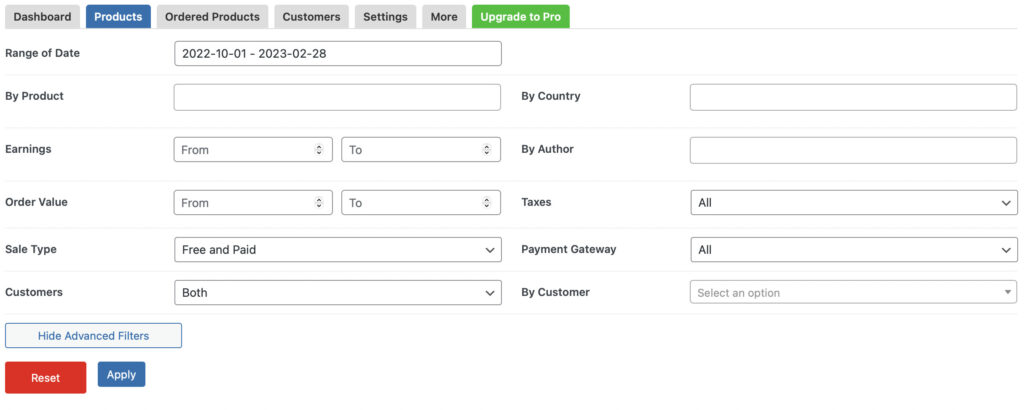 By applying these filters to their sales reports, users can gain a deeper understanding of their sales performance and make data-driven decisions to improve their results.
If you want to enjoy additional and extra features of this plugin, kindly have a look at the Paid Version here.
Pro Version: EDD Enhanced Sales Report Pro
Get additional and extra features of this plugin by purchasing the EDD Enhanced Sales Report Pro Plugin. Visit the product page to check the version comparison and extra features of this plugin.
Frequently Asked Questions
Can I select the time period in which to run the report?
What are the available data filters for each reports?
Available data filters for each reports are: Range of Earnings ($), Range of Sales (#), By Country and By Product.
Can I include/exclude Free Downloads on the report?
Yes. Just tick/untick the box "Include Free Downloads" to do this.
How many reports I can save with this Free Version?
The creation of Saved Reports for the Free Version limits to only up to 2. But with Paid Version, you can save an unlimited number of reports.
Get this Plugin for FREE!
Plugin Meta Data
Current Version: 1.1.7
WordPress: Tested up to Version 5.3.1
Changelog
1.1.7 : AUGUST 07, 2023
Fixed Reports Table Sorting
General Bug Fixes
Updated to the latest WordPress Version
1.1.4 : MARCH 01, 2023
New Dashboard with Time Period Chart, Top Products and Top Customers List
New and Improved Product, Ordered Product and Customer Reports
Time Period Chart for every report
General Improvements and Bug Fixes
1.0.5 : OCTOBER 15, 2020
1.0.4 : DECEMBER 10, 2019
1.0.3 : FEBRUARY 18, 2019
Country search filter reworked so that now all countries are listed per default. User interface updated to quicker filter search dropdown fields, admin dashboard fonts issue solved by updating plugin assets
1.0.2 : JANUARY 23, 2019
Enhanced Sales Reports menu shifted under Downloads Menu in order to prepare the plugin for EDD 3.0
1.0.1 : DECEMBER 18, 2018
1.0.0 : DECEMBER 7, 2018
EDD Enhanced Sales Reports Released