Managing a multi-vendor online WordPress store that pays commission is a dynamic and complex task. In this role, you oversee the operations of an e-commerce platform that brings together multiple vendors, each offering their unique products or services. As the facilitator, your responsibility lies in ensuring seamless coordination between vendors and customers, optimizing sales, and providing a fair commission structure.
By effectively managing vendor registrations, order processing, payment transactions, and ongoing support, you create an environment where vendors can thrive while customers enjoy a diverse selection of offerings. Through strategic marketing, analytics, and continuous improvement, you foster growth and success for both the online store and its network of vendors.
Objectives of a Sophisticated Commission Scheme
Using a system that allows for flexible and advanced commission management for vendors offers several advantages:
Customized Commission Structures: A flexible system enables you to create customized commission structures for different vendors based on their specific needs, sales volume, or product categories. This allows you to incentivize and reward vendors based on their performance and contribution, promoting healthy competition and motivation.
Tiered Commission Rates: With an advanced commission management system, you can implement tiered commission rates based on predefined sales thresholds or performance milestones. This allows you to offer higher commission rates to vendors who consistently achieve higher sales targets, encouraging them to strive for better results.
Promotions and Incentives: A flexible system enables you to easily introduce special promotions or time-limited incentives for vendors. You can set up temporary commission boosts, bonuses, or rewards to drive specific behaviors or sales objectives. This flexibility helps in motivating vendors and aligning their efforts with your business goals.
Commission Adjustments: Sometimes, specific circumstances may require adjustments to commissions, such as returns, refunds, or order cancellations. A flexible commission management system allows you to make these adjustments easily and accurately, ensuring fair and accurate commission calculations for vendors.
Therefore, a system that allows for flexible and advanced commission management for vendors empowers you to tailor commission structures, introduce incentives, track performance, and make adjustments as needed. It enhances vendor satisfaction, drives motivation, and helps you optimize your commission program for better results and overall business success.
Implementing Advanced Commission Rules for Easy Digital Download WordPress Stores
To systematically and effectively motivate vendors, implementing a flexible and advanced commission management system is crucial. Such a system enables you to tailor commission structures and incentives to the specific needs and performance of individual vendors.
With a flexible and advanced commission management system, you can introduce tiered commission rates, customize structures based on sales volume or product categories, and provide performance-based incentives. Below examples were taken from the Advanced Commission Manager Pro Plugin.
(A) Rewarding High-Value Orders with Higher Commission Payouts
A tiered commission structure motivates sales professionals to strive for higher sales volumes. By offering higher commission rates for reaching higher order values, you create a strong incentive for them to push for larger deals and increase their overall productivity.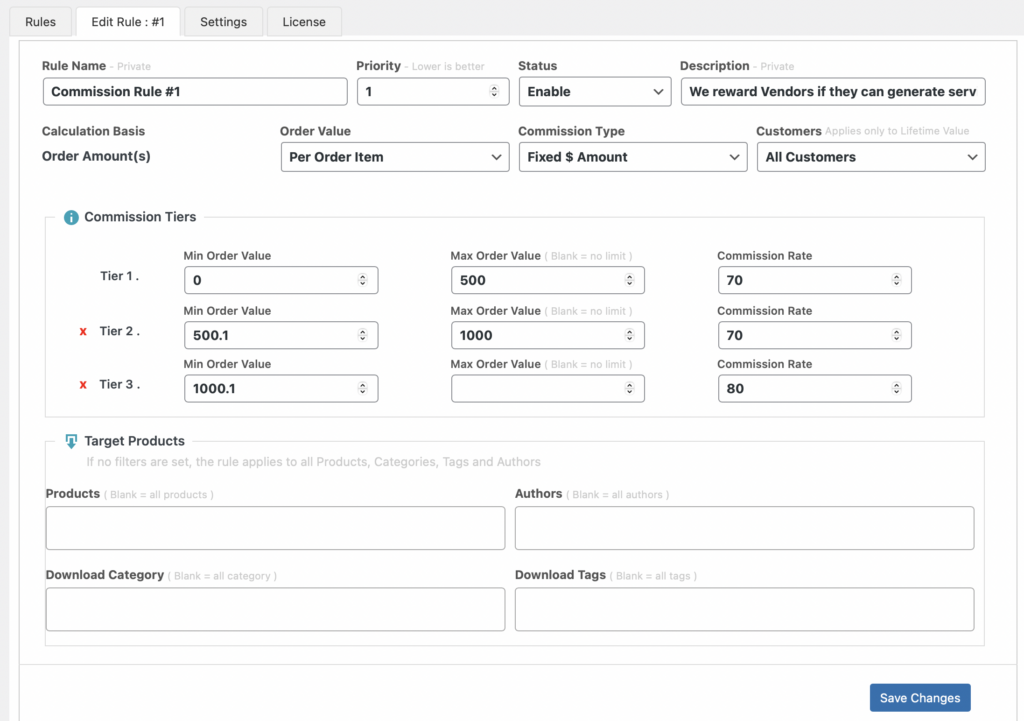 (B) Offering Better Commission Rates for Services compared to Product Sales
You can prioritize specific products, services, or target markets by assigning higher commission rates to them. This ensures that your sales force focuses on promoting the offerings that are most important to your company's growth and profitability.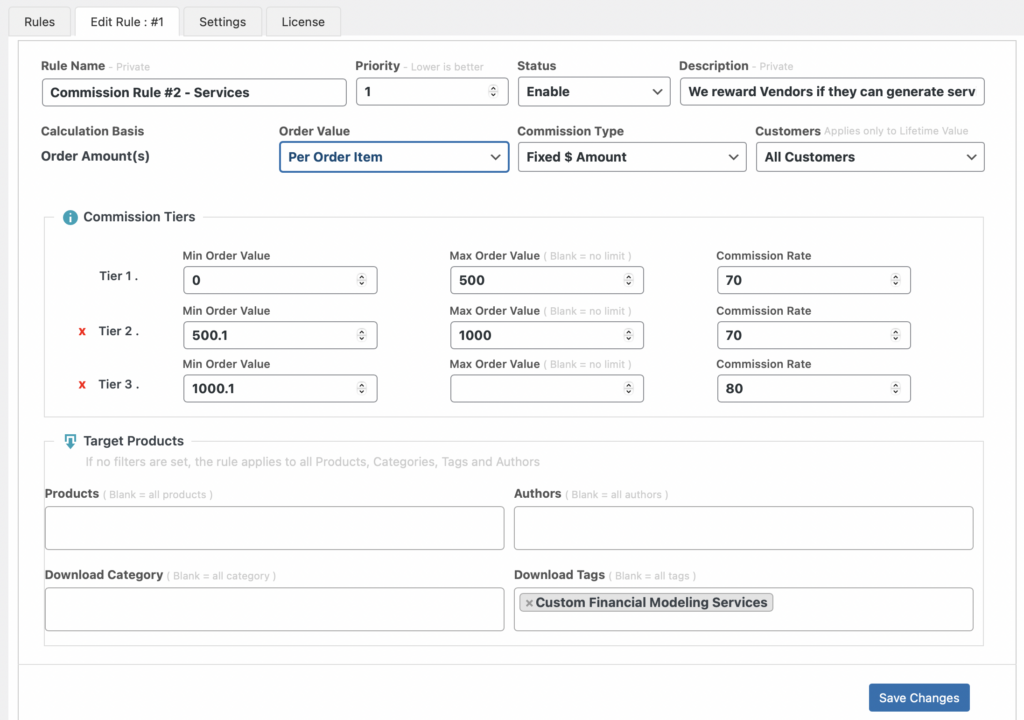 (C) Rewarding Repeat Orders
A tiered commission structure based on lifetime sales value encourages sales professionals to prioritize building strong, lasting relationships with customers. By incentivizing them to focus on customer retention and upselling, you create a sales culture that values long-term customer satisfaction and loyalty.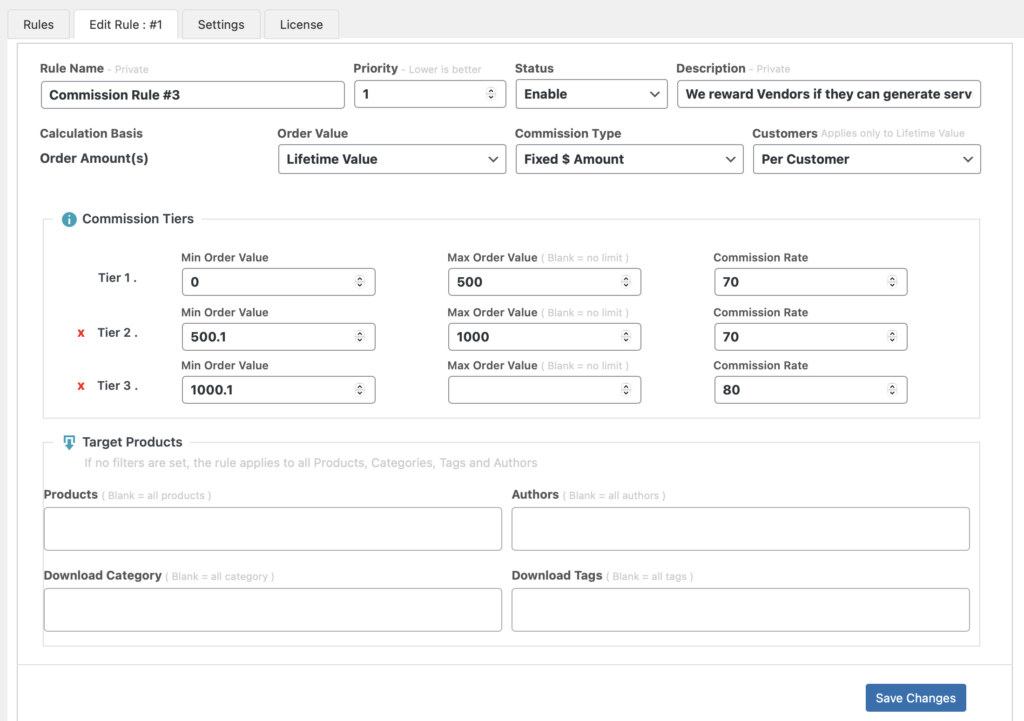 Ultimately, implementing a flexible and advanced commission management system empowers you to create a vibrant and motivated vendor community, leading to increased sales, customer satisfaction, and overall business success.
Using an EDD WordPress Commission Plugin to implement Advanced Commission Rules
Commission Manager Pro Plugin is a plugin integrated with Easy Digital Downloads and requires the EDD Commissions plugin to be installed. Basically, this plugin allows for implementing more sophisticated and tiered commission schemes to provide better vendor incentives, therefore encouraging vendors to sell their product better.
Conclusion: Better motivate high-performing vendors
In conclusion, implementing an advanced commission system on your online webstore is a strategic decision that yields numerous benefits. The flexibility and customization options of such a system allow you to tailor commission structures, introduce incentives, and recognize the varying contributions of individual vendors. This fosters motivation, engagement, and loyalty among vendors, driving their performance and ultimately boosting sales.