The Purpose: Enhancing Sales Conversion
If you are looking to increase sales conversion of your website, then the Easy Digital Downloads Recently Viewed Downloads Plugin is a must have plugin for your digital downloads store.
This plugin adds a widget to the sidebar showing the recently viewed downloads by this visitor. This offers a convenient solution for visitors who might need just a little push to add an item to their shopping cart and without having the products at hand will simply not go back and searching for the products again. Our plugin – Easy Digital Downloads Recently Viewed Downloads, improves site navigation and makes it easy for the visitor to find the products he showed previous interest and might just need a bit more time to get to the purchase decision. The goal of the plugin is to enhance your digital downloads store sales conversion this way.
Please note, there exists also another plugin available on the official Easy Digital Downloads Site, EDD Recently Viewed Items. The difference between our plugin and this plugin is that we have added some improved layout, product description, pricing and a number of customization option to best display recently viewed products also for digital downloads store which need a bit more explanation stores selling a picture only.
The Plugin's Features
Upon installation of a new widget, Recently Viewed Downloads, can be placed in any of the available sidebars. You can customize the widget as follows:
Customizing the title for this widget displayed in the sidebar
Determine the number of recently viewed downloads to show – we recommend up to 3 but you can show as many as you want
Select the type of button: Purchase (takes you directly to the checkout page) or Add to Cart (adds the item to your shopping cart)
Choose the display order of products by sorting by Last Viewed, Price, ID, Sales, Earnings, ID, Random or Post Date
Select sorting order Ascending (ASC) or Descending (DESC)
Disable/enable showing the featured product images
Exclude already purchased products to show in recently viewed downloads
Show/hide product description
Select the length of the product descriptions to show by choosing the number of words to display

Sidebar displaying a Widget with Recently Viewed Downloads
Your sidebar shows then the recently viewed products as per the settings you have chosen together with the respective Call to Action (CTA) Buttons such as Purchase, Add to Cart or Checkout (once its added to the cart).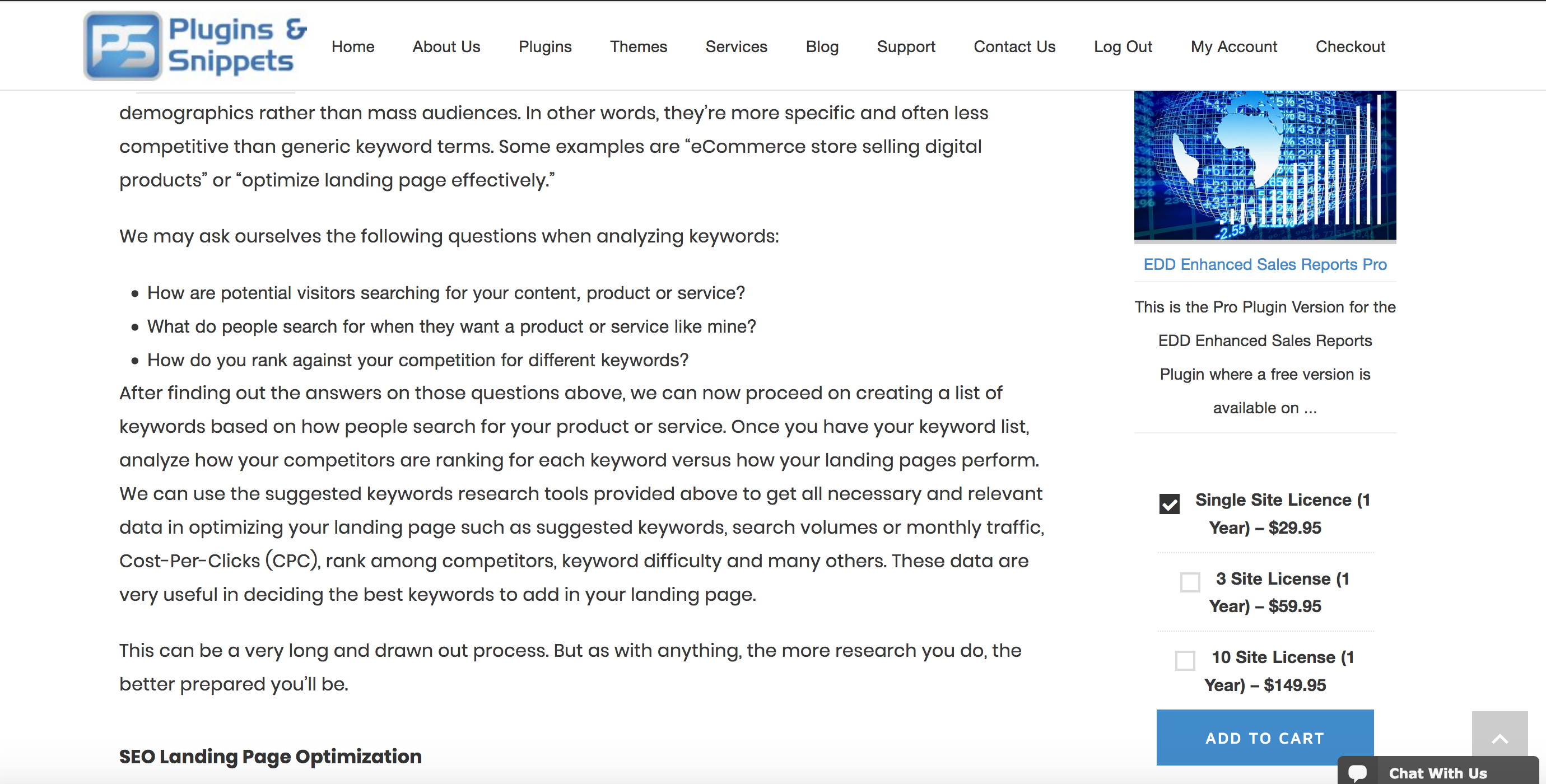 Displaying the widget in a Single Downloads Page
Another great feature of this plugin is that while your visitor is continuously scrolling in your web site, the product he has previously viewed can be shown in a single downloads page he might be currently on. It could be a way of reminding him of the products he previously showed interest, letting him to easily proceed with his buying intentions and complete the purchase. This can definitely enhance your store sales conversion in the process.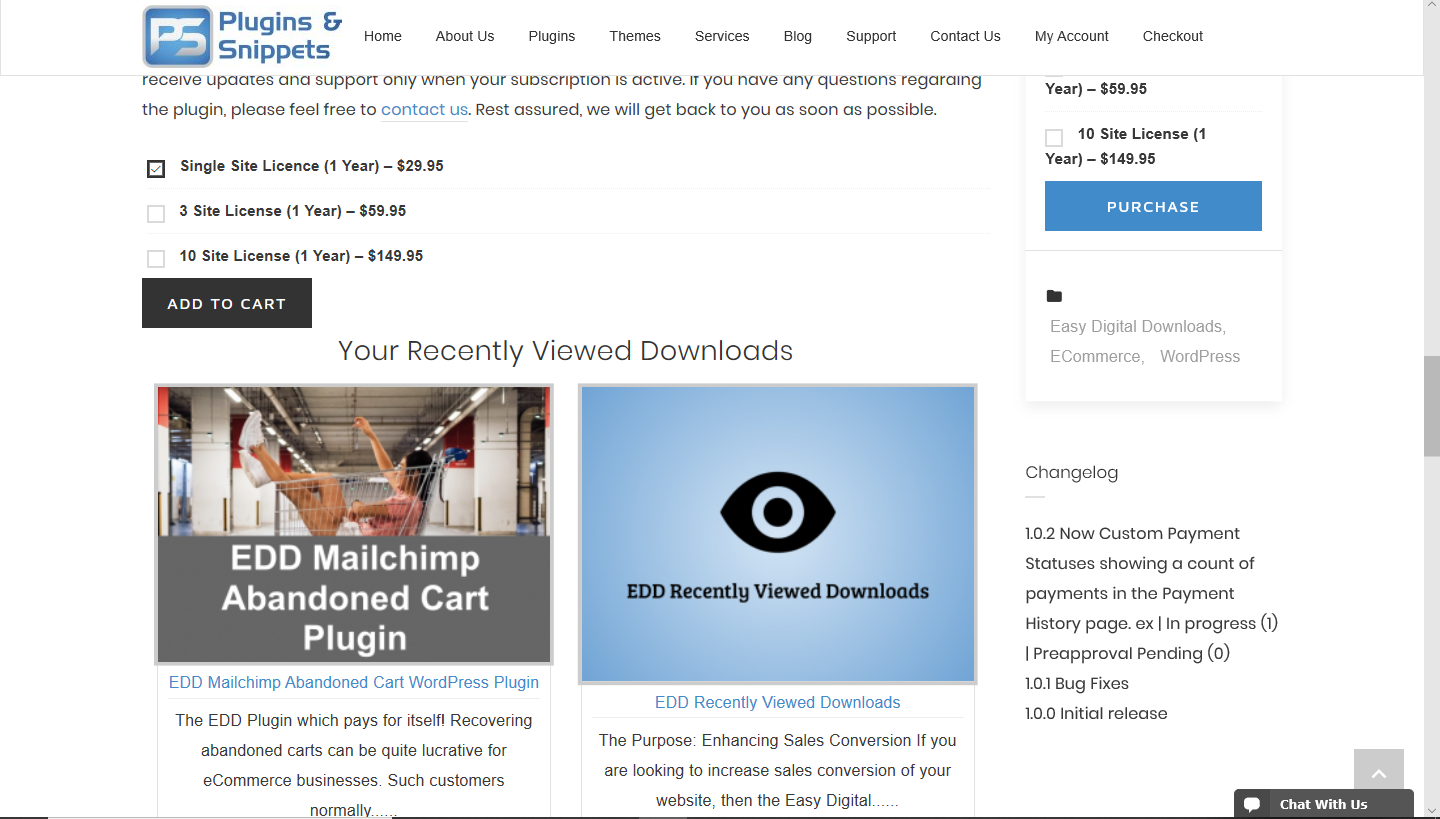 Plugin Setup & Installation
Setup and installation of this plugin is straightforward. In WordPress, simply
Go to the Menu Plugins, Select Menu "Add New"
Select Upload Plugin
Select the Browse Button to install the zip file with the plugin
Activate the plugin if needed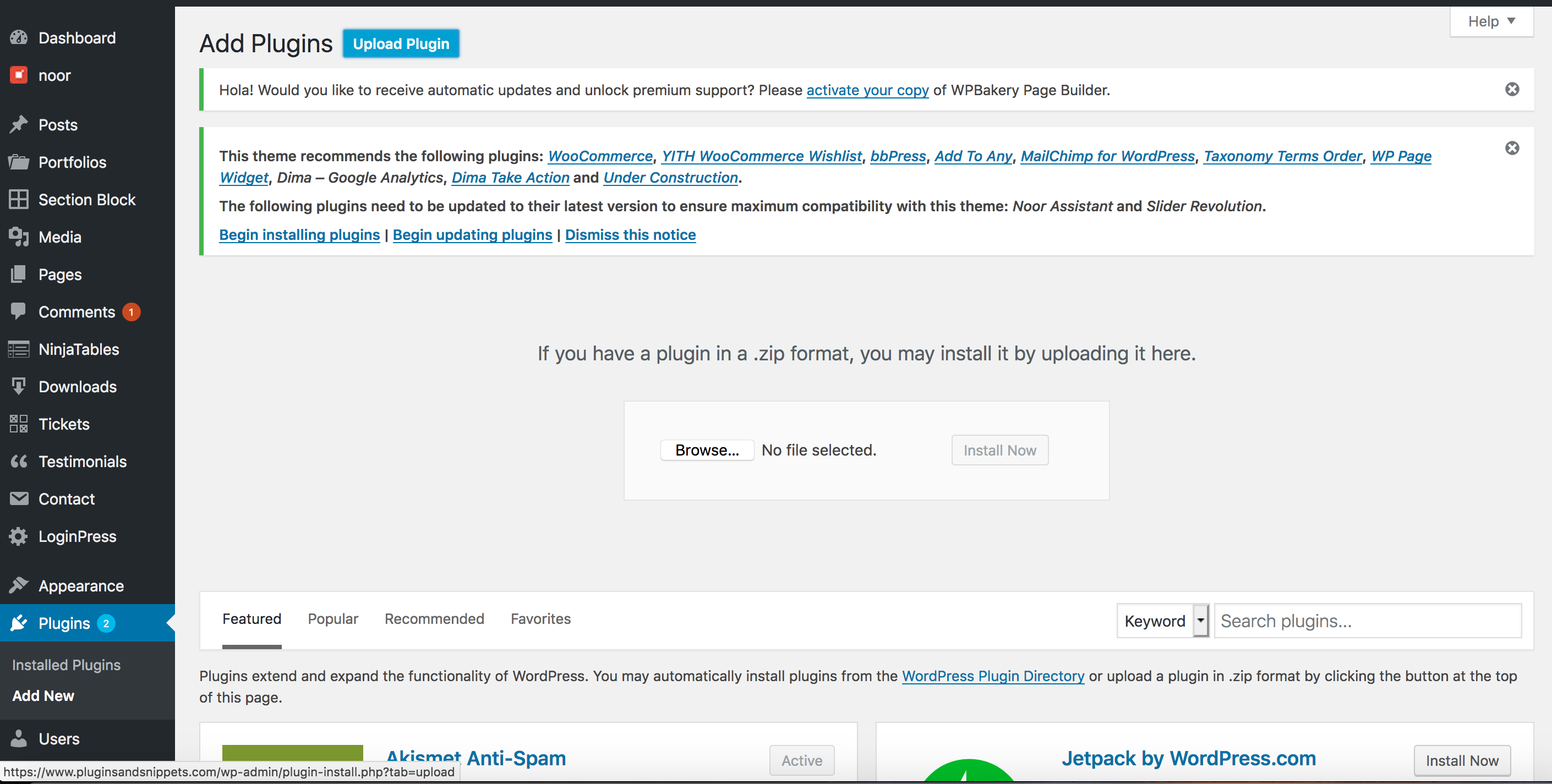 Make sure the EDD Recently Viewed Downloads plugin is activated. Push "Activate" if needed.
Shortcode
You can also add and make use of this shortcode to show the recently viewed products anywhere on your website.
Full Shortcode: [edd_rvd heading="Your Recently Viewed Products" number="6" image="true" orderby="title" order="DESC" button="yes" columns="3" exclude_purchased="true" content="true" content_words="30" slider="true" slider_autoplay="false"]
This explains each attribute of the shortcode:
1) heading (Heading text of the recently viewed downloads section)
– Default is "Your Recently Viewed Downloads"
– But can be hidden using value 'false'. for ex. heading="false"
2) number (Set how many downloads to show in the section)
– Default is taken from the main setting screen of the plugin.
3) image (This shows the featured image of the product)
– Can be enabled or disabled using a value of true/false.
– Default is true
4) orderby (Based on which order parameter recently viewed downloads will appear)
– There are many orderby options: last_viewed, price, title, sales, earnings, id, random, post_date
– Default is last_viewed
5) order (Display order of recently viewed downloads either Descending or Ascending)
– Possible order values: DESC, ASC (Case insensitive)
– Default is ASC
6) button (Show the Add to cart button or not)
– Possible values: yes, no
– Default: yes
7) columns (Number of columns that displays the products viewed)
– Possible values: 1, 2 , 3, 4 and 6
– Default: 1
8) exclude_purchased (Whether or not to exclude the downloads that customer has already purchased)
– Possible values: true, false
– Default: false
9) content (If you want to show some short product content below the image)
– Possible values: true, false
– Default: false
10) content_words (If the content is ON then you can set the word limit for it)
– Possible values: 20,30, etc
– Default: 20
11) slider (It will present recently viewed products section as a slider)
– Possible values: true, false
– Default: false
12) slider_autoplay (If the slider is ON then can set autoplay slider)
– Possible values: true, false
– Default: false
Plugin Main Settings
If you wish to add this plugin to the Checkout Page and Single Downloads Page, you can, therefore, apply some specifications for both in the Main Settings sections. You can find these by clicking on Downloads > Settings > Extensions > EDD Recently Viewed Downloads.
EDD Recently Viewed Downloads – Settings Downloads and Checkout Page
The first section of our plugin's main settings is the modifications that apply for both the Downloads and Checkout Pages. Each setting is listed below.
Set the number of recently viewed downloads to show.
Set the duration in days that tracks the customer's viewed downloads.
Exclude/Include in the display those downloads that the customer had purchased already.
Disable/Enable the Add to Cart button for every download shown.
Select the number of columns you wish to see the recently viewed downloads.
Select the Order By and Order Sequence.
Disable/Enable the Featured Image of the downloads.
Enable/Disable the download description.
Set the length of the download description if enabled.
Enable/Disable the slider feature in displaying the recently viewed downloads.
Enable/Disable the slider autoplay if the slider itself is enabled.
Enable/Disable the included Bootstrap stylesheet and javascript.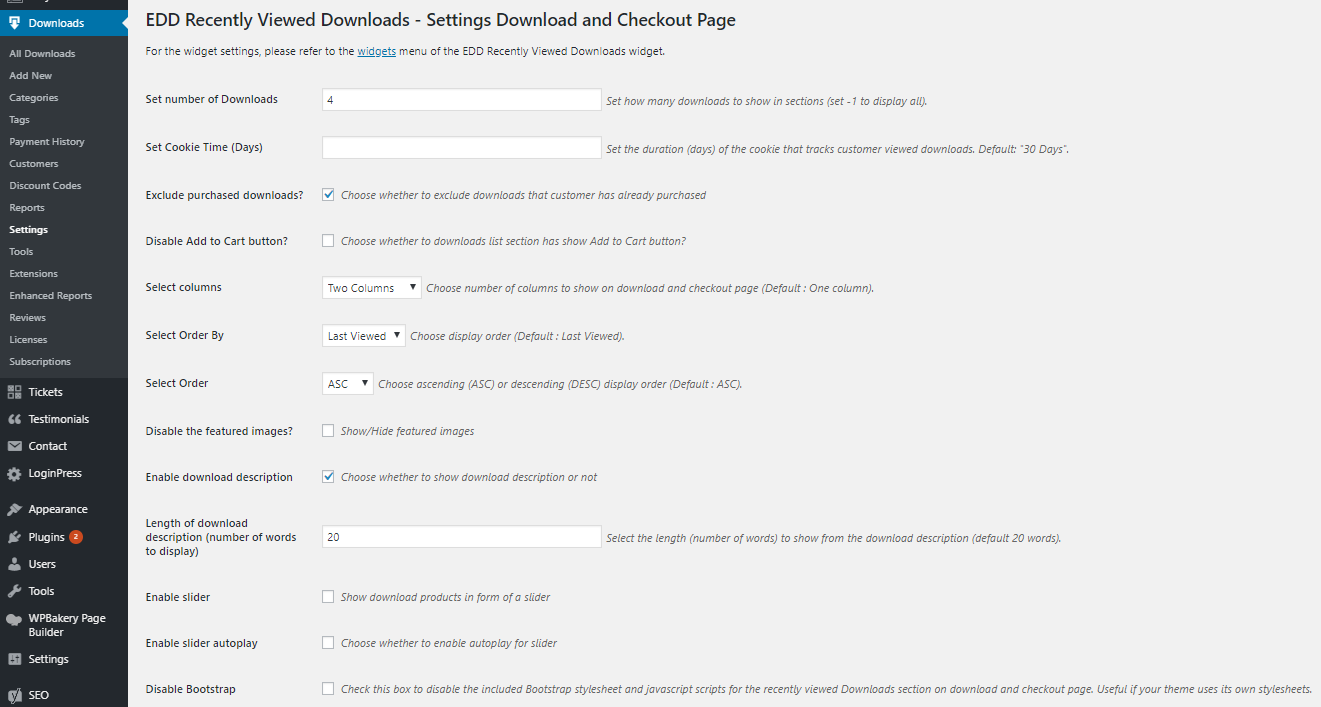 Settings Download Page
The second section contains the settings that apply on the downloads page only. If you do not wish to display the recently viewed downloads plugin on this page, you can enable or disable it by ticking the box or not. Also, you can set the header title for this display.

Settings Checkout Page
The last section is the settings that apply on your checkout page only. If you do not wish to display the recently viewed downloads plugin on this page, you can enable or disable it by ticking the box or not. Also, you can set the header title for this display.

We hope this plugin serve you well for enhancing site navigation and that your visitors can easily find the products they have shown some interest to. It's an essential plugin to install for any EDD Store looking to optimize sales and site conversion.
Plugin Meta Data:
Current Version 1.0.2
WordPress: Tested up to Version 5.2
Easy Digital Downloads: Tested up to Version 3.0 Beta