Build Tiered Commission Schemes
Highly customizable Commission Schemes that can be applied to select Authors, Download Categories and Tags, and Products only
Allows to better motivate high-performing vendors
Commission Schemes can be based on a single order value or lifetime sales value of Authors or Customers
Keep Track of every Commission adjusted by this plugin via the Order Log Notes
Allows to activate an unlimited number of Commission Rules
Supports Easy Digital Downloads and requires EDD Commission Plugin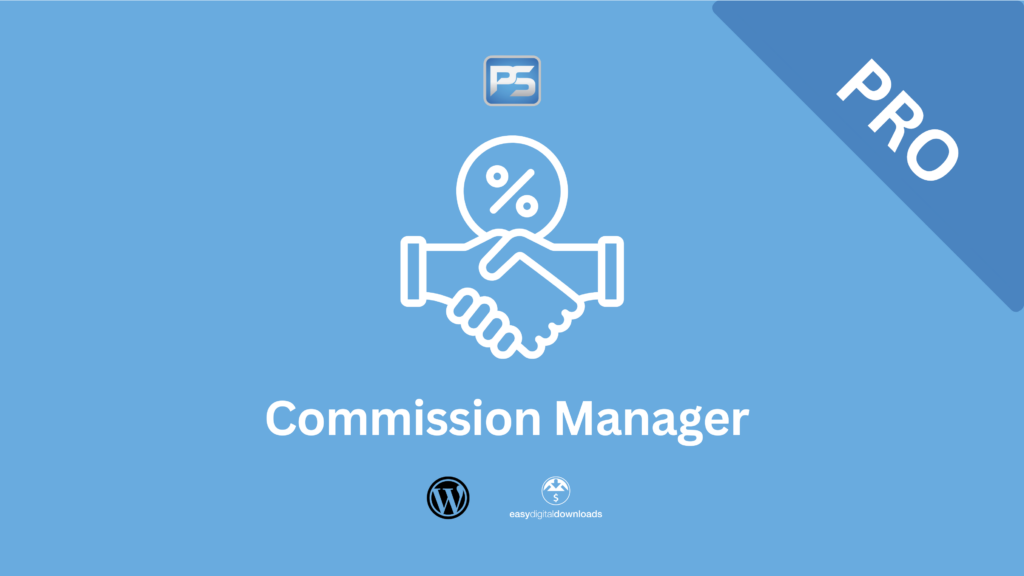 Plugin Screenshots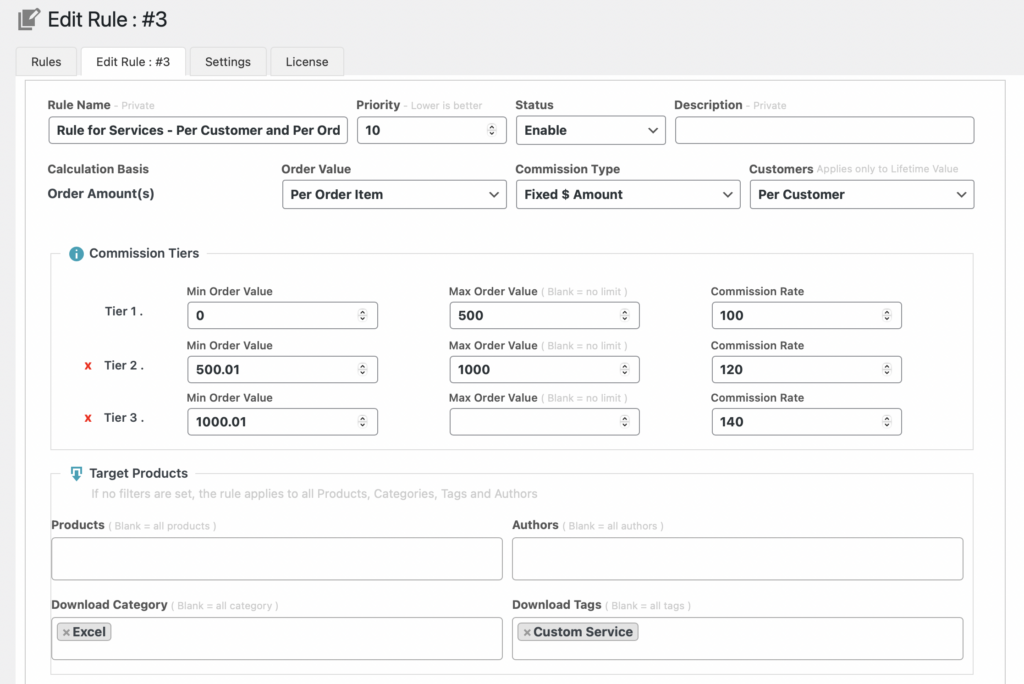 Why do you need this plugin?
Commission Manager Pro is a plugin designed to enhance the functionality of your e-commerce websites by providing the ability to implement an unlimited, advanced commission schemes. With this plugin, users can offer better incentives to their vendors, which in turn encourages them to implement a better marketing strategy to sell more of their products.
For example, users can set up commission tiers that provide higher percentages to vendors whose products are selling well to motivate them to even list more products on your store. They can also create performance-based commissions, where vendors can earn commission based on the total number of sales (lifetime value) they make or the amount of revenue (order amount) they generate per sale.
This flexibility allows vendors to make their marketing effort more competitive, in order to match a better commission scheme towards better incentives.
Plugin Description
Commission Manager Pro Plugin allows for implementing more sophisticated and tiered commission schemes to provide better vendor incentives, therefore encouraging vendors to sell their product better.
The plugin is integrated with Easy Digital Downloads and requires the EDD Commissions plugin to be installed. Contact us if you are interested in additional integrations.
The plugin allows the creation of specific commission rules applicable only to select products, authors, download categories or tags which will implem tiered commission schemes for those rules (up to three tiers). You can create as many rules as you like which allows you to better promote certain types of products or services.
Commission Rules can be defined either based on single Order Values or the Lifetime Sales per Customer or Author. In case certain treshholds are met, the commission rate of the next higher tier will apply. This allows to e.g. overwrite a 80% Commission Rate defined by the EDD Commissions Plugin via a Tiered Schemd to 85% or 90% depending on how many products are sold. This is especially useful when you want to reward vendors who list many bestselling products with you which are easy to sell.
How does this plugin work?
Setting up this plugin is very easy and straight-forward.
First, you have to create a commission rule, defining how the commission would be calculated, especially, the order value range and the corresponding commission rate.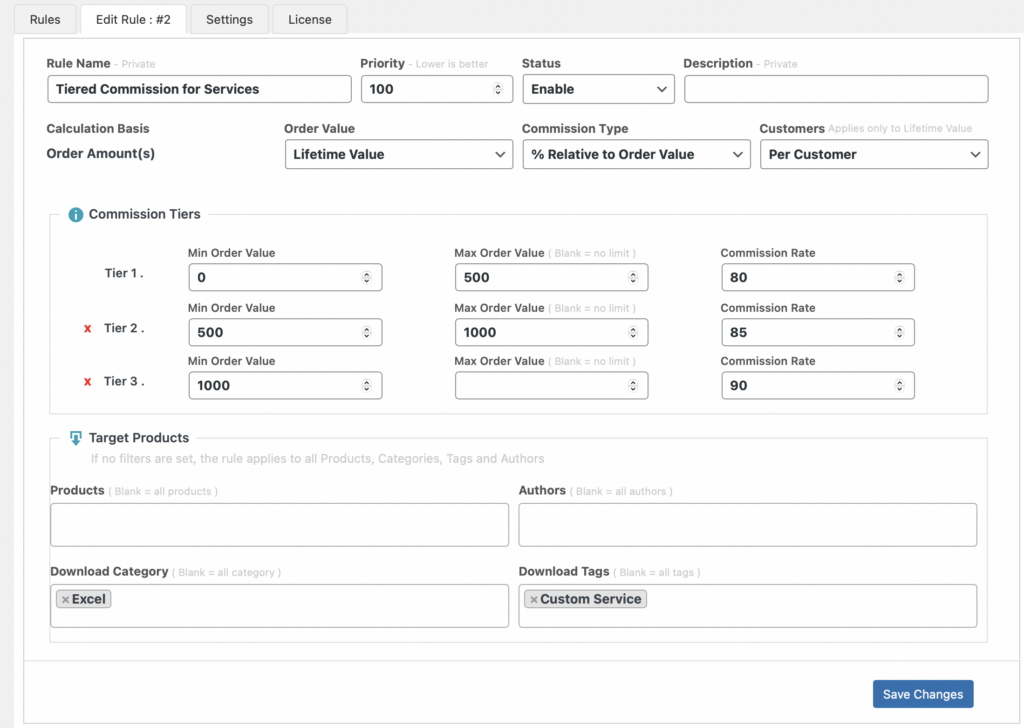 After a rule has been made, you will be redirected to a full list of all existing rules. Here you can check in one glance, all enabled/disabled rules, as well as important details of the rule.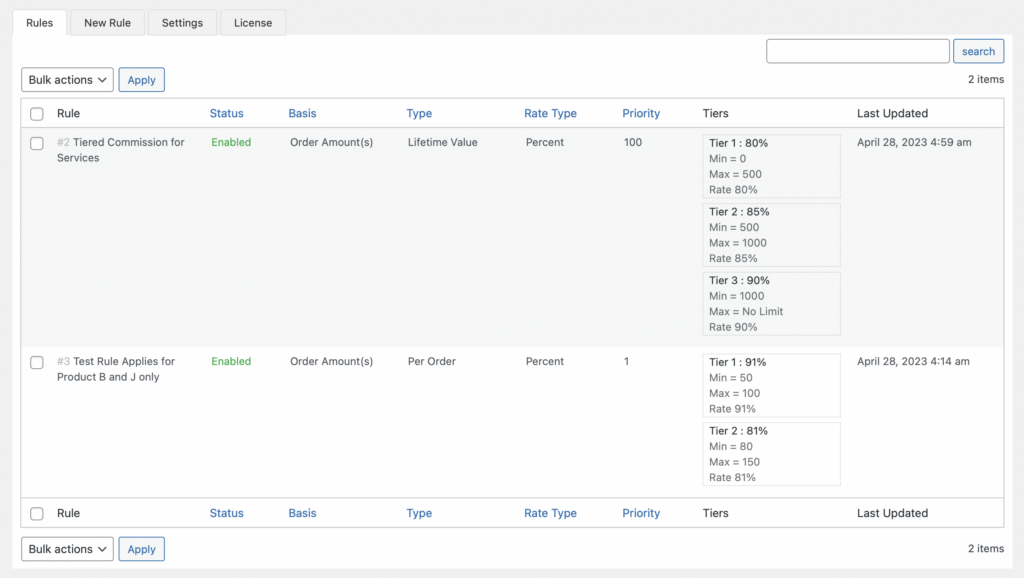 Lastly, this plugin provides a couple of setting options to fine-tune the functions as you needed.
You can read more about the functions of this plugin by visiting the Documentation Page.
Purchase this Plugin today!
Note: All paid subscriptions below includes the latest plugin version as well as plugin support and updates for 1 one year.
Single Site License
$69/year
3 Sites License
$109/year
10 Sites License
$179/year
Frequently Asked Questions
How many Commission Rules can I create?
You can create unlimited commission rules using our plugin, depending on your needs.
How many Commission Tiers can I create per Rule?
You can create up to maximum 3 Commission Tiers per Rule, using our plugin.
What are the Order Value options in calculating the Commission?
Our plugin provides two choices for order value calculation: Per Order Item and Lifetime Value.
What are the Commission Types available for calculation?
Our plugin provides two Commission Type options: % Relative to Order Value and Fixed $ Amount.
What is the Minimum and Maximum Order Value can I use per tier?
There's no limit on setting your own minimum and maximum order value per Commission Tier.
Can I apply the Commission Rule only for specific products?
Yes. When creating a Commission Rule, there are Target Product filters you can use, to fine-tune the rule, if you want it to apply for selected products only.
What other filter options can I apply on a Commission Rule?
Besides the Product filter, you can also apply Product Author, Download Category and Tags filters.
Can I enable/disable an existing Commission Rule?
Yes. You can easily disable an existing Commission Rule, if not in use, and enable it after some time.
Do you have other pre-sale questions not mentioned above? If yes, feel free to Contact Us.
Plugin Meta Data
Current Version: 1.2.37
WordPress: Tested up to Version 6.0.2
Easy Digital Downloads: 3.1.0.1
Changelog
Version 1.2.37 – October 25, 2023
Enhancement: Added a (+) button to add a new tier when creating Commission Rules.:
Fix: General Bug Fixes
Version 1.2.36 – October 09, 2023
Fix: Error Log Entries on WP-Admin pages
Version 1.2.35 – September 28, 2023
Enhancement: Added a Log Section which shows all the rules this plugin has applied to the purchase and commission calculation, and linked to it.
Enhancement: Added "View" option when checking the rules, which only allows one to view it, but not make changes/edit.
Fix: Source Code Enhancement and Cleanup
Fix: General Bug Fixes
Version 1.2.26 – May 18, 2023