The world of eCommerce is growing at a rapid pace, and as a result, it is becoming increasingly important for online stores to offer a seamless and convenient user experience. One way to achieve this is by allowing customers to log in to their store accounts using their existing social media profiles.
Social logins provide a quick and easy way for customers to sign up and log in to an online store, reducing the friction often associated with traditional username and password logins. We have researched and tested several EDD Social Login plugins have handpicked some of the best options for you. Each of them has been carefully selected based on their functionality, ease of use, and compatibility with the Easy Digital Downloads platform.
Now, we'll take a closer look at each of these plugins and their features, to help you make an informed decision about which one is right for your store. In this article, we'll discuss some of the best social login plugins for stores using the Easy Digital Downloads platform.
Nextend Social Login is a plugin designed specifically to let your visitors register and log in to your site using their social profiles (Google, Facebook, Twitter, etc.).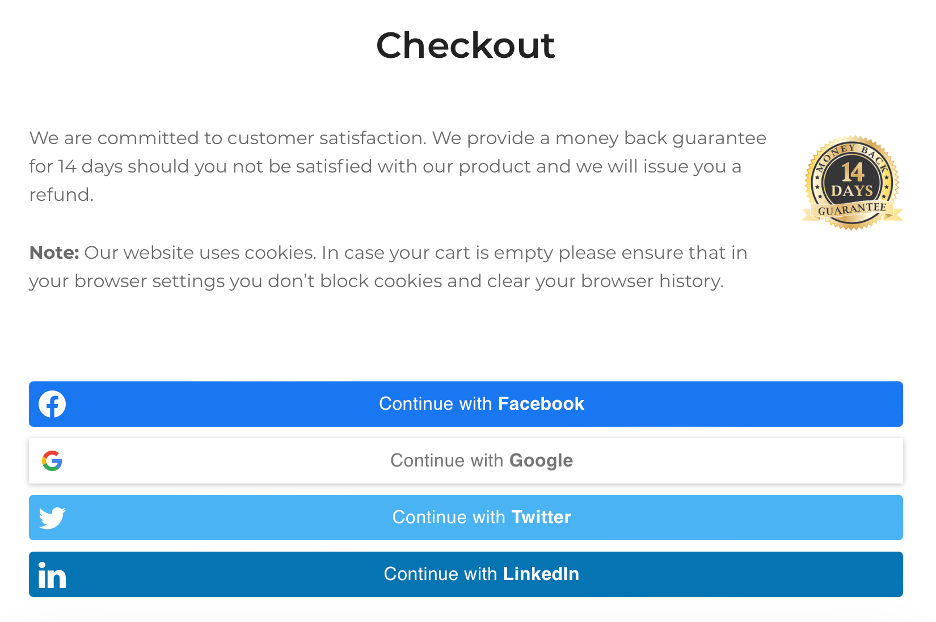 As is the case with many WordPress & WooCommerce plugins, there is both a free and a premium version of Nextend Social Login. Here are the notable features included in the free version:
One-click registration and login using Google, Facebook, and Twitter
Current users can also connect their Facebook, Google, or Twitter profiles with their account
Social accounts are tied to a WordPress user account so that every account can be accessed with and without a social login
Custom redirect URL after registration and login
Login widget and shortcodes, and many more.
While premium features include the following:
A greatly expanded list of social login partners,
link social logins to their WooCommerce account at their profile or during checkout
request the user's name and email address during signup
customize the appearance of login buttons
use social logins for comments
restrict the use of social logins for some roles, e.g. for admins
Our Thoughts?
We are currently using Nextend Social Login plugin on our website as we think this is properly developed, especially it has a seamless Easy Digital Downloads integration.
We think this plugin is a great way to add social login to your Easy Digital Downloads WordPress store. It's easy to set up and looks good out of the box. I was able to go from a fresh test site to a well-designed social login form for Facebook in under ten minutes.
Easy Digital Downloads Social Login extension allows users to login and checkout with social networks such as Facebook, Twitter, Google, Yahoo, LinkedIn, Foursquare, Windows Live, VK.com, Instagram.

It has been proven countless times that the easier it is for a customer to create an account during checkout, the more likely they are to complete their purchase. This extension makes the Easy Digital Download checkout process another notch easier for customers that prefer to login via their favorite social networks.
When a customer first visits your site, you can simplify checkout by allowing them to check out as a guest. However, this introduces friction for customers that want to purchase from your store more than once (and hopefully many of them do!). They'll have to create yet another username and password.
EDD Social Login makes this process as easy and secure as possible – customers can log into your site using their Facebook, Twitter, Google, Yahoo, LinkedIn, Foursquare, Windows Live, VKontakte (VK.com), PayPal, Instagram and Amazon accounts instead of creating a new user account credentials.
Our Thoughts?
Upon testing, it indeed integrates with Easy Digital Downloads well, but we then found out that the plugin loads source codes on all pages, therefore slows down your Easy Digital Downloads store. Also, the source code looks not very well maintained and organized. Therefore, opening doors for potential security issues which might require oingoing fixes.
OneAll's social login solution enables your users to sign into their accounts on your website or mobile app using their login details from more than 30 social networking sites such as Facebook, Twitter, LinkedIn and Instagram. This eliminates lengthy registration processes for new users and forgotten usernames and passwords for existing users. It also avoids spam and bot registrations.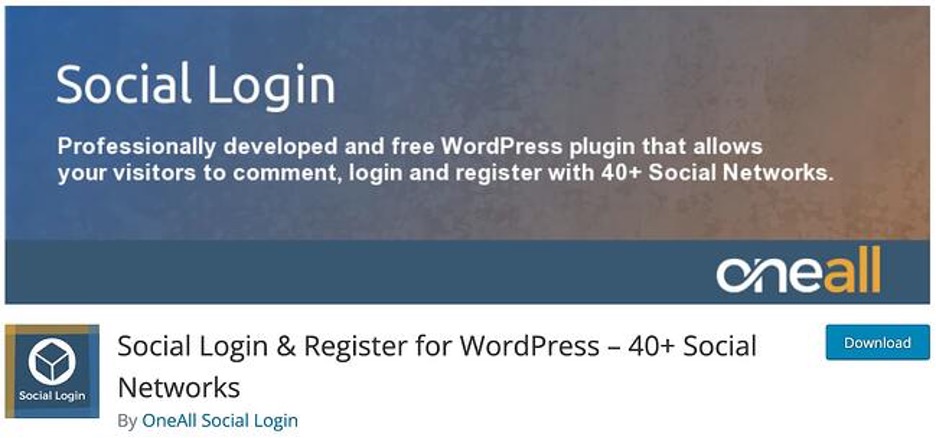 Here are its Key Features:
GDPR compliant.
Easily configurable with the option to choose from 40+ social networks to login or register.
Terminate the chance of Spam and Bot registrations.
User Insights through Analytics dashboard.
Easy integration with WooCommerce and BuddyPress.
Shortcodes and widgets are available.
Three distinctive theme options for icons.
Export data as CSV files or send them to Campaign Monitor or MailChimp.
Social Login updates often to stay current with the APIs it works with. It's also perfectly compatible with WooCommerce BuddyPress, a popular WordPress membership plugin, so you can use Social Login's tools on your e-commerce or social community site.
There's also a premium version of this plugin with features including filtering login ability by IP address (to eliminate spam and bad actors), analytics tools to understand users better, and icon themes to customize your login page further.
Our Thoughts?
We also tested this plugin and found out that they charge a lot of money, depending on the number of users, which is not really good as we can use an alternative social login plugin without paying such a high price. Also, the Easy Digital Downloads integration is both poor, and not existing on the checkout page.
Conclusion: Nextend Social Login is the best plugin to use on your EDD Stores
Social login is an easy alternative to other types of logins, like email registration or forms, and makes users much more likely to complete the signup process. Additionally, social login helps visitors save time by giving them one less username-password combination to remember.
Therefore, we highly recommend to all Easy Digital Downloads store owners the Nextend Social Login Plugin, basically because it's developed properly, maintained, integrates seamlessly with EDD, and the price is fairly affordable. Try it out now!